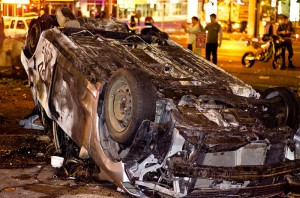 Once upon a time, most Americans had never even heard of "flash mob robberies" or "organized looting".  Now they are considered to be a part of normal life in America.  On Saturday, more than 20 teens stormed into a trendy clothing store in Chicago and stole more than $3,000 worth of jeans, but it barely made a blip on the national news because this kind of thing has become so common.  After all, we just saw the exact same kind of thing happen in Jacksonville, Detroit, Baltimore and a whole bunch of other places.  Flash mob crimes have become so common in Chicago that they take public opinion polls about them.  But when I first started writing about this phenomenon a couple of years ago, hardly anyone knew what "mob robberies" were.  In fact, I had to explain what these "flash mobs" were doing to a couple of radio hosts because they had never heard of such a thing.  But now everybody knows about the flash mobs.  Another disturbing trend that we are seeing all over America is "organized looting".  Groups of desperate criminals are going into empty or abandoned buildings and stripping out copper wire, copper pipes and anything else that they can sell for money.  At one time these kinds of thefts made the news, but now they have also become so common that they don't get much notice anymore.
The sad truth is that the streets of America are changing.  They are becoming a lot more hostile and a lot more dangerous.
Young people in America today do not have respect for authority, they do not have respect for those that are older than them and they do not even have respect for themselves.
Posted below is surveillance camera footage of the mob robbery mentioned above during which thousands of dollars worth of jeans were stolen.  These kids obviously plotted to commit this crime well in advance.  These kids have so little respect for themselves that they are willing to potentially jeopardize their futures over a few pairs of lousy jeans….
Will any of those kids go to jail eventually?
That is a very good question.
In other areas of the country, law enforcement is so overwhelmed that they just let cases such as this one go.
For example, the CBS affiliate in Baltimore recently reported on a mob robbery in the Baltimore area where officials decided not to pursue criminal charges….
After reviewing the surveillance video, the Baltimore City State's Attorney's office opted not to pursue criminal charges in the case saying not every conflict warrants them.

What happened here is not an isolated incident. It's happening more and more across Maryland and it's a real source of frustration for law enforcement.

A similar incident happened last month at the 7-Eleven on Liberty Road in Baltimore County. And mobs of teens have looted several stores like the one in Montgomery County, stealing hundreds of dollars worth of merchandise.
And word on the street spreads fast.  Once kids realize that they can get away with this kind of behavior it will just encourage more of it.
Sadly, it is not just our young men that are acting this way.  Our young women are also banding together in mobs and are doing crazy things.
The following example comes from a recent New York Post article….
A wolf pack of drunken young women "acting stupid" on a downtown No. 6 train in Manhattan stabbed a 63-year-old man early today — for having had the nerve to ask them to pipe down, police said.

The man was on his way to work at about 6:15 a.m. when he was attacked as the train entered the East 23rd Street station, a law-enforcement source told The Post.

"The eight females were acting stupid. He just told them, 'Relax. Calm down,' " another source said.

Instead, one stabbed him in the left shoulder. He was treated at Bellevue Hospital.
What in the world is happening to us?
Part of it can perhaps be explained by the rampant growth of gangs in America.
Today, there are approximately 1.4 million gang members living inside the United States.  That number has risen by 40 percent just since 2009.
Often these gangs take the place of the family unit.  With so many broken families in America today, there are literally millions of young people that are looking for someone to accept them and take care of them.
Another factor is economic desperation.  There are far more workers than there are jobs in America today, and an increasing number of Americans are turning to crime in an attempt to survive.
Right now we are seeing an unprecedented epidemic of "organized looting" all over the country.  A recent article by Victor Davis Hanson talked about the epidemic of copper wire theft that is happening down where he lives in California….
Protection is found only in self-help. To stop the Road Warriors from stripping the copper cable from your pump or the community's street lights, civilization is encouraged to put in a video camera, more lighting, more encasement, a wire protective mesh — all based on the premise that the authorities cannot stop the thieves and your livelihood is predicated on the ingenuity of your own counter-terrorism protocols. But the thief is always the wiser: he calculates the cost of anti-theft measures, as well as the state's bill in arresting, trying, and rehabilitating him, and so wagers that it is cheaper for all of us to let him be and just clean up his mess.
If you have not read his article yet, you really should.  It is excellent.  You can find the entire article right here.
I found it particularly interesting what Victor Davis Hanson is doing in response to the decay of society that he is witnessing all around him….
I find myself insidiously adopting the Road Warrior survival code. Without any systematic design, I notice that in the last two years I have put a hand pump on my grandfather's abandoned well in the yard and can pump fresh water without electricity. I put in an outdoor kitchen, tied into a 300-gallon propane tank, that can fuel a year of cooking. I am getting more dogs (all vaccinated and caged); for the first time in my life I inventoried all my ancestors' guns in all the closets and found shotguns, deer rifles, .22s etc.

I have an extra used pickup I chose not to sell always gassed in the garage. For all sorts of scrapes and minor injuries, sprains, simple finger fractures, etc., I self-treat — anything to avoid going into the local emergency room (reader, you will too, when Obamacare kicks in). And the more I talk to neighbors, the more I notice that those who stayed around are sort of ready for our Road Warrior world. At night if I happen to hear Barack Obama on the news or read the latest communiqué from Jerry Brown, the world they pontificate about in no way resembles the world I see: not the freeways, not the medical system, not the educational establishment, not law enforcement, not the "diversity," not anything.
I would say that it sounds like Victor Davis Hanson is rapidly turning into a prepper.
Not that I blame him of course.
We all want our homes to feel safe and secure.  As society crumbles, it is only natural to pay more attention to preparation and security.
The sad truth is that these criminals are becoming bolder and bolder.  Over the past couple of years we have seen some very shocking home invasion crimes happen all over the country, and this trend is only going to get worse.
But these days the news is not going to really feature a crime unless it is truly horrific.
That is where a sicko like James Holmes comes in.
Criminals understand that if they want to become really famous that they are going to have to do something really violent or really bizarre to stand out from the crowd.
And America is absolutely crawling with psychos these days, so it can be difficult to truly make a name for yourself if you are a criminal.
Sadly, we are already starting to see some potential "James Holmes copycats" come out of the woodwork.
For example, just check out what happened in Oklahoma recently….
An Oklahoma high school student is behind bars after a cab driver reported hearing him plotting a Columbine-shooting at his school, police said.

Timmy Eike, 18, was arrested on Tuesday after police found a shotgun, rifle and 250 rounds of ammunition in his bedroom.

The teenager's arrest came a day after gunman James Holmes appeared in a Colorado court accused of killing 12 people and injuring 58 during a midnight screening of the Batman movie.
That is very disturbing.
I don't know about you, but I am a lot more hesitant to visit the movie theater now, and I sure am glad that I do not have any kids in public schools.
In a world that is going totally crazy, public gatherings are never going to feel quite as safe ever again.
So what do all of you think about these flash mob crimes and all of this organized looting that is going on?
Do you believe that America is less safe or more safe than it used to be?
Please feel free to post a comment with your thoughts below….