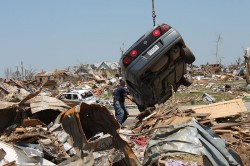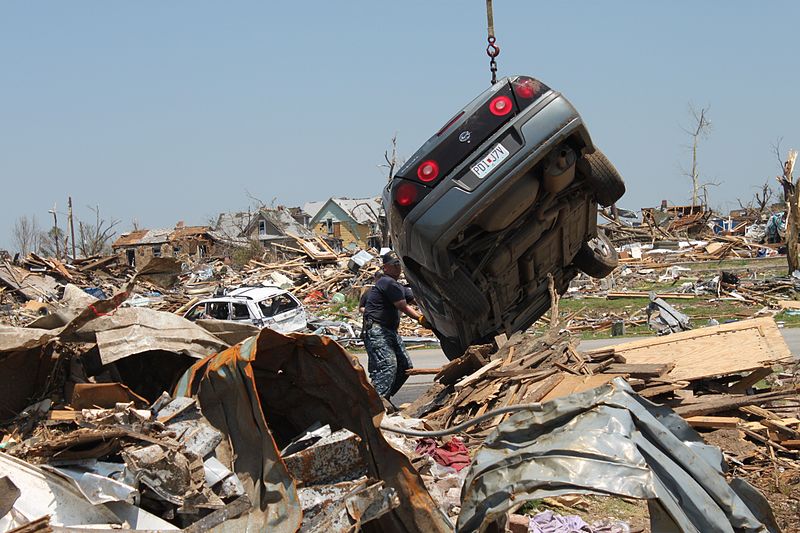 What in the world is happening to America?  In more normal times it would be easy to dismiss Hurricane Irene as an isolated incident, but so far this year we have had some sort of a "major disaster" almost every single month.  In addition to Hurricane Irene, this year we have also had truly unusual earthquakes, unprecedented tornadoes, historic flooding along the Mississippi and Missouri rivers, horrific drought, massive wildfires and a continuous onslaught of nuclear radiation from Fukushima.  Almost every single area of the United States has been affected by at least one of these disasters.  So why is all of this stuff happening to America all of a sudden?  Does anyone have any theories?  Right now we are having a "once in a century" disaster every few weeks, and either we are just extremely "unlucky" or there is a reason why all of this is happening.
Let's take a look at some of the bizarre disasters that have happened so for this year….
Hurricane Irene
Just as we approach the month of September, the east coast of the United States has been hit with one of the most damaging hurricanes that it has ever seen.  More than 4 million people lost power and at least 15 deaths are being blamed on the storm.
It is going to take months to get a full picture of the damage that was caused by this gigantic storm.  At one point it was approximately the size of Europe.  One computer model has put the estimated economic damage from Hurricane Irene at 4.7 billion dollars, but the truth is that nobody knows for sure.
It looks like the flooding caused by this storm did a lot more damage than high winds did.  The following is how one CNN article described the situation in Philadelphia at the height of the storm….
Outside Philadelphia, waters had already climbed to street-sign levels in Darby, Philadelphia Mayor Michael Nutter said, with the water sending "couches, furniture, all kinds of stuff floating down the street."
Fortunately, things were not as bad in New York as initially feared.  But flood waters did pour into Manhattan, and a significant amount of damage was done.
In fact, one CNN article reported that there was "neck-deep water" in some places in New York….
Firefighters helped evacuate dozens of people from flooded homes in areas of Staten Island where neck-deep water was reported, the New York City Fire Department said.
Hurricane Irene left scars all up and down the eastern United States.  Reportedly, there was significant damage even as far north as Vermont….
Conditions in parts of southern Vermont are "awful" due to significant flooding, state emergency management spokesman Mark Bosma said.

"Some small towns were entirely covered with water. We got reports of people stranded at schools and in cars," Bosma said. "One woman was swept away in a river. Water is pretty much everywhere."
Earthquakes
The other day, there was a "once a century" earthquake in Virginia, and the area along the Colorado/New Mexico border had the worst earthquake that they had seen in almost 40 years.  Those are two areas that are not known for large earthquakes.
The earthquake in Virginia was felt as far south as Georgia and as far north as Ottawa, Canada.  It was felt as far west as Cleveland, Ohio.  It prompted the evacuation of congressional buildings and the Pentagon.  The earthquake actually caused extensive cracking in the Washington Monument and it is now closed indefinitely for repairs.
It turns out that the earthquake in Virginia even did significant damage to the U.S. Treasury building.
It would be frightening enough if these were isolated incidents, but the truth is that the number of earthquakes is increasing.
Back in 2001, the world had 1361 earthquakes of magnitude-5.0 or greater.  This year, we are on pace to have over 2800.  In fact, the number of major earthquakes this year is going to be the highest number that we have seen during this past decade by far.
Tornadoes
The United States experienced a truly bizarre tornado season this year.  In April, there were approximately 600 tornadoes all across America.  That is the most tornadoes that have ever been recorded in a single month inside the United States.  Usually, we only have about 1,200 tornadoes for the entire year.
The massive tornado outbreak in the southeast at the end of April is being called the worst natural disaster since Hurricane Katrina.  One F5 tornado that ripped through the Tuscaloosa, Alabama region was reportedly a mile wide and some scientists estimated that it had winds that exceeded 260 miles an hour. By the time it passed, Tuscaloosa resembled a war zone.
The tornado that ripped through Joplin, Missouri a few months ago is being called the deadliest single tornado in more than 60 years.  It ripped a path of destruction more than a mile wide and more than 6 miles long directly through the city.  One British newspaper has some amazing before and after pictures of Joplin that you can view right here.
After viewing pictures such as those, what else is there to say?
Historic Flooding
Earlier this year, we witnessed one of the worst Mississippi River floods ever, and some of the worst flooding along the Missouri River that has ever been recorded.  These are being called "hundred year floods", and residents of those areas are hoping that nothing like this ever happens again in their lifetimes.
It is hard to describe exactly how bad all of this flooding was.  Bob Anderson, an Army Corps of Engineers spokesman based in Vicksburg, Mississippi says that there has "never been a flood of this magnitude on the upper Mississippi".
That is really saying something.
It is going to take years to deal with all of the damage caused by these floods.
John Michael Riley, an agricultural economist at Mississippi State University, is estimating that the damage from these floods to farms alone is going to be somewhere in the neighborhood of 2 billion dollars.
Horrific Drought
As some areas dealt with historic flooding, other parts of the U.S. experienced absolutely crippling drought.  Between October and June, the state of Texas experienced one of the driest stretches ever recorded.  The drought of 2011 is now considered to be the third-worst drought ever experienced in Texas, and it is not over yet.
The entire state of Texas is still dealing with severe drought conditions.  It has been estimated that 30 percent of the wheat fields in Texas will be lost.  Agricultural losses from the drought of 2011 are projected to be $3 billion in the state of Texas alone.
The U.S. Department of Agriculture has already designated all 254 counties in the state of Texas as natural disaster areas.  If you do not live down there, it is hard to even imagine what the farmers and the ranchers are going through.
But the drought has not been limited to Texas.  Most of Arizona, all of New Mexico, all of Oklahoma, most of Arkansas, all of Louisiana, most of Mississippi, most of Alabama, most of Georgia, most of Florida, most of South Carolina and most of North Carolina have also had to deal with severe drought conditions this year.
All of this drought has caused some really bizarre events to occur.  For example, several gigantic "dust storms" have rolled right through Phoenix, Arizona recently.  If you have not seen video of these dust storms yet, you really should.
This is the kind of thing that usually happens in the Middle East – not in the United States.
Sadly, even if the southern U.S. suddenly gets a lot of rain, that is not going to fix the long-term water problems.
Most Americans have never heard of the Ogallala Aquifer, but it is absolutely critical to food production in many areas of the United States.
The water from this massive underground lake is used to irrigate much of America's Great Plains.  But it is being drained at a rate of approximately 800 gallons per minute and it is starting to dry up.
So why is that a bad thing?
Well, the Ogallala Aquifer is a gigantic underground lake that stretches from southern South Dakota all the way through northern Texas, covering approximately 174,000 square miles.
If it gets depleted, the era of "pivot irrigation" in the region will be over.  That would mean that the Great Plains could quickly turn into the Great American Desert.
America could very well see a return of the Dust Bowl days of the 1930s.
Yes, we really do have a massive water crisis in this country, and the current drought is certainly not helping things.
Massive Wildfires
We have also seen some really huge wildfires this year.  So far in 2011, the wildfires down in Texas have scorched more than 2 million acres.
But it isn't just Texas that has been burning.  This year Arizona also has had to deal with some of the worst wildfires in the history of that state.
Nuclear Radiation From Fukushima
Radiation from the Fukushima nuclear disaster in Japan is not just a problem for the Japanese.  Fukushima sits on the east coast of Japan, and most of the radiation that is released from Fukushima heads out in the direction of the Pacific Ocean.  The first time most of it makes landfall is when it reaches the United States.
Fortunately the nuclear radiation must travel a great distance and it is greatly dispersed once it gets here, but the reality is that everyone in America is going to be affected by this radiation, at least to a very small degree.
So how much radiation are we talking about?
Well, according to a recent article in the Telegraph, the amount of cesium released by Fukushima is equivalent to 168 Hiroshima bombs….
Japan's government estimates the amount of radioactive caesium-137 released by the Fukushima nuclear disaster so far is equal to that of 168 Hiroshima bombs.
Considering the fact that cesium has a half-life of about 30 years, that is more than a little alarming.
You could have cesium particles from Fukushima in your body right now and you probably wouldn't even know it.
Nuclear radiation from Fukushima has been showing up in our milk, our water and our food.
Things have gotten so bad at Fukushima that now even the New York Times is admitting that large areas around the facility may be uninhabitable for decades….
Broad areas around the stricken Fukushima Daiichi nuclear plant could soon be declared uninhabitable, perhaps for decades, after a government survey found radioactive contamination that far exceeded safe levels, several major media outlets said Monday.
It really is amazing that so many horrible things have happened to us in about two-thirds of a year.
Has the United States ever had a year with so many major disasters?
Is there are reason why all of this is occurring now?
Why is all of this stuff happening to America?
If you think that you have an answer, please feel free to leave a comment with your opinion below….