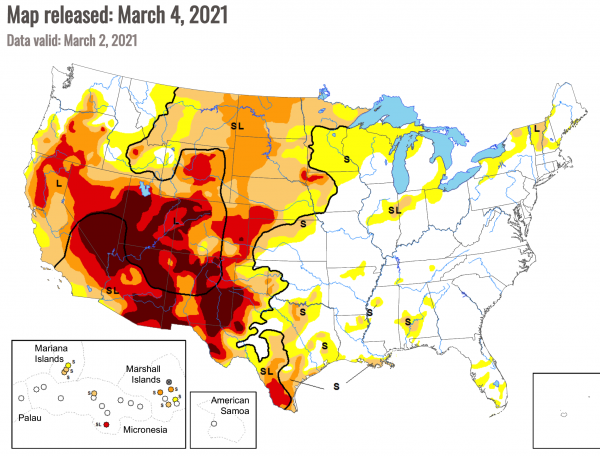 The horrific drought that has much of the western half of the United States in a death grip has already surpassed what many scientists thought was possible.  Some areas of the Southwest went more than 200 straight days without any measurable rain last year, vegetation is disappearing at a frightening pace, and giant dust storms are becoming increasingly common.  For years, we have been warned that the droughts in the Southwest were getting worse.  For years, we have been warned that Dust Bowl conditions would return.  Now a nightmare scenario is upon us, and authorities are using the term "megadrought" to describe what is taking place…
The western U.S. continues to endure dry conditions, and now scientists are using the term "megadrought" to describe the problem — which has existed for decades — with no end in sight.

"A megadrought is typically a drought event that has a long duration," Brian Fuchs, with the National Drought Mitigation Center, said to FOX Television Stations Tuesday.
The latest U.S. Drought Monitor map that has been released has such bad news that it is hard to believe.  More than 265,000 square miles of territory is currently experiencing "exceptional drought conditions"…
The scope of the western drought is chilling. All of Nevada, Utah and New Mexico are in drought, according to the US Drought Monitor. Close behind are Arizona at 98.9% and Colorado at 98.6%.

More disturbing is the size of what's called the "exceptional drought" area, according to the US Drought Monitor. Parts of Arizona, Nevada, Utah, New Mexico, Colorado, California and Texas classified as exceptional drought, total 265,200 square miles. For comparison, that is nearly equivalent to the size of Texas.
It would be difficult to overstate the severity of this crisis.  In fact, the Wall Street Journal says that this drought is already "one of the most severe on record in the Southwest".
Approximately 40 million people depend on the water that flows through this area.  With so little snowpack this year, authorities really don't have any idea how they are going to make it through the summer.
In February, Los Angeles, Phoenix and Yuma did not have any measurable rainfall at all.
Las Vegas had just 0.01 inch of rain for the month.
As winter ends, we will move into a part of the year when many cities may not see any precipitation at all for months on end.  Just consider what happened last year…
Las Vegas had a streak of 240 days from April to December 2020 without measurable rain — a trace or less — smashing the previous record of 150 consecutive days in 1959.

Yuma, Arizona had a dry streak of 242 days last year, their third longest streak, while Phoenix was dry a consecutive 110 days. Bishop and Needles, California, also had record dry streaks of over 200 days without measurable rainfall.
Read that first sentence again.
Las Vegas broke their old record by a whopping 90 days last year.
We are in unprecedented territory, and the drought just keeps getting worse.
According to climatologist Brian Fuchs, the epicenter of this drought is in the Four Corners area…
"The Four Corners [Arizona, New Mexico, Colorado and Utah] is the epicenter of this drought," said Brian Fuchs, climatologist at the National Drought Mitigation Center at the University of Nebraska. "When droughts like this happened long ago, the people living there just had to move."
As existing supplies of water become more strained than ever before, could we potentially get to a point where large numbers of people will be forced to migrate once again?
It could happen.
This endless drought is also creating ideal conditions for giant dust storms.  Just the other day, an enormous dust storm caused a horrifying multi-vehicle crash in Arizona…
The multi-vehicle crash happened late Wednesday afternoon on eastbound I-10 near the intersection of State Route 87.

The dust made things tough for crews from the Eloy Fire District, who were trying to help multiple people. As the firefighters and paramedics worked, they had to deal with zero-visibility dust storm conditions. Photos provided by the department showed thick dust blowing in the area, and crew members trying to shield their faces.
Sadly, such dust storms are becoming a regular occurrence in the western half of the nation.  In fact, a few months ago there was a dust storm that was so large that it could be seen from space…
Earlier this month, a storm front swept across the Great Plains of the United States, plowing up a wall of dust that could be seen from space, stretching from eastern Colorado into Nebraska and Kansas. It was a scene straight from the Dust Bowl of the 1930s, when farmers regularly saw soil stripped from their fields and whipped up into choking blizzards of dust.

Better get used to it. According to a new study, dust storms on the Great Plains have become more common and more intense in the past 20 years, because of more frequent droughts in the region and an expansion of croplands. "Our results suggest a tipping point is approaching, where the conditions of the 1930s could return," says Gannet Haller, an atmospheric scientist at the University of Utah who led the study.
Needless to say, these conditions are making it extremely difficult for farmers to grow anything.
In fact, thousands of farmers in New Mexico have already taken at least some of their acres out of production for 2021…
Gary Esslinger, treasurer-manager of the district in Las Cruces, New Mexico, told WSJ that his area's conditions are absolutely "horrific." He said at least 33% of the 6,500 farmers in his region had taken offline 90,640 irrigable acres out of production from previous drought years.

New Mexico State Engineer John D'Antonio Jr. has requested farmers not to plant this year due to dangerously low levels at the state's reservoirs.
Other farmers are going to try to operate normally, but they know that the outlook is extremely bleak.
New Mexico farmer Travis Harris understands what he is potentially facing, and he says that it is "very scary going into this season"…
Harris is all too familiar with this. He said he didn't get his full water allotment in 2020. Last fall, he said, his water got shut off a month early. He keeps a close eye on the conditions high in the mountains, too, knowing how deeply they affect him.

"There's no snowpack. There's no water in storage up north," Harris said. "It's very scary going into this season."
I have been writing about the drought in the Southwest for years, and this is the worst that I have ever seen it by a wide margin.  If conditions continue to deteriorate, that will have very serious implications for all of us.
Unfortunately, experts are expecting 2021 to be another exceedingly dry year.
That means that this crisis isn't going to go away any time soon, and supplies of water in the region will just continue to get tighter and tighter.
***Michael's new book entitled "Lost Prophecies Of The Future Of America" is now available in paperback and for the Kindle on Amazon.***
About the Author: My name is Michael Snyder and my brand new book entitled "Lost Prophecies Of The Future Of America" is now available on Amazon.com.  In addition to my new book, I have written four others that are available on Amazon.com including The Beginning Of The End, Get Prepared Now, and Living A Life That Really Matters. (#CommissionsEarned)  By purchasing the books you help to support the work that my wife and I are doing, and by giving it to others you help to multiply the impact that we are having on people all over the globe.  I have published thousands of articles on The Economic Collapse Blog, End Of The American Dream and The Most Important News, and the articles that I publish on those sites are republished on dozens of other prominent websites all over the globe.  I always freely and happily allow others to republish my articles on their own websites, but I also ask that they include this "About the Author" section with each article.  The material contained in this article is for general information purposes only, and readers should consult licensed professionals before making any legal, business, financial or health decisions.  I encourage you to follow me on social media on Facebook, Twitter and Parler, and any way that you can share these articles with others is a great help.  During these very challenging times, people will need hope more than ever before, and it is our goal to share the gospel of Jesus Christ with as many people as we possibly can.