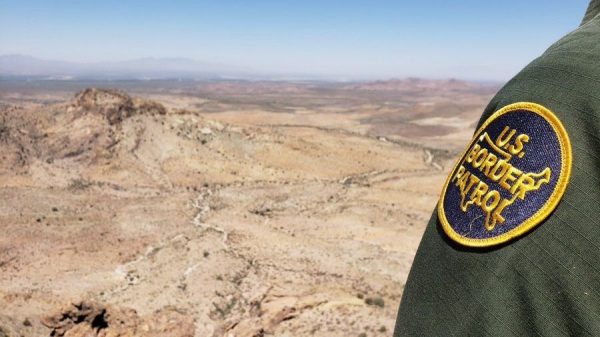 If U.S. Customs and Border Protection personnel are intercepting more than 100,000 migrants a month as they try to illegally cross the southern border, how many more are able to make it through undetected?  In recent days, there has been a whole bunch of news stories about the nightmarish border crisis that we are currently facing.  Now that President Trump is out of the White House, vast numbers of migrants have been flooding toward our southern border over the past couple of months.  They are desperate for a better life, and the perception that Joe Biden is implementing "open border policies" gives them hope that they will be allowed in.
But when they try to cross the border, approximately 70 percent of those that are intercepted by CBP are turned away…
Customs and Border Protection officers have encountered over 100,000 migrants at the border in February alone, highlighting how overwhelming the situation has become.

The vast majority of migrants – around 70%, according to one source – are expelled via public health order Title 42 that allows authorities to quickly return migrants to their country of travel.
But of course countless more migrants are making it in through gaps in our porous border security.  When the Daily Mail sent a team down to the Rio Grande, they witnessed traffickers bringing migrants across the river over and over again…
As the night drew on, this brief, chaotic encounter was repeated again and again as scores of migrants crossed one of the narrowest sections of the Rio Grande with virtual impunity.

Over a two-hour period we watched in disbelief as the three-man trafficking crew made five drop-offs, cramming as many as ten people into a boat designed for four.

Of the 96 newcomers they dumped onto a slippery riverbank in Roma, an hour's drive west of McAllen, 13 were unaccompanied children, including sisters aged five and 12.
This sort of thing is happening at various points along the southern border night after night, and yet nothing is done to stop it.
Of course CBP personnel can't be everywhere, and without a doubt they have their hands full on a constant basis.
Thanks to the "catch and release" policy that has been instituted by the Biden administration, many of those that the CBP is able to detain are processed and then released into the country…
Under Biden's revisions, single men and women will still be sent back but families with young children will be taken to a Border Patrol facility, processed and released with an I-862 form – a notice to appear before an immigration court at a later date.
Needless to say, only a very small percentage of those migrants ever show up at immigration court.
It is an absolutely disastrous policy, and Biden administration officials know this.
But they just keep doing it anyway.
U.S. Customs and Border Protection is the agency that is tasked with protecting our borders, and their job has become a complete and utter nightmare.
The following are 10 quotes that come directly from the official CBP Twitter account that demonstrate how bad the crisis on the border has now become…
"In February, CBP encountered 100,441 persons attempting entry along the SW border. This is a 28% increase over January."
"Laredo Sector Border Patrol agents apprehended multiple people attempting to illegally enter the U.S. through the Rio Grande River. Several individuals drifted back to the Mexican side of the river on inner tubes."
"Border Patrol agents conducting a train check found 16 people inside of a storage container after discovering that the seal from the storage container's door had been broken. The group was from Guatemala, Honduras and Mexico."
"#USBP agents assigned to the Laredo North Station apprehended 111 individuals during three separate human smuggling attempts involving commercial trailers north of Laredo, Texas."
"Within a 12-hour period, the Laredo Sector Border Patrol Horse Patrol Unit apprehended 125 individuals in 3 different human smuggling attempts"
"Over the weekend, @CBPRGV Border Patrol agents assigned to the Rio Grande City Station encountered two large groups crossing into the U.S., leading to the apprehension of 247 individuals from Honduras, El Salvador, Guatemala, Nicaragua and Romania."
"On Wednesday, CBP officers in Laredo seized 28 containers manifested as acrylic paint, holding a total of 1,234lbs of meth. The estimated street value of the seizure is over $24M."
"CBP agents and officers have seized more than 75,100lbs of methamphetamine during the first five months of FY21, a 9% increase over the same time last year."
"CBP agents and officers have seized more than 43,300lbs of cocaine during the first five months of FY21, a 64% increase over the same time last year."
"CBP agents and officers have seized more than 4,900lbs of fentanyl during the first five months of FY21, already surpassing the total for all of FY20."
In January, the number of migrants intercepted by CBP was about twice the level that was reported in January 2020.
And then as you just read about above, the number of migrants intercepted in February was 28 percent higher than January.
What is going to happen if the numbers just keep going up like this?
According to one CBP source, the number of migrants has gone "from a trickle to a torrent" since Biden entered the White House…
But as a well-placed Border Patrol source told us under condition of anonymity: 'The cartels don't know or care what the actual policies or politics are.

'They just tell the migrants that Biden will let them stay and the migrants believe it because that's the rhetoric he used on the campaign trail.

'The numbers have exploded since he took office. It went from a trickle to a torrent.'
What is really ironic is that this is about the worst possible time to be moving into the United States, but of course the migrants that are trying to come in illegally don't realize this.
Most of them truly believe that life will be so much better if they can just get to America, and many of them are willing to go to extreme lengths to get across the border.
Brave CBP officials will continue to do their jobs, but the Biden administration will continue to undermine them at every turn, and that means that the crisis at the border is not going away any time soon.
***Michael's new book entitled "Lost Prophecies Of The Future Of America" is now available in paperback and for the Kindle on Amazon.***
About the Author: My name is Michael Snyder and my brand new book entitled "Lost Prophecies Of The Future Of America" is now available on Amazon.com.  In addition to my new book, I have written four others that are available on Amazon.com including The Beginning Of The End, Get Prepared Now, and Living A Life That Really Matters. (#CommissionsEarned)  By purchasing the books you help to support the work that my wife and I are doing, and by giving it to others you help to multiply the impact that we are having on people all over the globe.  I have published thousands of articles on The Economic Collapse Blog, End Of The American Dream and The Most Important News, and the articles that I publish on those sites are republished on dozens of other prominent websites all over the globe.  I always freely and happily allow others to republish my articles on their own websites, but I also ask that they include this "About the Author" section with each article.  The material contained in this article is for general information purposes only, and readers should consult licensed professionals before making any legal, business, financial or health decisions.  I encourage you to follow me on social media on Facebook, Twitter and Parler, and any way that you can share these articles with others is a great help.  During these very challenging times, people will need hope more than ever before, and it is our goal to share the gospel of Jesus Christ with as many people as we possibly can.