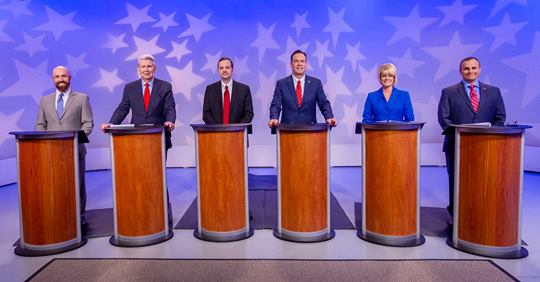 It isn't often that you get to see a seasoned politician completely melt down on live television. On Sunday evening, the last debate for the candidates running for Congress in Idaho's first congressional district was held, and it was certainly a wild one. In the weeks leading up to the debate, voters all over Idaho had been heatedly debating whether to vote for Michael Snyder or Russ Fulcher all over social media, and both of us were positioned right in the center of the stage. Unfortunately for the Fulcher campaign, Russ delivered an absolutely disastrous performance. When reporter Betsy Russell asked Russ about the Mueller investigation, he responded by saying that "I haven't even been following that closely". If that wasn't bad enough, he followed that up by admitting two more times that he had not been paying attention to the Mueller investigation. Needless to say, jaws dropped open all over the studio as Fulcher dropped this bombshell. The Mueller investigation has been the biggest news story in Congress for over a year, and Russ Fulcher never actually answered Betsy Russell's question because as he openly confessed, he had not "been following that closely". How can someone running for Congress not have a basic understanding of the most important issue that Congress has been dealing with? Throughout the debate the differences between Russ and myself were glaringly obvious, and if you have not seen it yet, you can watch the entire congressional debate right here…
https://video.idahoptv.org/video/republican-congressional-district-1-2018-primary-wdm891/
I honestly do not know how Fulcher's campaign can survive this absolutely nightmarish performance. A lot of people are comparing it to Rick Perry's horrific performance during a presidential debate a number of years ago. We have had numerous people tell us that they are switching from Fulcher to #TeamSnyder after watching the debate, and that is why it is so important to get this debate out to as many voters as possible. Please share the link to the debate with everyone that you know, because if we could get every voter in the district to watch it we would win by a landslide.
Voting day is May 15th, but early voting has already begun. In fact, we are very much encouraging everyone to go out and vote today. To learn where early voting is happening in your county, contact your local county clerk. You can find a list of all of the county clerks right here. In many instances, early voting is being held at your local county courthouse.
Thanks to our big victory in the debate, our campaign has generated a tremendous amount of momentum. Please remember to go vote, and please tell everyone that you know to vote as soon as they can. It is being projected that voter turnout in this race may be under 20 percent, and so if we do a great job of getting voters to the polls we will definitely win this thing.
Once again I would like to thank all of the incredible people that have gotten involved and made our campaign possible, and if you would like to learn more about #TeamSnyder, please visit MichaelSnyderForCongress.com.
Michael Snyder is a pro-Trump candidate for Congress in Idaho's First Congressional District. If you would like to help him win on May 15th, you can donate online, by Paypal or by sending a check made out to "Michael Snyder for Congress" to P.O. Box 1136 – Bonners Ferry, ID 83805. To learn more, please visit MichaelSnyderForCongress.com.