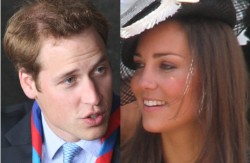 Have you caught "royal wedding fever" yet?  The union of Prince William and Kate Middleton is already being called "the wedding of the century" and it will almost certainly be the most watched event in the entire world this year.  The mainstream media is spending endless hours covering every conceivable angle of this wedding.  With all of the hype surrounding this wedding, you would almost be tempted to think that America has now officially adopted British royalty as our own.  Worship and adoration of the royal family is at a fever pitch in the United States right now, which is kind of ironic considering the fact that we fought two wars against the tyranny of that monarchy.  If only George Washington and the boys could see us now.  Sadly, the American people love to be entertained and they are very easily distracted from the very real problems facing this nation.  In past years, celebrities such as OJ Simpson, Anna Nicole Smith, Michael Jackson and Britney Spears dominated the news.  Today Americans are distracted by the royal wedding, American Idol, Dancing with the Stars, Justin Bieber and Lady Gaga.  In our entertainment-addicted society, the time for average Americans to set aside the distractions and focus on real issues never seems to come.
During the decline of ancient Rome, average citizens were kept occupied with "bread and circuses".  Today, we are kept occupied with a dizzying array of entertainment options.  Millions of Americans have become so addicted to entertainment that they literally cannot stand to be alone in their homes without some form of entertainment going on in the background.
Amazingly, the average American now watches 34 hours of television a week.  That doesn't even count all of the hours that we spend watching DVDs or going to the movies.
When most of us get into our vehicles we immediately turn on the radio or put on a CD.  Artists such as Justin Bieber and Lady Gaga are national heroes.
In the United States today, 88 percent of all children between the ages of 8 and 18 play video games.  Millions of them spend so many hours playing video games that they have developed very serious health and social problems.
On top of everything else, tens of millions of Americans are absolutely addicted to the Internet.  It has gotten so bad that "Internet addiction recovery programs" have started popping up all over the United States.
We love to be entertained.  We love to be distracted.  We love to have fun.
Unfortunately, what most of us don't like is to focus on real issues.
The following are some of the ways that the American people are currently being distracted….
#1 The Royal Wedding – It is being projected that a whopping 2 billion people around the globe will watch the royal wedding.  Women all over the globe are breathlessly anticipating that first glimpse of Kate Middleton's dress.  Isn't she just lovely?  Don't they make such a charming couple?  For many Americans, this will be the most important event of the year.
Meanwhile, the U.S. economy continues to bleed jobs at an absolutely astounding pace.  Millions of good jobs are being sent overseas and unemployment in the United States is rampant.  In fact, the United States has lost an average of 50,000 manufacturing jobs per month since China joined the World Trade Organization in 2001.
As a result of these ongoing changes, the U.S. economy will very soon no longer be the biggest economy in the world.  Ten years ago, the U.S. economy was three times as large as the Chinese economy, but now China will pass the United States and will become the largest economy in the world in 2016 according to the IMF.
#2 American Idol – Who is going to win American Idol this year?  Will it be country singer Scotty McCreery?  Will it be rocker James Durbin?  Will the southern charm of Lauren Alaina take her over the top?  It has been a wonderful year for American Idol and the American people can't seem to get enough of this new crop of stars.
Meanwhile, the average American family is really struggling to deal with soaring costs for food and gas.  In a recent survey conducted by Deloitte Consulting, 74 percent of Americans said that they planned to slow down their spending in coming months due to rising prices.
#3 Dancing With The Stars – Chris Jericho got eliminated from Dancing with the Stars on Tuesday night.  He certainly gave it his best shot.  Let's have a moment of silence as we remember his journey on the show.
Meanwhile, the U.S. housing crisis just continues to get worse.  Home prices continue to fall with no end in sight.  There just are not many qualified buyers out there right now.  During the first three months of this year, less new homes were sold in the U.S. than in any three month period ever recorded.
#4 Justin Bieber – Did you know that you can get a Justin Bieber singing toothbrush now?  It's true!  Now you can have Justin Bieber with you even while you are brushing your teeth.  Did you also know that Justin Bieber was just named one of the top 100 most influential people by Time Magazine?  Life is really sweet right now if you are Justin Bieber.
Meanwhile, as the U.S. economy declines some of our greatest cities are being transformed into hellholes.  In the city of Detroit today, there are over 33,000 abandoned houses, 70 schools are being permanently closed down, the mayor wants to bulldoze one-fourth of the city and you can literally buy a house for one dollar in the worst areas.
All over the nation social services are being cut back and teachers are being fired.  Just this week, authorities in Philadelphia announced that 3,820 school employees will likely be laid off.  That number includes 12 percent of all the public school teachers in Philadelphia.  Other areas of the country are making much deeper cuts.
#5 The NFL Draft – The NFL Draft is this weekend!  Will Cam Newton be the number one overall pick?  Will the Denver Broncos trade the second pick?  Will Mel Kiper lose his temper and start yelling at the camera again?  If you love the NFL, this is a great weekend for you.
Meanwhile, the U.S. health care industry has become a giant money making scam.  The chairman of Aetna, the third largest health insurance company in the United States, brought in a staggering $68.7 million during 2010. Ron Williams exercised stock options that were worth approximately $50.3 million and he raked in an additional $18.4 million in wages and other forms of compensation.  The funny thing is that he left the company and didn't even work the whole year.
While corporate fatcats are raking in massive amounts of money, average Americans are having a very hard time dealing with healthcare costs.  One study found that approximately 41 percent of working age Americans either have medical bill problems or are currently paying off medical debt.  Obamacare is not going to help this one bit.
#6 The Sony PlayStation Crisis – For millions of video game addicts, the biggest news in the world right now is that Sony's PlayStation Network has been down for 11 straight days.  According to Reuters, it might cost credit card companies somewhere in the neighborhood of 300 million dollars to replace all of the credit cards that were compromised.  Many video game addicts have been traumatized as they have been forced to step away from their consoles long enough to rediscover the "real world".
Meanwhile, the U.S. military is involved in three wars in the Middle East with no end in sight.  It is becoming extremely expensive for us to continue to be the police of the world.  The United States already accounts for 46.5% of all military spending on the globe.  China is next with only 6.6%.
#7 Lady Gaga – Lady Gaga made headlines all over the world recently when she released a song entitled "Judas" just before the recent holidays.  In the song, the phrase "I love Judas" is repeated over and over and over.  Lady Gaga also says that Judas is the "demon she clings to" in the song.  But instead of this resulting in national outrage, Lady Gaga has more fans than ever and she is considered a national hero.
Meanwhile, the Japanese nuclear crisis continues to get worse and the Japanese economy is showing signs of seriously falling apart. Radiation levels at Fukushima have now risen to the highest levels yet recorded.  Some scientists are even concerned that significant areas of northern Japan could end up uninhabitable as a result of this crisis.  At the same time, Standard and Poor's is warning that the cost of rebuilding Japan could hit 50 trillion yen.  They have also downgraded the outlook for Japanese government debt from "stable" to "negative".
#8 Michael Scott Leaves The Office – Are you going to watch Steve Carell's final episode of The Office tonight?  I sure will be.  The Office is one of the last great television comedies.  It is going to be the end of an era.  Television will never be the same again.
Meanwhile, the student loan debt bubble just continues to get worse by the day.  The cost of college tuition in the United States has gone up by over 900 percent since 1978.  The total amount of student loan debt in the United States is rapidly closing in on a trillion dollars, and millions upon millions of young Americans are being absolutely crushed by devastating debt loads.
#9 The New Harry Potter Movie – Are all of you Harry Potter fans getting excited?  A new trailer and some new photos from the upcoming film have been released.  Thanks to the Harry Potter franchise, we have millions of young boys and girls that love to pretend to be witches and wizards.  More young people than ever are fascinated by "magic" and interest in witchcraft in the United States has never been higher.
Meanwhile, U.S. government debt has soared well past 14 trillion dollars and the U.S. dollar is dying.  Standard & Poor's has altered its outlook on U.S. government debt from "stable" to "negative" and is warning that the U.S. could soon lose its AAA rating.  Millions of our young people can tell you all about Harry Potter, but very few of those same young people are able to adequately describe what the Federal Reserve is or how money is created in this country.
#10 Facebook – Today, Facebook has over 500 million users.  It has become a worldwide phenomenon.  Tens of millions of Americans are totally addicted.  One study conducted by Oxygen Media and Lightspeed Research found that 39% of American adults are self-described "Facebook addicts" and that one-third of all women between the ages of 18 and 34 "check Facebook first thing in the morning, even before brushing their teeth or going to the bathroom."
Meanwhile, the U.S. is becoming more of a "Big Brother police state" every single day.  At one public school in the Chicago area, children have been banned from bringing their lunches from home.  A former Miss America was recently reduced to tears after her private areas were repeatedly touched during one of the new "enhanced pat-downs" that the Obama administration has implemented at U.S. airports.  The sad truth is that we are no longer the land of the free and the home of the brave.
When will the American people overcome their addiction to entertainment and wake up to the horrible things that are going on all around us?