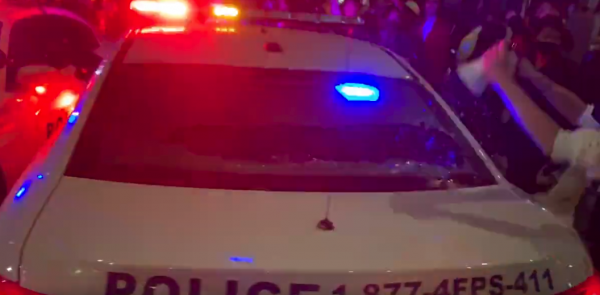 In a civilized society, violence, intimidation and rioting are not used as political tools.  Unfortunately, the United States is no longer a civilized society, and violence, intimidation and rioting are now regularly being used as political weapons.  On Monday, I posted an article warning that there would soon be chaos in the streets, and many others have issued similar warnings.  Unfortunately, it didn't take long for the violence to start.  As you will see below, on Tuesday there was an extremely disturbing clash between pro-abortion protesters and police in the Pershing Square area of Los Angeles.  Sadly, this is just the beginning.  I expect more rioting during the weeks leading up to the official unveiling of the Supreme Court decision in the Dobbs case, but the real violence will come once it has been confirmed that the Court has actually chosen to overturn Roe v. Wade.
It all began after the sun went down on Tuesday evening.  Protesters began to congregate at a key intersection, and when police arrived at the scene those that had gathered began throwing rocks and bottles at them…
Around 8:50 p.m., the LAPD sent out a tweet urging people to avoid the area due to "police activity" which was expected to cause traffic delays and congestion.

Chief Moore later said that some of those who were in attendance at the rally attempted to "take the intersection" and some in the crowd threw rocks and bottles at officers as police tried to clear the area.
Needless to say, this incident reminds a lot of people of the horrifying riots that we witnessed in the middle of 2020.
The back window of a police vehicle was smashed by a crazed protester, and according to NBC Los Angeles at least one police officer was actually injured during the melee…
A citywide tactical alert was ordered Tuesday after a Los Angeles Police Department officer was injured while attempting to control a group of protesters near Pershing Square.
I could try to describe how chaotic things became, but it will be better if I just show you.
The following are some of the best videos and images from the rioting that I could find…
NOW: LAPD attempt to arrest pro-choice protesters but fail as they get mobbed by rioters. pic.twitter.com/XWn9xC23Hk

— Katie Daviscourt🇺🇸 (@KatieDaviscourt) May 4, 2022
The Department of Homeland Security is getting aggressive here in Downtown Los Angeles at the pro-choice protest pic.twitter.com/dX12CVqK8Y

— Vishal P. Singh (they/he) 🏳️‍⚧️ (@VPS_Reports) May 4, 2022
Far-left rioters threatened police at the pro-abortion direct action in Los Angeles last night. pic.twitter.com/jfbVCnlGLV

— Andy Ngô 🏳️‍🌈 (@MrAndyNgo) May 4, 2022
Los Angeles: Far-left pro-abortion protesters threaten law enforcement before back-up arrives & pushes them back. pic.twitter.com/UdswTGIR1K

— Andy Ngô 🏳️‍🌈 (@MrAndyNgo) May 4, 2022
— 🇧🇷Sandro Santana ️2️⃣2️⃣ (@SandroALSantana) May 4, 2022
Pro-abortion protestors smash windows tonight in Los Angeles: pic.twitter.com/HwGyOqGd0Z

— Libs of TikTok (@libsoftiktok) May 4, 2022
Never miss an opportunity to indoctrinate pic.twitter.com/vxaHz1pxeG

— austin frisch (@realaustinzone) May 4, 2022
🚨#BREAKING: Protesters clashing with police Downtown LA⁰
📌#LosAngeles l #California

Right now LA police are requesting backup as protests in LA have turned violent with one cop having a head injury, and several protestors being arrested a tactical alert has been declared pic.twitter.com/H27L40WtFo

— R A W S A L E R T S (@rawsalerts) May 4, 2022
This is not how our society is supposed to function, and this sort of thing should not be happening in the United States of America.
But there is little doubt that we will soon see even more violence.
Many people simply do not understand how important Roe v. Wade is for the radical left.  For them, it is essentially one of the core pillars of our entire political system.
I know that may sound absurd to you, but the truth is that many on the left actually use the word "sacred" to describe the right to abortion.  U.S. Senator Josh Hawley was 100 percent correct when he told Tucker Carlson that abortion "is religion for the left"…
"Abortion is religion for the left," Sen. Josh Hawley (R-Miss.), a former law clerk for Chief Justice John Roberts, told Fox News's Tucker Carlson Tuesday night.

Hawley said leftists are "willing to do anything to defend that religion and to force it on everybody else, and that is why they're willing to burn down the court as an institution, you know, they're only for the institution if it does exactly what they say it should do."
Throughout human history, pagan religions have adopted rituals that involve the termination of children.
Even though many of those that are pro-abortion today are not overtly "religious", they still fight for the right to terminate their children with religious fervor.
And I find it quite interesting that Joe Biden chose to use religious terminology during remarks that he just made about the importance of Roe…
"Look, think what Roe says. Roe says what all basic mainstream religions have historically concluded — that the right — that the existence of a human life and being is a question. Is it at the moment of conception? Is it six months? Is it six weeks? Is it — is it quickening, like Aquinas argued?

"I mean, so the idea that we're going to make a judgment that is going to say that no one can make the judgment to choose to abort a child based on a decision by the Supreme Court, I think, goes way overboard," Biden said.
Even the left understands that the issue of abortion is not simply a political question.
Ultimately, what we believe about abortion is a spiritual matter.
Those that are Bible-believing Christians are overwhelmingly against abortion, while those that have no religion or that embrace other religions are typically overwhelmingly in favor of abortion.
So I could lecture you all day about when life begins or about what actually happens during an abortion, but if you don't believe that the God of the Bible exists none of that is likely to matter very much to you.
In fact, if you don't believe in the God of the Bible you may not actually understand that our society has become unspeakably evil.
But even if you don't believe, the consequences for killing millions upon millions of children are still coming.
If we don't change our ways, there is no hope for the future of our country.
That is the truth, whether you like it or not.
***It is finally here! Michael's new book entitled "7 Year Apocalypse" is now available in paperback and for the Kindle on Amazon.***
About the Author: My name is Michael and my brand new book entitled "7 Year Apocalypse" is now available on Amazon.com.  In addition to my new book I have written five other books that are available on Amazon.com including  "Lost Prophecies Of The Future Of America", "The Beginning Of The End", "Get Prepared Now", and "Living A Life That Really Matters". (#CommissionsEarned)  When you purchase any of these books you help to support the work that I am doing, and one way that you can really help is by sending digital copies as gifts through Amazon to family and friends.  Time is short, and I need help getting these warnings into the hands of as many people as possible.  I have published thousands of articles on The Economic Collapse Blog, End Of The American Dream and The Most Important News, and the articles that I publish on those sites are republished on dozens of other prominent websites all over the globe.  I always freely and happily allow others to republish my articles on their own websites, but I also ask that they include this "About the Author" section with each article.  The material contained in this article is for general information purposes only, and readers should consult licensed professionals before making any legal, business, financial or health decisions.  I encourage you to follow me on social media on Facebook and Twitter, and any way that you can share these articles with others is a great help.  These are such troubled times, and people need hope.  John 3:16 tells us about the hope that God has given us through Jesus Christ: "For God so loved the world, that he gave his only begotten Son, that whosoever believeth in him should not perish, but have everlasting life."  If you have not already done so, I strongly urge you to ask Jesus to be your Lord and Savior today.