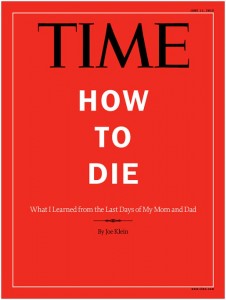 What should be done with elderly Americans when they become very seriously ill?  Should we try to save their lives or should we just let them die?  Unfortunately, there is a growing consensus among the "intellectual elite" that most elderly people are not going to have a high enough "quality of life" to justify the expense of costly life saving procedures.  This philosophy is now being promoted very heavily through mainstream news outlets, in our television shows and in big Hollywood movies.  The elite are attempting to convince us that killing off our sick grandparents is cool and trendy.  We are being told that "pulling the plug" on grandma and grandpa is compassionate (because it will end their suffering), that it is good for the environment and that it is even good for the economy.  We are being told that denying life saving treatments to old people will dramatically reduce health care costs and make the system better for all of us. We are being told that it is not "efficient" for health insurance companies to shell out $100,000 for an operation that may extend the life of an elderly person by 6 months.  But the truth is that all of this is part of a larger agenda that the elite are attempting to advance.  As I have written about previously, the elite love death, and they truly believe that reducing the population is good for society and good for the planet.  Sadly, population control propaganda has reached a fever pitch in recent months.
Time Magazine has just come out with a very shocking cover story entitled "How To Die".  The article goes on and on about how wonderful and compassionate it is to remove life saving treatment from sick relatives.
A recent article by Mike Adams summarized the message of this disgusting article….
Inside, the magazine promotes a cost-saving death agenda that encourages readers to literally "pull the feeding tubes" from their dying elderly parents, causing them to dehydrate and die. This is explained as a new cost-saving measure that drastically reduces return hospital visits by the elderly… yeah, because dead people don't return to the hospital, of course.
Many of you also probably remember the Newsweek cover story from a couple years ago that was entitled "The Case for Killing Granny".
Underneath that shocking title was the following phrase: "Curbing excessive end-of-life care is good for America."
According to the author of that article, spending less money on the elderly is the key to successful health care reform….
The idea that we might ration health care to seniors (or anyone else) is political anathema. Politicians do not dare breathe the R word, lest they be accused—however wrongly—of trying to pull the plug on Grandma. But the need to spend less money on the elderly at the end of life is the elephant in the room in the health-reform debate. Everyone sees it but no one wants to talk about it. At a more basic level, Americans are afraid not just of dying, but of talking and thinking about death. Until Americans learn to contemplate death as more than a scientific challenge to be overcome, our health-care system will remain unfixable.
Sadly, articles like that one are becoming quite frequent in mainstream media sources.
Just a few days ago, a Bloomberg article entitled "How 'Death Panels' Can Prolong Life" declared that we must "deny treatment to people who want it" in order to hold down costs….
In short, all the Republican talk during the health-care- reform debate about "death panels" was melodramatic and unfair, but not ridiculous. One way or another, holding down health-care costs will require policies that deny treatment to people who want it. And want it because it will extend their lives.

This goes on already, all the time. Health insurance companies have been known to deny payment for treatments deemed unnecessary. Age limits for organ transplants are another example. All policies that involve denying care because of "quality of life" considerations are, in effect, "death panels." But no society can afford to give every citizen every possible therapy. Medicare is going broke trying.
So who are we supposed to deny treatment to?
The elderly of course.
According to that Bloomberg article, we are supposed to kill off our sick grandparents because the "quality of life" they would be expected to have if they recover would not be enough to warrant spending so much to save them….
A $200,000 operation can add a year or two to the life of an octogenarian, or it can save decades of life for younger people. In a country like the U.S., with an average life expectancy of 78.5, it takes 10 septuagenarians who get an extra five years from the health-care system to balance a single 30- year-old who gets 50 extra years. Or save the life of a newborn, who then enjoys a normal life span and dies at 78.5, and you have the same impact on national life expectancy as 16 operations on septuagenarians. The average national life expectancy can increase even as the cost goes down.
This is the kind of thinking that starts happening in a society that dramatically devalues life.
If human life has little value, then it is easy to start justifying things that would have once been unthinkable.
For example, one surgeon is now suggesting that we should start harvesting organs from patients before they die….
Dr. Paul Morrissey, an associate professor of surgery at Brown University's Alpert Medical School, wrote in The American Journal of Bioethics that the protocol known as donation after cardiac death — meaning death as a result of irreversible damage to the cardiovascular system — has increased the number of organs available for transplant, but has a number of limitations, including the need to wait until the heart stops.

Because of the waiting time, Morrissey said that about one-third of potential donors end up not being able to donate, and many organs turn out to not be viable as a result.

Instead, he argues in favor of procuring kidneys from patients with severe irreversible brain injury whose families consent to kidney removal before their cardiac and respiratory systems stop functioning.
Do you want your organs harvested before you are dead?
Sadly, those that often do need organ transplants the most these days are often denied for "quality of life" issues as well.
For example, at one U.S. hospital a 3-year-old girl named Amelia was denied a kidney transplant that she desperately needed simply because she is considered to be "mentally retarded".
These are the kinds of decisions that are being made by doctors and by health insurance companies all over America every day.
And did you know that life-ending drugs are going to be 100% free under Obamacare?
I did not know this until I read a Christian Post article the other day….
A Christian-based legal defense alliance is warning Americans who already believe that President Barack Obama's health care plan is a bad idea that the "ObamaCare mandate is worse than you think."

"Everyone likes a good surprise, but no one likes a bad surprise. So, you're really not going to like the surprises buried in the 2,700 pages of this document," says the narrator of a short video produced by the Alliance Defense Fund.

"Did you know that with ObamaCare you will have to pay for life-saving drugs, but life-ending drugs are free. One hundred percent free. If this plan were really about health care wouldn't it be the other way around?"
Apparently they want to make it as easy to off yourself and your relatives as possible.
So where is all of this headed?
Are we eventually going to become like the Netherlands?
In the Netherlands, mobile euthanasia teams are now going door to door to help elderly patients end their lives in the comfort of their own homes.
Is that what we want?
Do we want government agents going door to door to help people die?
As I have written about previously, the elite believe that the world is massively overpopulated and they believe that all of us are ruining their planet.
So they love euthanasia, abortion and pretty much anything else that will result in more people ending up dead.
What are your thoughts about all of this?  Please feel free to post a comment with your opinion below….