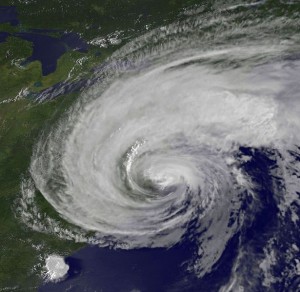 If you are just starting to prepare for Hurricane Sandy, the truth is that you are already too late.  Most of the essential supplies have already been stripped from store shelves.  If you don't have an emergency generator, you might be without power for quite some time.  It is being estimated that up to 10 million people could lose power during this storm, and it is already being projected that some people may end up being without power for a week or more in the worst hit areas.  Hopefully you have already boarded up your windows.  They can be broken very easily during a hurricane, and you certainly don't want to be dealing with a broken window during the worst moments of the storm.  Those that have prepared ahead of time are likely to be in good shape to ride this storm out, but sadly the reality is that most people have not prepared ahead of time.  Every time a major storm or natural disaster strikes, we always see the same thing happen.  Hordes of half-crazed people storm into the stores hoping to find the things that they need, and many of them end up leaving disappointed because what they were looking for has already sold out.  Thankfully, most of our "disasters" have typically only lasted a few days at most, but what will happen someday if a disaster ends up being permanent?  What if there is a disaster that is so bad someday that things never return to "normal"?  Would you and your family be able to survive on only the preparations that you have made so far?
Hopefully Hurricane Sandy will be a wake up call for a whole lot of people.  It is being projected that this storm will affect about 50 million Americans, and it is already been called "worse than Katrina" by some meteorologists.  It is an absolutely gigantic storm.  It is more than 1000 miles across and it is the largest hurricane to hit the U.S. since records of storm size began to be kept back in 1988.  According to the National Oceanic and Atmospheric Administration, the destructive potential of this storm is rated 5.8 on a scale that goes from 0 to 6.  So needless to say, referring to this storm as "the Frankenstorm" does not quite do it justice.  It is being touted as the worst storm to hit the east coast in 100 years.
According to Stu Ostro, a senior meteorologist at the Weather Channel, this is truly a history making storm…
"History is being written as an extreme weather event continues to unfold, one which will occupy a place in the annals of weather history as one of the most extraordinary to have affected the United States."
So a lot of Americans are about to find out exactly how prepared they really are for a major natural disaster.
High winds of 80 MPH or higher are going to take down power lines all over the northeast over the next few days.  Along the coast, some people could see a storm surge that is up to 15 feet above sea level in some areas.  Other areas will see nightmarish flooding as a result of very heavy rain.
So there will certainly be a lot of challenges.  The good thing about a hurricane is that you typically have at least a few days in advance to make preparations.  Hopefully people have been making good use of the time.
Unfortunately, most Americans do not even have a short-term supply of food and water stored up.  A lot of people run out to grab some food and water from the stores at the last minute, only to find that there is none left.
For example, it is being reported that store shelves all over New York City have already been picked clean of bread and other essentials.
In Arlington, Virginia it is being reported that some supermarkets are already sold out of water.  If the worst happens and some people end up spending a week without tap water they are really going to wish that they had made some preparations ahead of time.
But food and water are not the only things in high demand.
According to CNN, other emergency supplies have been flying off the shelves as well…
Generators, flashlights, water, batteries — these are just some of the emergency supplies that are running out in many stores in the Northeast.

Nearly a third of the country's northeast is preparing for Hurricane Sandy, which expected to make landfall on Sunday and Monday. Customers who have been flocking to stores may be coming home empty handed.
Fortunately this is only a temporary emergency, but what if we have a "permanent" emergency someday?
What will people do if they can't find the things that they desperately need all of a sudden?
According to Fox News, one store in Ohio is reporting that people are actually calling from other states to see if they still have any supplies…
An assistant manager at a Lowes store in Columbus, Ohio, told 10TV.com that people were calling in from West Virginia and Maryland to ask for supplies.

And in northern Virginia, a cashier at Pitkins Ace Hardware in Dale City said batteries, flashlights and candles were flying off the shelves, PotomacLocal.com reports.
When will people learn?
You don't wait until the last minute to get necessary emergency supplies like plywood, hurricane shutters, tarps, sump pumps, ice chests, candles, flashlights, batteries and battery-powered radios.
For a hurricane, you need to be prepared to be able to survive for at least a week without any help from the outside world.  In the most extreme situations (such as in the aftermath of Hurricane Katrina) the state of emergency created by a hurricane can last even longer.
So exactly how should one prepare for a hurricane?
Ready.gov provides the following list of tips…
To prepare for a hurricane, you should take the following measures:

To begin preparing, you should build an emergency kit and make a family communications plan.
Know your surroundings.
Learn the elevation level of your property and whether the land is flood-prone. This will help you know how your property will be affected when storm surge or tidal flooding are forecasted.
Identify levees and dams in your area and determine whether they pose a hazard to you.
Learn community hurricane evacuation routes and how to find higher ground. Determine where you would go and how you would get there if you needed to evacuate.
Make plans to secure your property:
Cover all of your home's windows. Permanent storm shutters offer the best protection for windows. A second option is to board up windows with 5/8" marine plywood, cut to fit and ready to install. Tape does not prevent windows from breaking.
Install straps or additional clips to securely fasten your roof to the frame structure. This will reduce roof damage.
Be sure trees and shrubs around your home are well trimmed so they are more wind resistant.
Clear loose and clogged rain gutters and downspouts.
Reinforce your garage doors; if wind enters a garage it can cause dangerous and expensive structural damage.
Plan to bring in all outdoor furniture, decorations, garbage cans and anything else that is not tied down.
Determine how and where to secure your boat.
Install a generator for emergencies.
If in a high-rise building, be prepared to take shelter on or below the 10th floor.
Consider building a safe room.
A recent CNN article included a list of supplies that you should have on hand in the event that a hurricane is on the way…
— A three-day supply of water, one gallon per person per day.

— Three days of food, with suggested items including: canned meats, canned or dried fruits, canned vegetables, canned juice, peanut butter, jelly, salt-free crackers, energy/protein bars, trail mix/nuts, dry cereal, cookies or other comfort food.

— A can opener.

— Flashlight(s).

— A battery-powered radio, preferably a weather radio.

— Extra batteries.

— A first aid kit, including latex gloves; sterile dressings; soap/cleaning agent; antibiotic ointment; burn ointment; adhesive bandages in small, medium and large sizes; eye wash; a thermometer; aspirin/pain reliever; anti-diarrhea tablets; antacids; laxatives; small scissors; tweezers; petroleum jelly.

— A small fire extinguisher.

— Whistles for each person.

— A seven-day supply of medications.

— Vitamins.

— A multipurpose tool, with pliers and a screwdriver.

— Cell phones and chargers.

— Contact information for the family.

— A sleeping bag for each person.

— Extra cash.

— A silver foil emergency blanket.

— A map of the area.

— Baby supplies.

— Pet supplies.

— Wet wipes.

— A camera (to document storm damage).

— Insect repellent.

— Rain gear.

— Tools and supplies for securing your home.

— Plastic sheeting.

— Duct tape.

— Dust masks.

— An extra set of house keys.

— An extra set of car keys.

— An emergency ladder to evacuate the second floor.

— Household bleach.

— Paper cups, plates and paper towels.

— Activities for children.

— Charcoal and matches, if you have a portable grill. But only use it outside.
But in the final analysis, preparation is going to look a little bit different for every family.
If you live along the coast, there is a good chance that you will need to evacuate.  If you live farther inland, you will probably be able to hunker down exactly where you are.
Hurricane Sandy will come and go, but hopefully millions of Americans will learn some lessons about preparation from this crisis.  One of these days we may have a disaster that lasts much longer such as a major economic crisis, an EMP attack, a nightmarish pandemic or a major war.  If we cannot handle a disaster that lasts for just a couple of days, what chance are we going to have at surviving something that lasts for months or even years?
That is something to think about.  Hopefully we will all reflect on emergency preparedness over the next few days.  Our world is becoming increasingly unstable, and eventually there will come a point where we will find ourselves totally dependent on the preparations that we have made.