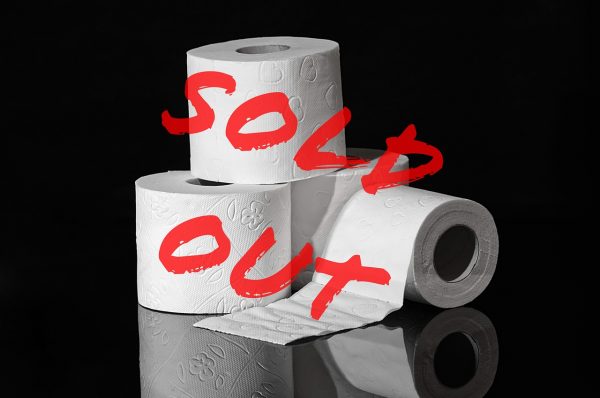 It is starting to happen again.  Do you remember how "panic buying" caused a massive shortage of toilet paper and other basic essentials during the early days of the COVID pandemic last year?  Well, shortages are back, but this time around different factors are at play.  We are being told that the shortages should just be temporary, and that is good news.  But this is yet another example that shows how exceedingly vulnerable global supply chains have become in this day and age.  If another major global crisis were to suddenly strike, we could quickly be facing long-term shortages of certain items that would be quite severe.  So hopefully this short-term toilet paper shortage will be a wake up call for all of us.  The following comes from Yahoo News…
Who can forget last year's empty store shelves and pandemic panic shopping, right? Cleaning products, hand sanitizer and toilet paper were all but impossible to find, and only recently have name-brand disinfectant wipes and sprays begun showing up in stores again,

Well, brace yourself, because another product shortage is looming — and yes, it may very well become tough to find toilet paper again.
This new toilet paper shortage is not being caused by "panic buying".  Instead, two factors have combined to create serious delays in getting products from overseas…
For six days, Egypt's Suez Canal was blocked by a giant cargo vessel that got stuck and held up hundreds of other ships on a route that handles about 12% of world trade. The Ever Given — about as long as the Empire State Building is tall — was finally freed Monday, but analysts say it could take more than a week to clear the backup.

Meanwhile, a shortage of shipping containers also is causing problems in the cargo transport industry. Many of the factories that build the giant metal boxes are in China — and a number of them shut down in the early days of the COVID crisis, cutting supplies short.
Needless to say, it won't just be toilet paper that is affected.
Even now, you are probably noticing empty shelves at some of your favorite retail outlets, and that will probably continue to be the case for quite some time.
Meanwhile, prices on many of our favorite consumer products are going to be rising substantially.  For example, even though we are being told that the current toilet paper shortages will just be "temporary", the price increases that are coming will not be…
The maker of the Cottonelle, Scott and Viva brands announced Wednesday that it will hike prices on "a majority of its North America consumer products business," including toilet paper and baby care items.

Kimberly-Clark Corporation blamed rising commodity costs for the increases.
In response to the COVID pandemic, governments all over the globe have been creating, borrowing and spending money like there is no tomorrow.
As a result, commodity prices have shot through the roof, and companies are starting to pass those price increases along to consumers.
Our politicians always seem to think that "more money" is the solution, but their reckless policies are starting to cause some very serious long-term problems.  Here in the United States, we have now seen the money supply grow at an insane pace for 11 months in a row…
In February, money supply growth hit yet another all-time high. February's surge in money-supply growth makes February the eleventh month in a row of remarkably high growth, and came in the wake of unprecedented quantitative easing, central bank asset purchases, and various stimulus packages.

During February 2021, year-over-year (YOY) growth in the money supply was at 39.1 percent. That's up slightly from January's rate of 38.7 percent, and up from the February 2020 rate of 7.3 percent. Historically this is a very large surge in growth, year over year. It is also quite a reversal from the trend that only just ended in August of 2019 when growth rates were nearly bottoming out around 2 percent.
We are on a hyperinflationary path, and everyone knows that this story is not going to end well.
One area where we are already seeing tremendous inflation is in home prices…
House prices rose by 11.2% from a year ago, the biggest increase since the peak of Housing Bubble 1 in 2006, according to today's National Case-Shiller Home Price Index for January.

The index is a good measure of "house-price inflation" because it's based on the "sales pairs" method, comparing the sales price of a house in the current month to the price of the same house when it sold previously, thereby tracking the amount of dollars it takes to buy the same house over time.
But that number doesn't tell the entire story.
Home prices are actually going down in some core urban areas, and they are escalating dramatically in desirable rural and suburban communities around the nation.  This is something that I discussed in my previous article entitled "We Have Never Seen A Home Buying Frenzy Quite Like This".
Those at the very top of the economic pyramid are gobbling up homes at a feverish pace, but meanwhile an increasing number of Americans are no longer able to afford homes at all.  Homelessness and poverty are absolutely exploding all over the country, and things are particularly bad on the west coast.
In Seattle, tents have taken over sidewalks and parks all over the city.  If you drive through the heart of Seattle, you will literally see homeless encampments everywhere that you go…
Fox News analyst Lawrence Jones spoke with Seattle residents about the homeless crisis and encampments taking over their neighborhood parks.

When asked how the presence of homeless tents and encampments in her neighborhood made her feel, one Seattle resident told Jones that it made her feel "sad" and "depressed."

In one residential area of Seattle, tents filled parks and sports fields where young children would typically play.
I would like to tell you that this homelessness crisis is just temporary, but I can't.
Unfortunately, the truth is that economic conditions in America will eventually get a whole lot worse.
The short-term toilet paper shortages that we are facing now are an inconvenience, but the truth is that they aren't even worth comparing to the problems that we will be facing down the road.
So stock up and get prepared while you still can, because things aren't going to be getting any easier as we roll into a very uncertain future.
***Michael's new book entitled "Lost Prophecies Of The Future Of America" is now available in paperback and for the Kindle on Amazon.***
About the Author: My name is Michael Snyder and my brand new book entitled "Lost Prophecies Of The Future Of America" is now available on Amazon.com.  In addition to my new book, I have written four others that are available on Amazon.com including The Beginning Of The End, Get Prepared Now, and Living A Life That Really Matters. (#CommissionsEarned)  By purchasing the books you help to support the work that my wife and I are doing, and by giving it to others you help to multiply the impact that we are having on people all over the globe.  I have published thousands of articles on The Economic Collapse Blog, End Of The American Dream and The Most Important News, and the articles that I publish on those sites are republished on dozens of other prominent websites all over the globe.  I always freely and happily allow others to republish my articles on their own websites, but I also ask that they include this "About the Author" section with each article.  The material contained in this article is for general information purposes only, and readers should consult licensed professionals before making any legal, business, financial or health decisions.  I encourage you to follow me on social media on Facebook, Twitter and Parler, and any way that you can share these articles with others is a great help.  During these very challenging times, people will need hope more than ever before, and it is our goal to share the gospel of Jesus Christ with as many people as we possibly can.