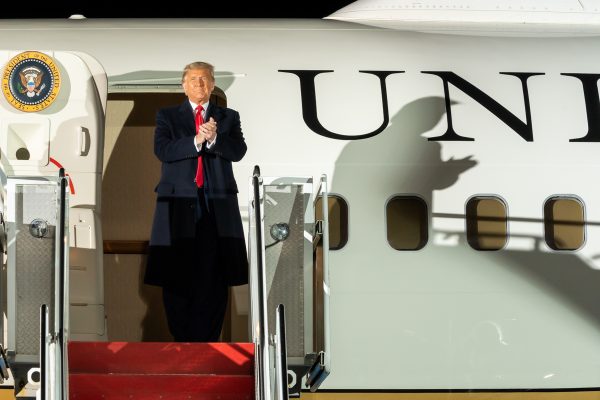 Can you think of any other time in the history of the United States when measures have been taken in advance to try to prevent a presidential candidate from declaring victory on the night of the election?  It is difficult to believe that this is actually happening, and it is yet more evidence of how badly our system has deteriorated.  Of course President Trump may decide to declare victory anyway if he has a significant lead on election night, but any such declaration will immediately be branded "illegitimate" by the mainstream media, the big tech companies and everyone else on the left.
For months, pundits on the left have been trying to convince us that President Trump may have a lead initially but that Joe Biden will surely be victorious once all of the mail-in ballots are finally counted.  They are going to be pushing that narrative no matter how large Trump's lead is, and they are absolutely determined to squelch any talk that Trump has officially won.
For example, on Monday Twitter announced that it will be "pre-bunking" election misinformation.  In particular, Twitter will be "warning that there may be delays in full election results" and that there may be "misleading information" about mail-in votes…
Twitter said Monday it would take the proactive step of alerting its users to potential misinformation in preparation for unverified claims about the November 3 US election.

The short messaging service said it would place notices at the top of user feeds warning that there may be delays in full election results and that people might see "misleading information" about voting by mail.
Do you think those notices are directed at Democrats?
Of course not.
Their goal is to keep President Trump and other Republicans from declaring "premature" victories, and Twitter has stated that no such claims will be allowed until races are "authoritatively called"…
It has also said candidates for office may not claim an election win before it is "authoritatively called" and that premature claims would be labeled with a link to the platform's election page.
So exactly who will they be relying on to "authoritatively" declare that races have been won or lost?
The ultra-liberal Associated Press?
In 2000, the Associated Press called Florida for Al Gore very early, and if George W. Bush had not contested that result he never would have been the president of the United States.
Knowing the AP, they may try to call some states for Biden based on assumptions about "uncounted mail-in ballots" even though Trump is leading in the actual vote count.
Personally, I am in favor of not declaring a winner in each state until it is mathematically impossible for the other candidate to catch up, but that is just me.
Other social media companies are also preparing for contested election results.  As I discussed yesterday, Facebook has announced that they are ready to implement "emergency measures" that are usually reserved for the most "at-risk" countries.  They will not be allowing any "premature" declarations of victory either, although I have a feeling that their standards will not be applied equally to both parties.
While the big social media companies work hard to try to control the narrative, activists on the left will be storming D.C. in order to "make sure Trump leaves the White House"…
Ringleaders of protesters are organizing an effort to "make sure Trump leaves the White House" by any means necessary after the Nov. 3 election, according to website posts from the group Shut Down DC and their allies.
Even if Trump gets the votes that he needs to win, these protesters have absolutely no intention of recognizing the result as legitimate.
Instead, they are planning an "uprising" that will go "from election night on"…
"On Election Day, when you're done voting, doing election protection, or getting out the vote, come join us at Black Lives Matter Plaza. We're inviting everybody who agrees with these organizing principles to work together to make this uprising happen. We're going to make sure Trump leaves. From election night on, as the situation changes and evolves we all work together to make that happen," they tell their supporters on the webpage.

The group also tells its followers that if they are not in DC, "Organize in your community! Find out where the votes will be counted where you live. Make a plan with others to get there and stay until all the votes are counted. And come up with a plan to create serious disruption if Trump really tries to steal the election!"
Do you remember all of the people that marched and held signs that said "not my president" after the election of 2016?
Well, that was nothing compared to what we will witness if Trump wins again.  As I warned yesterday, we could be on the verge of the biggest emotional meltdown in U.S. history.
At this point, so many Americans are concerned about rioting and violence after the election that it has forced the mainstream media to do stories about it.  For example, the following comes from a USA Today article entitled "Americans worried about Election Day violence and chaos are buying guns and toilet paper"…
Tabitha Converse is quietly preparing for Election Day and the weeks beyond by stocking her basement pantry with canned goods, toilet paper and other basic supplies. She even persuaded her husband to buy a hunting rifle, just in case.

Like millions of Americans, Converse, 43, fears the potential for violence that experts say may accompany this year's presidential election. A mother of two who works as a dental hygienist, Converse is trying not to worry too much, but with a pandemic, civil rights protests and raging wildfires piled atop the election's boiling-hot rhetoric, well, who knows what might happen?
That sounds like it could have come right out of one of my articles.
This is how bad things have gotten.  We are on the verge of widespread civil unrest following a presidential election, and nobody has any idea how to stop it from happening.
If chaos does erupt in our streets in November, I would strongly advise avoiding it, because it is likely to get really, really ugly.
***Michael's new book entitled "Lost Prophecies Of The Future Of America" is now available in paperback and for the Kindle on Amazon.***
About the Author: My name is Michael Snyder and my brand new book entitled "Lost Prophecies Of The Future Of America" is now available on Amazon.com.  In addition to my new book, I have written four others that are available on Amazon.com including The Beginning Of The End, Get Prepared Now, and Living A Life That Really Matters. (#CommissionsEarned)  By purchasing the books you help to support the work that my wife and I are doing, and by giving it to others you help to multiply the impact that we are having on people all over the globe.  I have published thousands of articles on The Economic Collapse Blog, End Of The American Dream and The Most Important News, and the articles that I publish on those sites are republished on dozens of other prominent websites all over the globe.  I always freely and happily allow others to republish my articles on their own websites, but I also ask that they include this "About the Author" section with each article.  The material contained in this article is for general information purposes only, and readers should consult licensed professionals before making any legal, business, financial or health decisions.  I encourage you to follow me on social media on Facebook and Twitter, and any way that you can share these articles with others is a great help.  During these very challenging times, people will need hope more than ever before, and it is our goal to share the gospel of Jesus Christ with as many people as we possibly can.