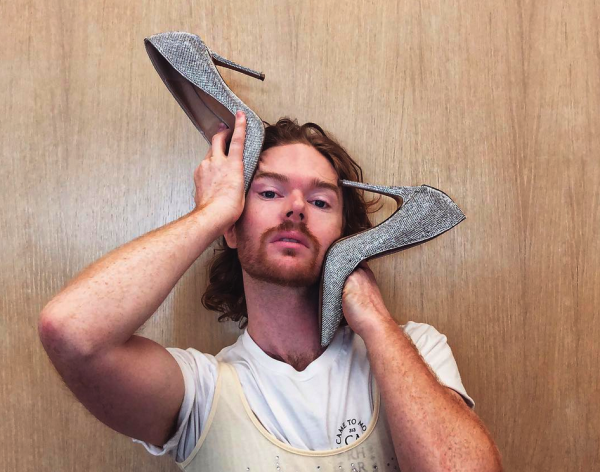 Should men wear stilettos?  At one time that would have been unthinkable, but in recent years the trend toward "gender-fluidity" has broken down many of the old barriers that once ruled the fashion world.  So now many men are wearing whatever they feel like wearing, and they are doing so very publicly.  As you will see below, businessmen are wearing stilettos to important business meetings, and kids are even wearing them to prom.  Will we soon reach the point where all of the old fashion rules have been completely wiped out?  According to the Daily Beast, more men are wearing stilettos than ever before.  In their article entitled "More Men Are Wearing Stilettos—if They Can Find Their Size", they profiled a designer named Shaobo Han that runs a company that actually sells stilettos for men…
Han grew up to be a graphic designer, along the way running the femme footwear line Syro with business partner Henry Bae. The Brooklyn-based company sells heels and boots in men's sizes 5-14. The styles are chic and trendy—plaid, patent, over-the-knee—but not gaudy à la Kinky Boots.

Whether a customer is male, trans, or non-binary, the mission of Syro is to promote femininity and encourage a fluid sense of style.
And Han's company doesn't just cater to adults.
When kids need stilettos for various events, Han is thrilled to be able to service them…
"We get emails where kids are saying how grateful they are to discover us, which is really heartwarming," Han said. "They tell us that they're wearing them to prom, or to a wedding. Those spaces are so gender-confirming so it's nice to provide them a way to express themselves and challenge norms."
As I was doing research for this article, one of the things that surprised me the most is the fact that this new fashion trend is being accepted in the boardroom.
One businessman says that when he wears stilettos to work, it makes him feel "confident" and "invincible"…
So I went to a shoe store, tried them on and it was as if a lightbulb just switched on.

I felt confident, I felt invincible, I felt empowered, like I could take on anything and do whatever I wanted.

I knew I was going to wear them to work, so I wasn't really asking permission, I was telling her 'this is what I'm doing', but it was a little bit scary.

A lot of people have a work identity and then a home identity, but I don't feel the need to be different in the office.
Of course it isn't just stilettos that men are wearing these days.  Not too long ago, Thom Browne came out with an entire line that featured skirts, dresses and high heels for men.  If you have not seen what I am talking about, you can view photos of this line right here.
For Thom Browne, the time has come to break all the rules…
Gender fluidity in style is no longer a thing for only women, but men too. Thom Browne, an American designer seems to think men should embrace the trend too and rock a few pieces 'borrowed from the girls'. His spring summer collection presented at the ongoing Men's fashion week had a slew of dress shirts, tunics, maxi dresses and skirts all worn with pointy toe heels.

Who says what a man should and shouldn't wear? The collection seems to drive a conversation many of us never want to have. And, if a woman can wear a pantsuit, why can't a man wear a skirt suit? Probably, this is what the designer wanted to us to talk about.
Another fashion trend that has raised a lot of eyebrows is "rompers for men"…
For too many years, men have suffered from a lack of options in the fashion realm. So, four Chicago-based business school buds sought to rectify this injustice by introducing to the world (for better or for worse) the male romper — er the RompHim.

"Turn heads and break hearts when you take your RompHim for a spin," reads the product description. "Is it a romper specifically designed for men? Sure, but it's also so much more."
It is hard to imagine that too many men would want to wear rompers, and that is doubly true for the company that put out of a line of lace shorts for men.
We live at a time when the fashion world, along with almost every other segment of society, is going completely and utterly insane.
"Being a man" is being completely redefined, and the old way of "being a man" is now considered to be "toxic".  In fact, many colleges are now holding "workshops" on "toxic masculinity"…
When Robinson was a freshman at Brown, he attended a masculinity workshop for football players as part of a new effort there to unlearn toxic masculinity.

He was shocked by what he heard.

"Football is a very masculine sport," Robinson said. "So to hear things that I accepted as normal being challenged, like players insulting each other by saying they 'play like a girl,' made me want to get involved."

The masculinity program is led by Marc Peters, assistant director for campus engagement and community dialogue, whom the university brought on in 2014 to address masculinity issues.
Our society is changing at a pace that is hard to keep up with, and the pace of change is likely to accelerate even more in the months and years ahead.
So what do you think that these changes mean for the future of our society?
Please feel free to tell us what you think by posting a comment below…
About the author: Michael Snyder is a nationally syndicated writer, media personality and political activist. He is publisher of The Most Important News and the author of four books including The Beginning Of The End and Living A Life That Really Matters.
The Last Days Warrior Summit is the premier online event of 2018 for Christians, Conservatives and Patriots.  It is a premium-members only international event that will empower and equip you with the knowledge and tools that you need as global events begin to escalate dramatically.  The speaker list includes Michael Snyder, Mike Adams, Dave Daubenmire, Ray Gano, Dr. Daniel Daves, Gary Kah, Justus Knight, Doug Krieger, Lyn Leahz, Laura Maxwell and many more. Full summit access will begin on October 25th, and if you would like to register for this unprecedented event you can do so right here.