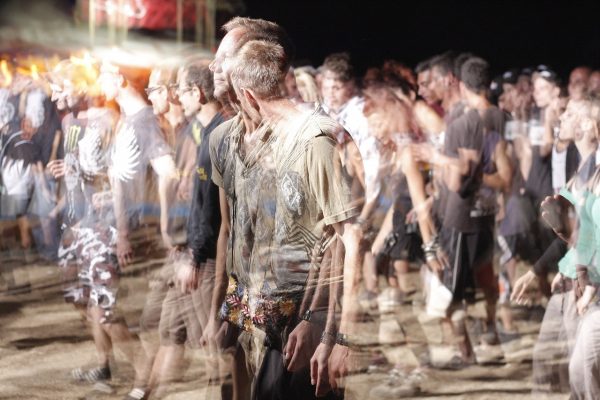 Americans from the age of 18 to the age of 29 are voting in record numbers in many states that offer early voting.  Traditionally, young people have not turned out in high numbers for midterm elections, but that has apparently changed in a major way this time around.  In fact, a massive increase in early voting by young people is one of the reasons why Nancy Pelosi is already declaring victory.  Young adults are far more liberal than the population as a whole, and they overwhelmingly tend to vote for Democrats.  The problem for Democrats in previous elections has been actually getting them to go vote, but in 2018 large numbers of young people appear to be highly motivated.
The statistics that are coming in are staggering.  In Texas and Nevada, early voting by young adults is five times higher (500%) than it was four years ago…
In some states, especially those with hot races, the increase in turnout is staggering. In Texas, 332,000 voters under the age of 30 have cast ballots already, up nearly five fold from the 2014 midterms. In Nevada, the 25,000 young voters who have cast a ballot is also five times higher than in the same period four years ago.

Georgia's young voter turnout is four times higher than it was in 2014. In Arizona, three times as many younger voters are turning up.
And since they are so new to the process, a lot of these young voters are voting for the very first time…
"Voters under the age of 30, relative to their '14 turnout, are outperforming every other group," said Tom Bonier, a Democratic strategist whose firm TargetSmart tracks the early vote. "It's not just like a presidential year surge where you're getting younger voters who only vote in presidentials coming out in a midterm. A lot of these young people are voting in their first election period."
One recent survey found that Americans from the age of 18 to the age of 29 favor Democrats over Republicans this election cycle by a 66 percent to 32 percent margin.  Needless to say, that is very bad news for Republicans.
Nearly all of the polls that we usually see are focused on "likely voters", and those models assume that young adults will not turn out in high numbers.
Since extremely large numbers of "unlikely voters" appear to be voting, that means that we could see some huge surprises on election night.
And it isn't just young people that are voting in unusual numbers this cycle.  In Texas, "vote rates have more than doubled" for African-Americans and Hispanics…
In Texas, young voter turnout is currently up 508 per cent, while African-American and Hispanic – both traditionally Democratic constituencies – vote rates have more than doubled.
I still think that he will win, but those numbers could potentially mean big trouble for Ted Cruz.
In addition, women are voting at a significantly higher rate than men in a number of key states…
Women have been more likely than men to cast ballots early so far this year: they make up 56 percent of early voters so far in Georgia; 54 percent in Texas, Florida, and Tennessee; and 53 percent in Nevada, according to an analysis by CNN and the data company Catalist.

Given the gender gap between the parties, there's a temptation to interpret this as good news for Democrats. But it's too early to say for sure.
We'll see what all of these numbers ultimately mean on election night.
But right now the Republicans should be very nervous.
Even here in the "very conservative" state of Idaho, there is a huge enthusiasm gap between the two major candidates for governor…
The enthusiasm gap between Jordan and her opponent, 64-year-old multimillionaire Lt. Gov. Brad Little (R), was obvious after their last debate. The self-described undecided voters in attendance swarmed her for photos and questions as he quietly slipped out. One veteran waited in line for 15 minutes to meet her and promptly ripped a sticker off of his shirt bearing Little's name, saying he is voting for her instead.

What the hell is going on with you, Idaho?
Because this state is one of the most Republican states in the entire country, Little will still probably win, but that is certainly nothing to celebrate.  Brad Little is essentially a Democrat, and so that means that voters in the red state of Idaho basically have two Democrats to choose from on the ballot.
If the Democrats are successful in taking back control of the House on Tuesday, they will greatly celebrate.
But if they don't, we could see chaos.  In fact, actor James Cromwell is calling for "blood in the streets" if Republicans keep control of the House of Representatives…
While speaking to Variety at an event in which Cromwell was honored, (the fourth annual Carney Awards), he used his platform to call for change in the United States and warn of bloody violence if President Trump and his allies remain in office. He warned of the turn that he sees America taking and cautioned there will be "blood in the streets" if Republicans remain in control. "This is nascent fascism. We always had a turnkey, totalitarian state — all we needed was an excuse, and all the institutions were in place to turn this into pure fascism," Cromwell said. "If we don't stop [President Trump] now, then we will have a revolution for real. Then there will be blood in the streets."

"We're living in very curious times, and something is coming up which is desperately important to this country and to this planet, and that is an election, in which hopefully in some measure we are going to take back our democracy," he said. "We will have a government that represents us and not the donor class. We will cut through the corruption, [and] we won't have to do what comes next, which is either a non-violent revolution or a violent one, because this has got to end."
Of course we have already been seeing political violence on a daily basis.
It didn't make many headlines in the mainstream media, but someone just threatened to blow up a Republican headquarters office in Michigan…
Law enforcement is investigating after someone threatened to blow up the Grand Traverse County Republican Headquarters.

Deputies say it happened around 3:15 p.m. Wednesday at the GOP headquarters in Cherryland Mall.

Employees say the suspect had a sign that said "Trump is Satan" and started going off on a rant about Republicans.
No matter what happens on Tuesday, let us pray for peace and safety for our nation.
A lot of Democrats see Tuesday as the first opportunity to strike back at Donald Trump, and so they are very eager to get to the polls.  Trump had been hoping that his conservative base would rally around Republican candidates, but many of those conservatives have been turned off by moves that he has been making lately.
For instance, many conservatives were deeply alarmed that Trump just nominated a radical gay activist to serve as a judge on the Ninth Circuit…
President Donald J. Trump recently nominated the openly gay lawyer Patrick J. Bumatay to serve as a judge on the U.S. Court of Appeals for the Ninth Curcuit, historically a liberal legal redoubt. The Ninth Circuit covers federal appeals for Alaska, Arizona, California, Hawaii, Idaho, Montana, Nevada, Oregon and a few other districts.
That isn't a conservative thing to do.
In fact, that is an extremely liberal thing to do.
And this wasn't the first time that this kind of thing has happened.  Back in June, Trump nominated a radical gay activist to an important judicial position in Illinois…
Bumatay is Trump's second openly gay nominee to a federal bench. In June, Trump picked Mary M. Rowland to serve as a judge on the U.S. District Court for the Northern District of Illinois. Rowland has served a federal magistrate judge, as a law partner in a Chicago legal firm, and as an attorney in the Chicago office of the Federla Defender.

Rowland, 57, earned her B.A. from the University of Michigan and her J.D. from the University of Chicago. Rowland is a member of the Lesbian and Gay Bar Association of Chicago and has done pro bono work for Lambda Legal. She is "married" to Julie E. Justicz and they have two children.
That isn't a conservative thing to do.
In fact, that is an extremely liberal thing to do.
Many conservatives are deeply frustrated, because they had been counting on Trump to fix the court system.
Instead, in many instances he is making things worse.
Enthusiasm among Democrats is sky high right now, and enthusiasm among Republicans is not.
Will that result in a huge "blue wave" on Tuesday?
We shall see.  As we witnessed in 2016, unexpected things can often happen in the world of politics.
About the author: Michael Snyder is a nationally syndicated writer, media personality and political activist. He is publisher of The Most Important News and the author of four books including The Beginning Of The End and Living A Life That Really Matters.
The Last Days Warrior Summit is the premier online event of 2018 for Christians, Conservatives and Patriots.  It is a premium-members only international event that will empower and equip you with the knowledge and tools that you need as global events begin to escalate dramatically.  The speaker list includes Michael Snyder, Mike Adams, Dave Daubenmire, Ray Gano, Dr. Daniel Daves, Gary Kah, Justus Knight, Doug Krieger, Lyn Leahz, Laura Maxwell and many more. Full summit access will begin on October 25th, and if you would like to register for this unprecedented event you can do so right here.