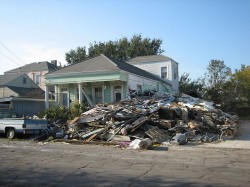 As we come to the end of 2010, there seems to be very few reasons to be optimistic about the U.S. housing market as we enter 2011.  Home prices have fallen for several months in a row, mortgage rates are going up, mortgage delinquencies are increasing again, the mortgage industry is mired in horrific legal problems and the underlying economy is still extremely sluggish.  During 2009 and throughout the first half of 2010 the U.S. housing market experienced a time of stabilization and it looked like the housing industry might recover, but when the tax breaks expired things started to get bad once again.  Now many analysts are publicly using the term "double-dip" when speaking about prospects for the U.S. housing market in 2011.
For example, economist Nouriel Roubini recently told CNBC that the "double-dip" is already here….
"It's pretty clear the housing market has already double dipped."
David Blitzer, the chairman of the committee that releases the Standard & Poor/Case-Shiller home price index, believes that it has not happened yet but is warning that a housing "double-dip is almost here".
Standard & Poor's analysts are projecting that U.S. home prices will decline between seven and ten percent in 2011.
A ten percent drop in housing prices during 2011 would be absolutely devastating for the U.S. economy.  It would send mortgage defaults and foreclosures soaring once again.
So just why is everyone so pessimistic about the U.S. housing market?
Well, for one thing, mortgage rates are going up.  Home sales have been extremely poor even with mortgage rates near record lows for much of 2010, so what is going to happen if mortgage rates keep rising throughout 2011?
In addition, U.S. mortgage lenders have really, really tightened up lending standards.  This has made it much more difficult to get a home loan in America.  If less people can qualify for a home loan that means that there are a lot fewer qualified buyers than there used to be.  There doesn't seem to be any reason to believe that mortgage lenders are going to return to the freewheeling way that they once did business in 2011.  In fact, it seems likely instead that they are going to be even more careful about who they lend to in the year ahead.
Meanwhile, housing prices continue to go down.
Many analysts have been troubled by the fact that U.S. home sales are extremely low right now and that this has been pushing housing prices down.  The Case Shiller Composite-20 Index declined one percent during the September/October time period.  Home prices fell in every single metropolitan area examined by the survey, and this was the third consecutive month that prices have fallen.
David Blitzer sounded very pessimistic when he declared that there "is no good news in October's report".  According to Blitzer, the U.S. housing market has deteriorated significantly over the last 12 months and that "on a year-over-year basis, sales are down more than 25 percent and the month's supply of unsold homes is about 50 percent above where it was during the same months of last year."
Ouch.
Many analysts are talking about the expiration of the federal home buyer tax credit back in May as a key turning point.  What that tax credit did was take "future demand" for housing and move it into the period when the tax credit was active.  Now that there is no more tax credit there isn't anything to artificially boost demand for housing.  Economist Nouriel Roubini noted this phenomenon during a recent interview with CNBC….
"If you look at the data, Case Shiller has been falling every month since the tax credit expired in May. Everyone who wanted to buy a home did so by April."
Unfortunately things look like they are only going to get worse.
As we move into 2011, the legal problems that the U.S. housing market is embroiled in will continue to put downward pressure on housing prices.
The number of housing and mortgage related lawsuits across the United States has been dramatically increasing.  More homeowners than ever are challenging their foreclosures and are demanding that those seeking to foreclose on them actually produce the paperwork that shows that they own the mortgage.  This is causing a lot of chaos out there.
Adam Levitin, a Georgetown University Law professor who specializes in mortgage finance and financial regulatory issues recently was quoted in an article on CNBC as saying the following about the situation the U.S. mortgage industry is currently facing….
The mortgage is still owed, but there's going to be a problem figuring out who actually holds the mortgage, and they would be the ones bringing the foreclosure. You have a trust that has been getting payments from borrowers for years that it has no right to receive. So you might see borrowers suing the trusts saying give me my money back, you're stealing my money. You're going to then have trusts that don't have any assets that have been issuing securities that say they're backed by a whole bunch of assets, and you're going to have investors suing the trustees for failing to inspect the collateral files, which the trustees say they're going to do, and you're going to have trustees suing the securitization sponsors for violating their representations and warrantees about what they were transferring.
What a mess! It is going to take many years (if not decades) to sort through all of the legal wrangling that this foreclosure crisis is causing.
Meanwhile, mortgage delinquencies are increasing again.  Freddie Mac recently reported that the "serious delinquency rate" increased from 3.82 percent in October to 3.85 percent in November.  Mortgages are considered to be "seriously delinquent" if at least three monthly payments have been missed.  A rise in serious delinquencies means that we could see another spike in foreclosures in 2011.
So could home prices fall ten percent or more next year?
If so, what would that mean?
Well, Roubini says that even a five percent decline in home prices would push another 8 million U.S. homeowners into negative equity and that would likely mean even more "strategic defaults"….
"Thus even a 5% fall in home price will push an extra 8 million in negative equity with risk of millions walking away from their home—i.e. jingle mail."
Unfortunately, there doesn't seem to be much chance that the U.S. housing market will turn around as long as unemployment remains as high as it is right now.  As 2007 began, there were just over 1 million Americans that had been unemployed for half a year or longer.  Today, there are over 6 million Americans that have been unemployed for half a year or longer.
Not only that, as we enter 2011 there are at least 1.5 million "99ers" – American workers that have completely exhausted all of their long-term unemployment benefits and that still do not have jobs.
If Americans don't have good jobs they can't buy good homes.
Sadly, our good jobs are being shipped overseas at an alarming pace.  Americans have been merged into a global labor pool where they have to compete with slave labor on the other side of the globe.  Big global corporations know this and they are finding that they can make much bigger profits by getting rid of "expensive" Americans workers and by giving their jobs to those who will work for slave labor wages.
So instead of buying good homes, many hard working Americans have been forced to set up tents in the woods.
The U.S. government has been attempting to prop up the economy with wild borrowing, but that cannot last forever.  The U.S. national debt is rapidly approaching 14 trillion dollars and the rest of the world is getting really tired of lending obscene amounts of money to us.
Meanwhile, there are hundreds of state and local government financial disasters happening all across the United States.  Analysts fear that we could see a huge wave of municipal bond defaults in 2011.  The federal government could attempt to bail out all of the state and local governments, but the truth is that the federal government is already nearly insolvent.
Another thing that could send the U.S. economy into the tank in 2011 is the price of oil.  As I wrote about yesterday, there are a whole bunch of indications that the price of oil will soar well past 100 dollars a barrel in 2011.  If that happens it is going to be disastrous for the U.S. economic "recovery".
So is 2011 going to be a nightmarish year for the U.S. housing market?
Yes.
Any questions?