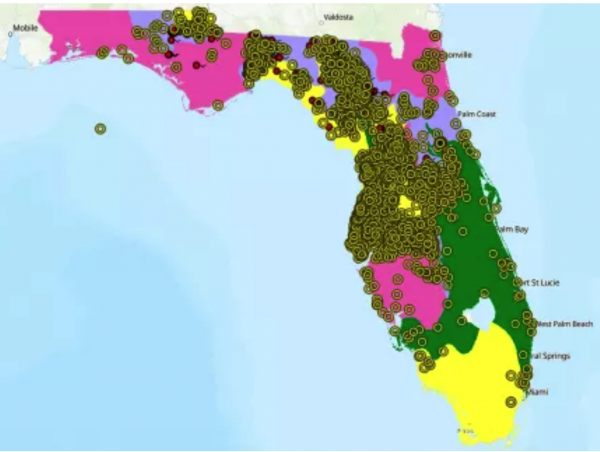 Is something very unusual happening to our world?  Hundreds of giant sinkholes have been suddenly appearing all over the globe, and this is deeply alarming a lot of people.  For months, I have been coming across news stories about giant sinkholes during my daily research sessions, and at first I ignored them.  But lately there have been so many stories about giant sinkholes that I decided to start looking into this phenomenon.  Of course there have always been sinkholes, and so it isn't a shock when one suddenly appears somewhere.  In many cases, they are caused by heavy rain, broken water pipes or earthquakes.  But what is different about 2021 is the fact that hundreds and hundreds of absolutely enormous sinkholes have been suddenly appearing all over the globe.  Is this just a "bad year", or is this an indication that something truly strange is happening to the crust of our planet?
Let me start by talking about a giant sinkhole that just keeps growing in Mexico.  It is now 124 meters wide, and it has already swallowed a house and two dogs…
Back in May, a farm in Mexico started developing a sinkhole that has since caused the evacuation of a family living in a nearby house, the collapse of that same house and a rescue operation for two dogs that, like the house, were swallowed up in the sinkhole.

As of this past weekend, the sinkhole — on farmland in Santa Maria Zacatepec, located in Central Mexico in the state of Puebla — had grown to 124 meters wide, according to Ary News.
By itself, that sinkhole in Mexico would not be that big of a deal.
But this sort of a thing is happening all over the globe.  For example, a 17-year-old kid recently discovered a sinkhole that is 200 feet deep in his grandfather's field that literally developed in just one night…
The night before, he'd been walking in the area, and he said there was no indication of the geologic disturbance. But the next morning, he says he nearly fell into the hole. Had he done so, tragedy would have resulted as the sinkhole is 9 feet across and roughly 200 feet deep.

It's not an isolated occurrence in the Konya province. Several sinkholes have appeared there in recent years. Most notably, a monstrous 57,414 square-foot (10 miles!) chasm that revealed ancient human cave dwellings.
Of course most Americans couldn't care less about what happens on the other side of the world, and so let me give you some examples from right here in the United States.
On Sunday, two vehicles fell into a large sinkhole that suddenly appeared in a key section of Manhattan…
Two vehicles got stuck in a sinkhole after the part of the street they were parked on collapsed underneath them in Manhattan Sunday.

It was discovered around 10:30 a.m. on Riverside Drive near its intersection with 97th Street on the Upper West Side.
Elsewhere in New York, a sinkhole that is 8 feet deep recently appeared right in the middle of a family's lawn in Nassau County…
A family in Nassau County says they're getting the runaround from the city and their insurance company after an 8-foot deep sinkhole appeared in their driveway following a period of heavy rain.

When David Moultrie came home from work on Saturday, he says he couldn't believe what he saw in his Elmont driveway: a gaping hole right in his front lawn.
Down in Florida, hundreds and hundreds of sinkholes have been developing in recent months.
In fact, so many sinkholes have been developing in Florida that the state government maintains a regularly updated map that shows where all of them are.  You can view an example of this map right here.
That map definitely does not look "normal" to me.
But in today's world, is anything "normal" anymore?
Across the Atlantic, scientists have been quite puzzled by what has been going on in Croatia.  Toward the end of 2020, a very large sinkhole suddenly swallowed a garden in a little town known as Meenani…
Just before the new year in 2021, the earth in a quiet area of Croatia began to act oddly. A near-perfectly round hole sprang out of nowhere in a garden in Meenani, a hamlet 40 kilometers (24 miles) from Croatia's capital city of Zagreb, measuring 30 meters (98 feet) broad and 15 meters (49 feet) deep.
Since that time, dozens of other very large sinkholes have started to appear in the region.
In fact, at this point there are "as many as 100 sinkholes in and around the two communities"…
More and more of these huge holes appeared in Meenani and its adjacent village Borojevii during the next few weeks. According to the Croatian Geological Institute, at least 54 totally collapsed sinkholes of various sizes had been documented by the end of January.

According to an AFP report from March, there may have been as many as 100 sinkholes in and around the two communities. Some of the holes appeared in remote areas, while many others appeared within yards from people's homes. A few were discovered snuggled beneath homes, causing bricks to collapse and structure fractures to emerge.
But I am sure that this is nothing to be concerned about, right?
I'll be perfectly honest with you.  I have no idea why all of these sinkholes are appearing, but I would like to find out.
Because there doesn't seem to be anywhere on the globe that is completely immune from this phenomenon, and that includes the Holy City.  As I was doing research earlier today, I came across a story about a massive sinkhole that just opened up right in the heart of Jerusalem itself…
Security footage shows three cars falling straight into the sinkhole. It is still unknown if there were people inside, though police later added that the likelihood of people getting stuck is low.

Due to concerns over another collapse, the area has been declared a danger zone, and the building has been cordoned off. Additionally, traffic has been cleared out and blocked in the area around the hospital.
In recent months, I have written a lot about the bizarre changes that appear to be happening to our planet, but until now I have been ignoring all of the giant sinkholes that have been popping up.
From now on, this is a story that I want to focus on a lot more, because I think that these sinkholes tie into the larger picture somehow.
I don't have all of the answers at the moment, but I am going to keep digging.
***Michael's new book entitled "Lost Prophecies Of The Future Of America" is now available in paperback and for the Kindle on Amazon.***
About the Author: My name is Michael Snyder and my brand new book entitled "Lost Prophecies Of The Future Of America" is now available on Amazon.com.  In addition to my new book, I have written four others that are available on Amazon.com including The Beginning Of The End, Get Prepared Now, and Living A Life That Really Matters. (#CommissionsEarned)  By purchasing the books you help to support the work that my wife and I are doing, and by giving it to others you help to multiply the impact that we are having on people all over the globe.  I have published thousands of articles on The Economic Collapse Blog, End Of The American Dream and The Most Important News, and the articles that I publish on those sites are republished on dozens of other prominent websites all over the globe.  I always freely and happily allow others to republish my articles on their own websites, but I also ask that they include this "About the Author" section with each article.  The material contained in this article is for general information purposes only, and readers should consult licensed professionals before making any legal, business, financial or health decisions.  I encourage you to follow me on social media on Facebook, Twitter and Parler, and any way that you can share these articles with others is a great help.  During these very challenging times, people will need hope more than ever before, and it is our goal to share the gospel of Jesus Christ with as many people as we possibly can.