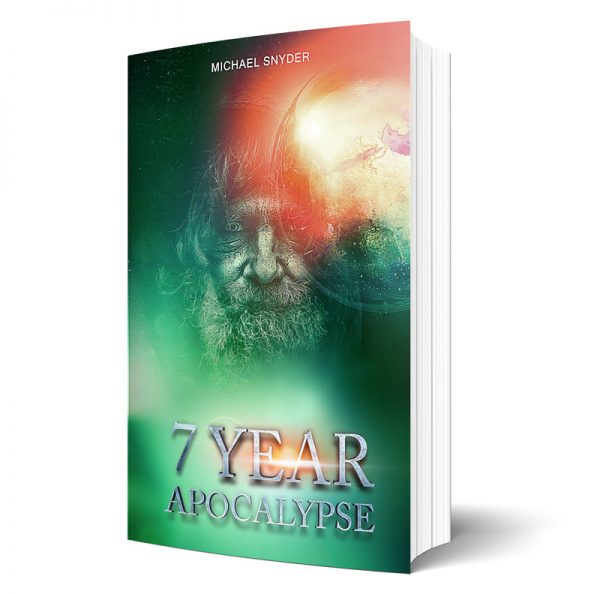 The secret project that I have been working on for so many months is finally done.  You may have noticed that I have not been posting quite as many articles as usual in recent weeks, and that is because I was finishing work on my new book.  It is entitled "7 Year Apocalypse", and just like some of my other books it is likely to generate a tremendous amount of controversy in the Christian community.  A lot of people are going to be greatly shaken by what they read in this book, and many will never look at the Book of Revelation the same way again after they are through with it.
The Bible has a great deal to say about the seven year period immediately preceding the return of Jesus Christ to this planet.  In our time, this seven year period is commonly known by titles such as "the Tribulation", "the Great Tribulation", "Daniel 70th week" and "the time of Jacob's trouble".  These seven years will be the most chaotic seven years in all of human history.  Jesus specifically warned us that there has never been a time like this before, and there will never be a time like it ever again.
And this is the generation that will experience it.
We are the Book of Revelation generation.
For years, people have asked me if I thought that the beginning of the Tribulation was close.  If you talk to anyone that has ever asked me that question, they will all tell you the same thing about what I said in response.  I always said that we weren't at that point yet and that there were certain things that had to happen first.
Sometimes people would get upset with me when I answered that way, because it upset their pet theories about the end times.  But it was the truth.  There were many prophetic pieces that hadn't moved into place yet, but in recent years we have seen those pieces shift into position one by one.
So now, for the very first time, my answer has to change.
The 7 Year Apocalypse is rapidly approaching, and it is going to be far more horrible than most people would dare to imagine.
Most people that are alive today will enter the 7 Year Apocalypse, and the vast majority of them will be dead by the time that it is over.
I am not saying this for shock value.  According to the Bible, this is the reality of what we are facing.
Words such as "cataclysmic" and "apocalyptic" don't really fully capture what the world is going to experience during this period of time.  We are going to see death and destruction on a scale that will be unimaginable to most people.
But it will also be a time when God is doing absolutely amazing things.  God has a job for you to do, and He would not have put you at this time in history if He didn't think that you could handle what is ahead.
You were strategically placed here for a reason, and the greatest chapters of your life can still be ahead of you.  But you have got to be willing to surrender your plans and embrace God's plans instead.
The first half of the 7 Year Apocalypse is going to clearly demonstrate the futility of humanity's attempts to run things without God in the picture.  In Matthew 24, Jesus warned us of some very specific things to watch for…
6 And ye shall hear of wars and rumours of wars: see that ye be not troubled: for all these things must come to pass, but the end is not yet.

7 For nation shall rise against nation, and kingdom against kingdom: and there shall be famines, and pestilences, and earthquakes, in divers places.

8 All these are the beginning of sorrows.
Please notice that there won't be just one "war".  There will be multiple wars, and this includes the conflicts that I covered in Lost Prophecies Of The Future Of America.
Jesus also told us that there will be multiple "famines", multiple "pestilences" and multiple "earthquakes".
A lot of people were shocked when I warned that COVID will not be the last major pandemic that we will experience.  The thought of going through yet another pandemic is just too much for many people.  Of course it isn't just one more pandemic that we will be facing.  According to Jesus, numerous "pestilences" are coming.
And "pestilences" are just one part of the overall cataclysmic scenario that will be unfolding all around us during these end times.
In this book, I show how many of the specific prophetic events that I have discussed in previous books and articles fit into the prophetic timeline described in the Book of Revelation.
One thing that even most Christians don't realize is that the second half of the 7 Year Apocalypse is going to look vastly different from the first half.
During the second half, the Antichrist is going to get his shot to run the show, and it is going to be wilder than anything that any science fiction writer in Hollywood has ever dreamed up.
In the past, many books and movies have attempted to portray the Antichrist as some sort of bumbling politician that isn't really very competent at much of anything.
Unfortunately, that isn't even close to the truth.
In fact, much of what has been traditionally taught about the 7 Year Apocalypse is simply not accurate because it does not line up with what the Bible actually says.  After you have completed this book, you will understand exactly what I am talking about.
And of course the vast majority of the churches in the western world tend to avoid Bible prophecy altogether, and so most believers have had very little warning about what will soon happen to this planet.
As global events accelerate, Bible prophecy is all of a sudden going to become a very hot topic, and millions upon millions of people will be turning to the Bible for answers.
When that happens, we want to be able to provide those answers.
This book lays a foundation for what is to come in future books.  I plan to write books much more frequently from now on, because the events in the Book of Revelation will soon become a reality, but there are so few people out there that are accurately warning people about what lies ahead.
Even though the Bible has been warning us for nearly 2,000 years, most people are going to be absolutely blindsided by what is in front of us.
If you have enjoyed my previous books, you will love "7 Year Apocalypse", and my hope is that it will encourage you to dig deep into what the Scriptures have to say about the end times.
But don't keep this message to yourself.  Please give this book to your family, your friends, and anyone else who will listen.
I am trying to sound the alarm as loudly as I can, and I need your help.
We are quickly approaching the time in history when our world will go through a horrific series of cataclysms over a 7 year period, and billions of people will die as a result.
When we have reached our darkest moment and it seems like all hope is lost for humanity, Jesus Christ will make His triumphant return to this planet and will set everything right.
This is the most dramatic time in all of human history, and you get to be here for it.
Please get the book so that you can understand what is ahead.
What's past is prologue, and everything is about to change.
A wonderful new chapter is about to start for all of us, and I urge you to embrace the great adventure that has been set before you.
Even in the midst of all the chaos and darkness that is coming, God is going to raise up His Remnant, and we are going to turn this world upside down for Jesus Christ.
***It is finally here! Michael's new book entitled "7 Year Apocalypse" is now available in paperback and for the Kindle on Amazon.***
About the Author: My name is Michael Snyder and my brand new book entitled "7 Year Apocalypse" is now available on Amazon.com.  In addition to my new book I have written five others that are available on Amazon.com including  "Lost Prophecies Of The Future Of America", "The Beginning Of The End", "Get Prepared Now", and "Living A Life That Really Matters". (#CommissionsEarned)  By purchasing the books you help to support the work that my wife and I are doing, and by giving it to others you help to multiply the impact that we are having on people all over the globe.  I have published thousands of articles on The Economic Collapse Blog, End Of The American Dream and The Most Important News, and the articles that I publish on those sites are republished on dozens of other prominent websites all over the globe.  I always freely and happily allow others to republish my articles on their own websites, but I also ask that they include this "About the Author" section with each article.  The material contained in this article is for general information purposes only, and readers should consult licensed professionals before making any legal, business, financial or health decisions.  I encourage you to follow me on social media on Facebook and Twitter, and any way that you can share these articles with others is a great help.  During these very challenging times, people will need hope more than ever before, and it is our goal to share the gospel of Jesus Christ with as many people as we possibly can.