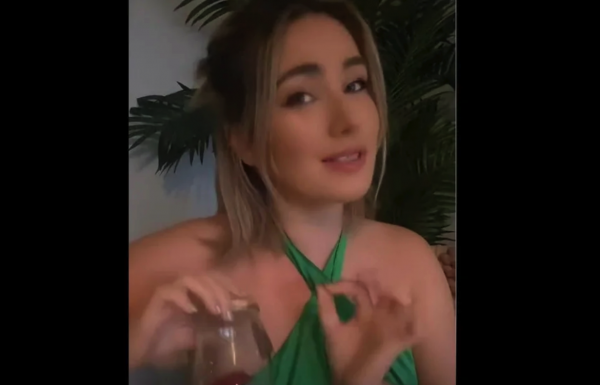 Would you pay $500 for a jar containing someone else's flatulence?  Hopefully you would not, but there are a lot of other people out there that would.  In this article, I am going to share some things with you that are likely to make you cringe.  But there is a very important reason why I am doing this.  We tend to think of ourselves as the greatest nation that the world has ever seen, and we like to believe that everyone else should follow our example.  But the truth is that we are a fallen nation that is in the midst of a horrifying moral collapse.  The U.S. is literally saturated with degeneracy at this point, and it is getting worse with each passing day.
If Americans from 100 years ago could see us today, what would they think of us?
Do you think that they would be pleased about what their country has become?
Of course not.
Earlier today, I came across a story that I think really typifies where we currently are as a society.  It turns out that a "reality star" named Stephanie Matto has been selling bottles of her own flatulence for $500…
Reality star Stephanie Matto, best known for her her stint on TLC's "90 Day Fiancé," is selling the results of her flatulence in jars at $500 a pop — and the item is apparently popular: Matto has reportedly made more than $100,000 over the last month alone selling her own personal aroma.
Once word gets around that she was able to make that much money in a month doing this, it is inevitable that there will be a host of copycats.
So exactly how was she able to sell so many?
This is how Matto explained it…
In the video, a smiling Matto insisted that she likely moved as much product as she reportedly did because she has a "really good personality."

"And also because I'm hot," she added.
To me, the most alarming aspect of this story is that there are apparently lots of lonely men on the Internet that are stupid enough to shell out $500 for a jar of farts.
In order to produce enough jars for her "customers", Matto "eats a lot of beans"…
Another video showed Matto boasting how she's able to produce such a large quantity of gas. (Spoiler: She eats a lot of beans.)

She also told Buzzfeed that while she normally follows a "pretty strict diet," she allows herself one or two cheat days per week in order to supplant her stockpile.
So far, at least 200 men have fallen for Matto's scam, and there will undoubtedly be many more in the days ahead.
After reading about Matto and the desperate men that she is preying upon, I came across another truly sickening story.  An 18-month-old boy in Texas was just found dead in a "feces-riddled room that also contained a makeshift cage"…
A married couple in Texas is under arrest, and authorities say their toddler was found dead inside his sweltering, feces-riddled room that also contained a makeshift cage.

Daniel D. Dennis, 25, and Erin M. Dennis, 23, were taken into custody on Tuesday and charged with crimes related to their two surviving children, but authorities said they "fully expect" the parents to face charges over the death of their 18-month-old son David Dennis, Tyler ABC affiliate KLTV reported.
The mother apparently did not sleep in the same room as the child, and she only discovered that he was dead when she woke up "to play video games"…
"The mother said she awoke Tuesday morning to play video games," the sheriff's office said. "She then checked on the three children and found the 18-month-old dead."
Can you imagine something like this happening in America 50 years ago?
I can't.
When authorities went to check the room that the couple's four-year-old daughter was confined in, they discovered that it was completely covered in human feces…
Inside, the room was reportedly empty except for a crib mattress in the corner of the room. The detective also reportedly said the walls and inside of the door were covered in what appeared to be human feces. Per the affidavit, "a small child's handprints were visible in the feces" and the room reeked of human waste.
This is truly a horrifying case, but it is not an atypical one.
You see, the truth is that we are rapidly becoming a feces-riddled nation.  Thousands upon thousands of homeless people and drug addicts openly defecate in the streets of major cities such as San Francisco, Los Angeles, New York, Philadelphia and Chicago, and every year it seems to get even worse.
If you are not sickened enough already, let me tell you about what has been going on behind the scenes at CNN.
By now, you have probably heard that CNN producer John Griffin has been arrested for trying "to entice minors to engage in unlawful sexual activity"…
John Griffin, a former senior producer on CNN's long-struggling morning program "New Day," was charged Friday by a grand jury in Vermont with "three counts of using a facility of interstate commerce to attempt to entice minors to engage in unlawful sexual activity."
Apparently, Griffin has bragged that he has "sexually trained girls as young as 7 years old", and apparently he was trying to convince more gullible mothers to allow him to "train" their daughters…
According to the indictment, Griffin sent text messages to a mother of two daughters, ages 9 and 13, which stated, "One of the big lies of this society is that women are delicate innocent angels and they are in actuality, naturally, the dirtiest sluts possible, in EVERY metric."

He also allegedly texted the mother, "When handled appropriately, a woman is a woman regardless of her age" and urged the mother to make sure her 13-year-old daughter was "trained properly."
Unfortunately, this was not just an isolated case.  James O'Keefe of Project Veritas has just dropped a bombshell about another CNN producer…
Project Veritas published a story today featuring graphic texts and videos provided by a source that show a producer for CNN fantasizing about molesting his fiancé's daughter.
Why does it seem like there are so many of these people in important positions of power?
Project Veritas reached out to CNN, but so far he has received no response…
Project Veritas' first course of action was to reach out to authorities. Following that, we reached out to the mother of the children to ensure their safety. Project Veritas then reached out to his employer, CNN, to inform them of the situation and give them the opportunity to comment. As of this press release, we are still awaiting a response.
Of course there have always been perverts all throughout human history, but today the United States is absolutely teeming with them.
In fact, there are 917,771 registered sex offenders in America today.
And keep in mind that those are just the ones that have been caught and convicted.
How many more are out there that haven't been caught yet?
As I am continually warning, America really is in the midst of a historic moral collapse.
But most Americans don't seem to care.
Instead of being horrified at what we have become, evil is actually celebrated in our society, and we continue to run toward our self-destructive behaviors as fast as we can.
***It is finally here! Michael's new book entitled "7 Year Apocalypse" is now available in paperback and for the Kindle on Amazon.***
About the Author: My name is Michael Snyder and my brand new book entitled "7 Year Apocalypse" is now available on Amazon.com.  During this season, I would like to encourage you to send digital copies of my new book to your family and friends as gifts.  That will help to support the work that I am doing, and it will help to multiply the impact of the book.  In addition to my new book I have written five other books that are available on Amazon.com including  "Lost Prophecies Of The Future Of America", "The Beginning Of The End", "Get Prepared Now", and "Living A Life That Really Matters". (#CommissionsEarned)  By purchasing the books you help to support the work that my wife and I are doing, and by giving it to others you help to multiply the impact that we are having on people all over the globe.  I have published thousands of articles on The Economic Collapse Blog, End Of The American Dream and The Most Important News, and the articles that I publish on those sites are republished on dozens of other prominent websites all over the globe.  I always freely and happily allow others to republish my articles on their own websites, but I also ask that they include this "About the Author" section with each article.  The material contained in this article is for general information purposes only, and readers should consult licensed professionals before making any legal, business, financial or health decisions.  I encourage you to follow me on social media on Facebook and Twitter, and any way that you can share these articles with others is a great help.  During these very challenging times, people will need hope more than ever before, and it is our goal to share the gospel of Jesus Christ with as many people as we possibly can.