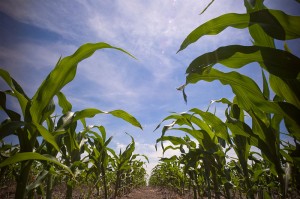 It is too early to panic, but if there is not a major change in the weather very soon we could be looking at widespread crop failures throughout the United States this summer.  Record heat and crippling drought are absolutely devastating crops from coast to coast.  Unfortunately, this unprecedented heat wave just continues to keep going and record high temperatures continue to scorch much of the central United States.  In fact, more than 2,000 record high temperatures have been matched or broken in the past week alone.  Not only that, but the lack of rainfall nationally has caused drought conditions from coast to coast.  If temperatures continue to stay this high and we don't start seeing more rain, farmers and ranchers all over the nation are going to be absolutely devastated.  So what happens if we do see widespread crop failures throughout the United States?  That is a question that is frightening to think about.
Right now is an absolutely crucial period for corn.  It is time for pollination and rainfall is desperately needed.  The following is from an article recently posted on agweb.com….
With some parts of Indiana now nearing a month without significant rainfall and the critical pollination phase of corn either already started or about to begin, large crop losses appear likely for some farmers.
The U.S. Department of Agriculture had been expecting a record corn harvest this year, but now the outlook is rapidly changing.  The Department of Agriculture now says that 22 percent of all U.S. corn fields are in poor condition, and that number could rise significantly unless current weather patterns change.
Sadly, the corn in some areas of the country may already have been permanently damaged according to the Washington Post….
Some growers are already reporting damage to corn, which is at a critical pollination stage. In some areas, the corn already has been damaged to the point that rain may not be enough to salvage the crop, Telvent DTN analyst John Sanow said.

He and other analysts have lowered their yield estimates to an average of about 150 bushels per acre or less. That compares with the U.S. Agriculture Department's June estimate of 166 bushels per acre.
Meanwhile, corn supplies are dropping at a rate not seen in many years.  The following is from croplife.com….
Corn supplies in the U.S. are declining at the fastest pace since 1996 as a Midwest heat wave damages the world's largest harvest for a third consecutive year.

Bloomberg News reports that stockpiles were probably 3.168 billion bushels (80.47 million metric tons) on June 1, 47% less than on March 1
So what does all of this mean?
It means that food prices are going to rise.
Over the last month, the price of corn is up about 27 percent.
The price of wheat is also soaring.  The price of September wheat is up about 26 percent since the beginning of June.
So is there hope that things can be turned around?
Unfortunately, things look quite bleak at this point.  According to the Washington Post, the outlook for the rest of the growing season is very ominous….
"Based on the drought outlook, the potential for further degradation is very high, and the potential to reach exceptional levels of drought — where there are major crop failures — is very high," said Matthew Rosencrans, a Weather Service meteorologist. "The climate signals we are looking at right now don't correlate with wetness in that region."

Jay Armstrong, owner and operator of Armstong Farms in Kansas, flew his small plane over a portion of the affected area and landed with the impression that the potential damage is far worse than is commonly understood.

"At this time of year, when you look down in a place like Indiana or Illinois, you should see just lush green fields," Armstrong said. "I saw bare soil. I just thought to myself, the market has no idea what's coming."
Those are frightening words.
Nobody wants to hear about the possibility of "major crop failures" or that "the market has no ideas what's coming".
Ranchers are being absolutely devastated by this hot, dry weather as well.  The following comes from a comment that was posted on one of my recent articles by a reader identified as Cinderella Man who works in the business….
As of 6/27/12 at the Torrington WY auction 2,248 head sold in one day. Usually only a couple hundred sell at a time. Whats happening is the ranchers are trying to sell when the price is high, and they know that hay is going to be expensive in the fall. We already see ranchers from WY coming up here looking for hay. Let me put it to you this way: Last night I went with my Dad to his hayfield and he said he would be lucky if he got a third of the hay he got last year! Second I work in the feed and mineral supply business and I have seen grain feed sales through the roof. Same goes for mineral and lactation supplements. The other day a Hutterite colony bought 25 tons of grain distillers to feed their sheep. Everywhere south of us is dry and we are catching up. People are scrambling to find corn and my elevator is one of the last places that have it. Going back to the minerals and supplements the cows are on poor grass and they have baby calves to feed. They go dry and cant produce milk for them so a rancher has to buy minerals and supplements to get the mama cow to produce milk. Sales have been soaring. You add it all up and you can only come up with the conclusion that we are in SERIOUS TROUBLE this year and I dont know how small producers like my family are going to weather this. All I can say is the ones who were in glee at Texas's plight last year and crying in their beers right now.
If this continues, we won't just see corn and wheat become much more expensive.
We will also see the price of meat go through the roof as well.
This is not welcome news at a time when the economy is already in really bad shape and millions of families are barely making it from month to month.
So what do you think about all of this?  Do you live in an area of the country that has been affected by this weather?  What do you think will happen if we see widespread crop failures throughout the United States?
Please feel free to post a comment with your thoughts below….