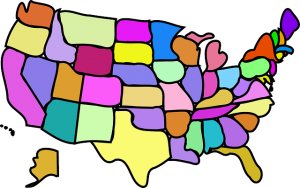 If you could live anywhere in America during the tumultuous years ahead, where would it be?  This is a topic that is hotly debated, and the truth is that there is not a single right answer.  If you have a very strong family support system where you are, it might not be right to try to move 2000 miles away and start a new life from scratch.  And for many Americans, moving is out of the question in the short-term because they are completely and totally dependent on employment in their local areas.  But in recent years we have seen an increasing number of Americans strategically relocate to another region of the country.  They can see our society breaking down and they can see the storm clouds on the horizon and they want to do what they can to prepare themselves and their families for what is ahead.  So is there a "best place to live" in the United States?  Are there some areas that are preferable to others?  The following are 9 maps to consider…
#1 Population Density
When the U.S. economy crashes and civil unrest starts erupting in our cities, ideally you will want to be living in an area with low population density.  In other words, the fewer people around the better.  The map below represents population density with a series of yellow dots.  As you can see, the west coast and the eastern half of the nation are generally very crowded.  So if you are looking for an area with lots of "breathing room", the area between the Mississippi River and the west coast is a good place to look.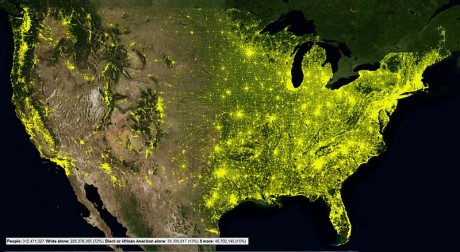 #2 Average Precipitation
Unfortunately, the western half of the nation is also generally very dry.  So if you are planning to grow your own food during a time of economic and social turmoil, that is something to keep in mind.  There are a few areas between the Mississippi River and the west coast that do get plenty of rainfall (northern Idaho for example), but those areas are few and far between.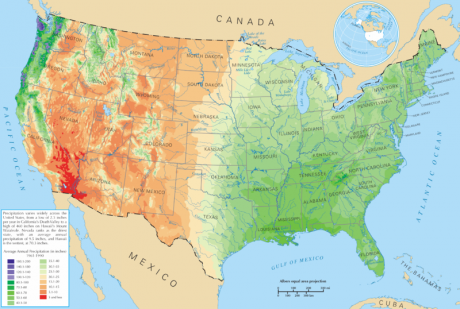 #3 Drought
The latest national map from the U.S. Drought Monitor is the next map that I have shared.  The multi-year drought in the state of California is already the worst drought in the recorded history of the state, and many scientists believe that it could stretch on for many more years.  But it isn't just California that has been suffering.  There are other areas in the Southwest that are starting to resemble the Dust Bowl days as well.  So obviously these areas are not ideal if you plan to be self-sufficient and grow much of your own food during a time of great crisis.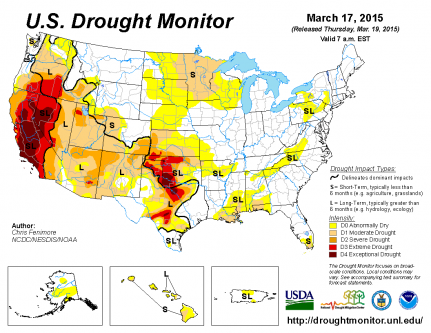 #4 Average Snowfall
If you don't like cold and snow, you will want to avoid the colored areas on this next map.  And if you do plan to live in an area that gets plenty of cold and snow, you will want to have a solid plan for heating your home if the electrical grid goes down and is not available for an extended period of time.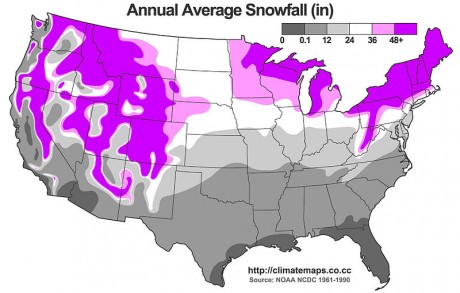 #5 Average Homicides
In the years ahead, crime in the United States is likely to rise dramatically.  If you are looking for somewhere safe, the areas that have relatively low crime rates right now will probably be better than areas that have relatively high crime rates right now.  In general, rates of violent crime are higher in our major cities and in the Southeast.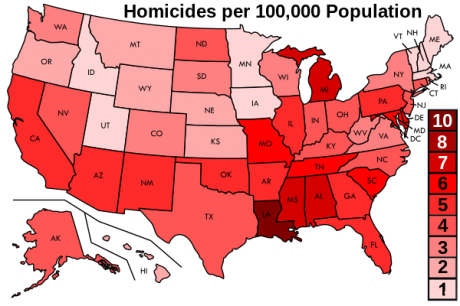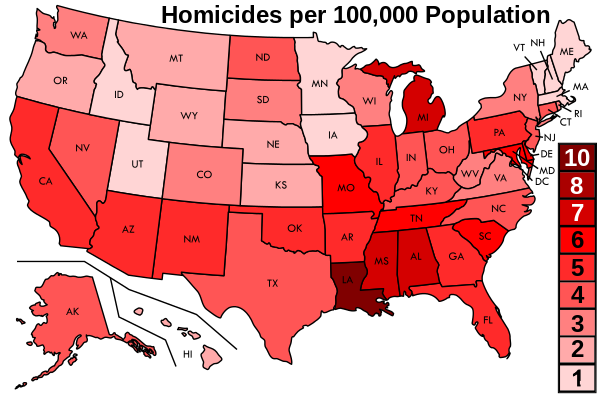 #6 Taxes
For a lot of people, tax rates are extremely important when choosing a place to live.  This next map shows the states where the state income tax rate is zero.  But please keep in mind that there are other reasons why some of these states may be undesirable during an emergency situation.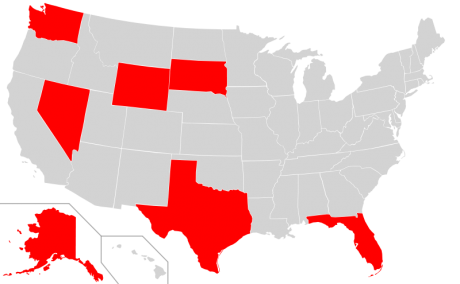 #7 Nuclear Power Plants
We have all seen what a single nuclear power plant disaster can do in Japan.  Well, in a future disaster scenario, we could potentially be facing multiple "Fukushimas" all at once here in the United States.  The map below shows where nuclear reactors are located throughout America.  You might want to think twice before moving in right next door to one.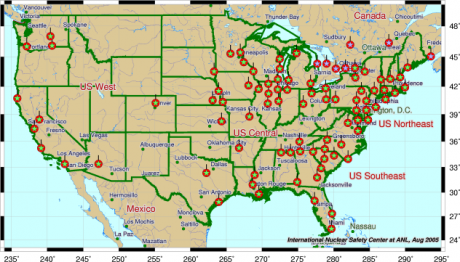 #8 Tornadoes
A single giant tornado can absolutely shred the best laid plans of any family.  There are some that feel completely and totally comfortable living right in the heart of "Tornado Alley", and there are others that very much would like to avoid any area that is at high risk for tornadoes.  As you can see from the map below, the highest risk areas are generally in the Southeast part of the nation.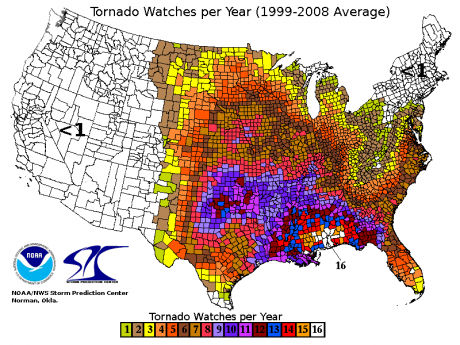 Of course tornadoes are far from the only natural disaster to consider when choosing a place to live.  For much more on all of this, check out these articles…
-"The New Madrid Earthquake That Will Divide The United States In Half"
-"East Coast Tsunami: If It Happens, MILLIONS Of Americans Could Die"
-"Why The Earthquake Near San Francisco Is Just The Start Of The Shaking In California"
-"Yellowstone Supervolcano Alert: The Most Dangerous Volcano In America Is Roaring To Life"
#9 Politics
For many Americans, moving to a politically-compatible area of the country is extremely important.  The map below uses red and blue to represent the average margin of victory in recent presidential elections.  The states that are very red voted very heavily for Republican candidates.  The states that are very blue voted very heavily for Democratic candidates.  The states that are purple were in the middle.  But it is important to remember that there are areas within each state that tend to be more conservative or liberal than the state overall.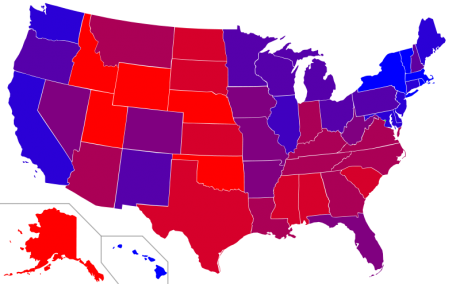 I noted more thoughts for each individual state in my previous article entitled "What Is The Best Place To Live In America? Pros And Cons For All 50 States".  But wherever you go, the truth is that no place is going to be perfect.  The following is how Joel Skousen, the author of "Strategic Relocation: North American Guide to Safe Places", put it in one of his recent articles…
The more rural you are, the higher the cost of building, maintaining equipment and commuting to civilization—and, the higher your expenses for services including utilities, alternate energy and internet connectivity.  The more your priorities emphasize closeness to a community, the higher your risks will be during a social meltdown, and the more precise must be your preparations to bug out to a separate retreat. So, as you see, there are always compromises in life, no matter if you spend $50,000 on your property or millions, there is no perfect property that will meet all your criteria. Focus on what's most important for you, your family and/or group.
That was very well said.
No matter what other people are doing, you have to make the choices that are right for you and your family.
So what is your perspective on all of this?
What do you think is the best place to live in the United States?
Please feel free to add to the discussion by posting a comment below…