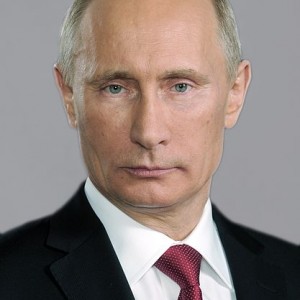 Russian President Vladimir Putin has not been seen in public since March 5th, and the Internet is abuzz with rumors that he is either seriously ill or dead.  So could it be possible that there is anything to these rumors?  At this point, Russian officials insist that Putin is just fine and that he isn't even ill.  But a trip that Putin was supposed to make to meet with the presidents of Kazakhstan and Belarus was abruptly canceled.  A speech that Putin was supposed to make to his old friends at the Federal Security Service was also suspiciously canceled.  So what in the world is going on here?  Of course Putin could put an immediate end to all of these rumors by appearing in public, but he has chosen not to do that so far.  But why wouldn't he?  Is more going on inside Russia than meets the eye?
These rumors about Putin have been circulating in Russian media for a few days, but on Thursday they started exploding all over the Internet.  The following is from Debka…
DEBKAfile reports that Russian websites Thursday morning began running unconfirmed reports that Russian President Vladimir Putin had suddenly died. This has not been confirmed by any official in Moscow. But a short announcement of Putin's death was seen briefly on Prime Minister Dmitry Medvedev's website early Thursday, only to be removed after 20 minutes.

Why would an announcement of Putin's death show up on Dmitry Medvedev's website?
That seems rather odd.
And another thing that raised eyebrows was when Putin's planned visit to Kazakhstan was suddenly canceled…
Vladimir Putin has postponed a visit to Kazakhstan, officials from both countries said on Wednesday, though the Kremlin dismissed another report that plans had changed because the Russian president was unwell.

Dauren Abayev, adviser and spokesman for Kazakh President Nursultan Nazarbayev, announced the delay of the meeting between the two allies, originally scheduled for this week, without giving a reason or a new date.

Another Kazakh government source, speaking on condition of anonymity, told Reuters: "It looks like he (Putin) has fallen ill."
Of course the Kremlin is completely denying that there is anything wrong.
Here is more from Debka…
The Kremlin Thursday dismissed rumors that President Vladimir Putin was ill after he canceled a trip to Kazakhstan. The rumors flying through the Russian Internet claimed in fact that the 62-year old Russian leader had suddenly died. Putin spokesman Dmitry Peskov, asked by Reuters if the president, who had not been seen on live TV since March 5, was in good health, replied "yes". "He has meetings all the time," he said by telephone. "He has meetings today, tomorrow. I don't know which ones we will make public." A Kemlin website photo of a Putin meeting on March 10 with a provincial government proved to be an old picture. Still, Russian financial markets were stable and the ruble improved in value.
And Putin's own personal spokesman says that even though a scheduled speech to the Federal Security Service was canceled on Thursday, Putin is well enough to "break your hand" with his handshake…
President Vladimir Putin's spokesman has dismissed rumors circulating on the Internet that the Russian leader is in poor health.

Dmitry Peskov told Ekho Moskvy radio station Thursday that the president was "absolutely" healthy, adding that the president's handshake was still so strong it could "break your hand." Peskov's comment was a reference to the Kremlin's usual response to regular queries about the fragile health of former President Boris Yeltsin, who had heart surgery during his tenure.

Peskov also said that Putin would not be appearing at a meeting with the Federal Security Service Thursday, which he often attends.

"Yes, he's usually there," Peskov said. "But this year he was not planning to be."
So should we just trust that the Russian government is telling us the truth about this?
Would we trust our own government to tell us the truth?
Sadly, the cold, hard reality of the matter is that governments lie.  That is what they do.  So until Putin appears in public, doubts are going to remain.
And as the Washington Post has pointed out, we need to consider what has happened with previous Russian leaders…
There's also a history here. At the end of the Soviet era, three separate Communist Party chiefs died suddenly in office, and during the end of Boris Yeltsin's time as president of Russia, alcoholism and poor health led to a number of unexplained and embarrassing absences. Again, Putin is certainly no Yeltsin — he's a black-belt in judo and known to be extremely health conscious — but many Russians now assume that the state would lie about the health of its leaders.
This all comes at a time when the western world is turning up the heat on Putin.
For example, the Telegraph is reporting that the UK is considering exposing the secrets behind Putin's enormous wealth in an attempt to publicly embarrass him…
Britain may broadcast the financial secrets of Russia's ruling elite as part of the information war against the Putin regime, the Foreign Secretary has indicated.

Philip Hammond said he was interested by the idea of publicizing the wealth of the Russian president's inner circle in order to embarrass them in front of their people, as part of the response to the ongoing incursion into eastern Ukraine.
And the Obama administration has just made the decision to send drones and armored Humvees to Ukraine…
The United States announced Wednesday that it is sending small unarmed drones, armored Humvees and other assistance to Ukraine in its fight against Russian-backed separatists – but for the first time the White House said arming Ukraine hasn't been ruled out.

Some lawmakers are upset that lethal weapons haven't already been included as part of $75 million in new aid announced Wednesday.

Asked during a White House press briefing to confirm that the U.S. won't send weapons to the former Soviet nation, Press Secretary Josh Earnest said, 'That's not necessarily accurate.'
Needless to say, the Russians are not going to like that one bit.  This is something I discussed in an article earlier this week.
On the flip side, the Russian government is taking some bold stances recently as well.
For instance, this week a top Russian official suggested that Russia has the right to move nuclear weapons into Crimea and that a key nuclear weapons treaty with the United States may be in jeopardy…
On the question of sending nuclear weapons into Crimea, Russia's Interfax news agency quoted Mikhail Ulyanov as saying, "I don't know if there are nuclear weapons there now. I don't know about any plans, but in principle Russia can do it." It's a position that other Russian officials have articulated in the past. Ulyanov's boss, Russian Foreign Minister Sergei Lavrov, made similar comments in December.

More surprising was Ulyanov's warning about the status of the Intermediate Range Nuclear Force Treaty, signed by the U.S. and the Soviet Union in 1987. The deal was designed to eliminate the two countries' stocks of nuclear and ballistic missiles with ranges of between 300 and 3,400 miles.
In addition, the Russians have formally announced that they are completely withdrawing from the Treaty on Conventional Armed Forces in Europe…
Moscow has announced it is "completely" ending activities under the Treaty on Conventional Armed Forces in Europe (CFE). Russia's participation in the treaty was first halted in 2007.

"The Russian Federation has taken the decision to halt its participation in meetings of the [consulting group] from March 11, 2015. Therefore, Russia is ending its actions in the Treaty on Conventional Armed Forces in Europe, announced in 2007, completely," a statement from the Foreign Ministry said.
The war drums are getting a little louder with each passing day.
Many people probably hope that if Putin's time is over that it will help to calm things down a bit.
Unfortunately, my research has led me to the conclusion that the exact opposite will probably be the case.
So what do you think?
Do you believe that Putin is ill or dead?
And where do think things between the United States and Russia will go from here?
Please feel free to add to the discussion by posting a comment below…