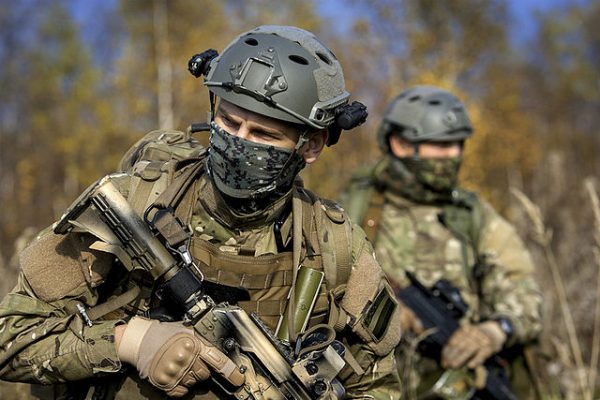 The top general in Ukraine is warning that Russia is currently putting together an enormous new army.  Will Vladimir Putin try to bring about a decisive end to the war by sending this new army into Ukraine from the north?  In recent weeks the Russians have regained the initiative in Ukraine, but if they try to win the conflict by slowly slogging through the heavily fortified plains of eastern Ukraine it could be years before the fighting finally ends.  Obviously Putin would like to be able to declare victory at some point in 2023, but the only way that is going to happen is if the Russians can find a way to cut off the Ukrainian forces in the eastern half of the country from their NATO suppliers.  The way to do that would be to conduct a lightning strike from the north that literally slices Ukraine in half.  The flow of mercenaries and equipment would stop, and the surrounded Ukrainian forces in the east would either be forced to surrender or would eventually be wiped out.
Of course it would take a vast army to successfully conduct such an operation, and the top general in Ukraine says that is precisely what the Russians have been working on…
Russia is building a new 200,000-man army for a second attack on Kyiv that could begin in weeks, Ukraine's top general has warned.

Valery Zaluzhny, head of the Ukrainian armed forces, believes Vladimir Putin is turning his newly-mobilised men into armies somewhere deep inside Russia which he will throw into fresh attacks on Ukraine.

When Putin first invaded Ukraine in February, he did so with a force around 175,000 men. If General Zaluzhny is correct, any even larger army is already on its way.
Over the past several weeks, there have been lots of videos on social media that supposedly show men and equipment being moved into position.
🇷🇺 🇧🇾🇺🇦The troops of Russia and Belarus are massively transferring heavy equipment to the border with Ukraine pic.twitter.com/yxezHBjdAI

— AZ 🛰🌏🌍🌎 (@AZgeopolitics) December 14, 2022
But just because the Russians are shifting forces around does not mean that a new offensive will actually happen.
General Zaluzhny seems to believe that a new invasion is definitely coming, but he is not sure whether it will come from the north, the east or the south…
Russia is massing men and arms for a new offensive. As soon as January, but more likely in the spring, it could launch a big attack from Donbas in the east, from the south or even from Belarus, a puppet state in the north. Russian troops will aim to drive back Ukrainian forces and could even stage a second attempt to take Kyiv, the capital.

Those are not our words, but the assessment of the head of Ukraine's armed forces, General Valery Zaluzhny. In an unprecedented series of briefings within the past fortnight the general, along with Volodymyr Zelensky, Ukraine's president, and General Oleksandr Syrsky, the head of its ground forces, warned us of the critical few months ahead. "The Russians are preparing some 200,000 fresh troops," General Zaluzhny told us. "I have no doubt they will have another go at Kyiv." Western sources say that Russia's commander, General Sergey Surovikin, has always seen this as a multi-year conflict.
There are others that believe that the army that the Russians are constructing is far larger than 200,000 men.
In fact, Col. Douglas Macgregor is telling us that a total of 540,000 Russian troops are now "assembled in Southern Ukraine, Western Russia, and Belarus"…
The coming offensive phase of the conflict will provide a glimpse of the new Russian force that is emerging and its future capabilities. At this writing, 540,000 Russian combat forces are assembled in Southern Ukraine, Western Russia, and Belarus. The numbers continue to grow, but the numbers already include 1,000 rocket artillery systems, thousands of tactical ballistic missiles, cruise missiles, and drones, plus 5,000 armored fighting vehicles, including at least 1,500 tanks, hundreds of manned fixed-wing attack aircraft, helicopters, and bombers. This new force has little in common with the Russian army that intervened 9 months ago on February 24, 2022.
Without a doubt, this would be a vastly superior force to the one that originally invaded Ukraine.
Macgregor believes that the Russians are waiting for the ground to completely freeze before launching their new invasion, and I tend to agree with that assessment.
Mud makes it very difficult for military vehicles to move rapidly once they are off the paved roads, but once the ground is completely frozen that won't be a problem.
Meanwhile, the U.S. just keeps getting even more deeply involved in the conflict.
Earlier today, I was quite alarmed to hear that the Biden administration is actually thinking of sending "a small number of additional U.S. troops to Ukraine"…
The Defense Department is working to shore up efforts to track weapons provided to Ukraine, according to three senior U.S. officials, including discussing whether to send a small number of additional U.S. troops to Ukraine.

The discussion comes as the first anniversary of the Russian invasion of Ukraine approaches and the Biden administration contends with the ground war and a new political battlefield at home. The incoming Republican House majority has signaled it will be more skeptical of a "blank check" for Ukraine and will want more accountability about how U.S. weapons are distributed and used. Some GOP lawmakers could try to block economic and military aid — or limit U.S. troop presence.
Unless we actually want a war with Russia, we should not have any troops in Ukraine at all.
At this point, we are already so deeply involved that the Russians are claiming that we have "effectively become a party" to the conflict…
Russian Foreign Ministry spokeswoman Maria Zakharova said the U.S. had "effectively become a party" to the war by providing Ukraine with weapons and training its troops. She added that if reports about U.S. intentions to provide Kyiv with Patriot surface-to-air missile system prove true, it would become "another provocative move by the U.S." and broaden its involvement in the hostilities, "entailing possible consequences."

"Any weapons systems supplied to Ukraine, including the Patriot, along with the personnel servicing them, have been and will remain legitimate priority targets for the Russian armed forces," Zakharova declared.
The Russians have been warning us of potential "consequences" over and over again, but we just keep sending Ukraine more money and giving them more weapons.
If we continue going down this path, we could eventually find ourselves in a full-blown shooting war with the Russians.
We were specifically warned that this was coming, but most Americans aren't paying attention.  In fact, it is being reported that 23 percent of the U.S. population struggles to read, and most of the rest of the population simply relies on the corporate media for their information.
If the American people truly understood what was at stake, there would be huge protests in every major U.S. city right now.
Let us hope that a peaceful way out of this mess can be found, because with each passing day we are getting closer to a point of return.
One of these days a line will be crossed that will never be able to be uncrossed, and once we reach that stage it will be a very, very sad day for the entire planet.
***It is finally here! Michael's new book entitled "End Times" is now available in paperback and for the Kindle on Amazon.***
About the Author: My name is Michael and my brand new book entitled "End Times" is now available on Amazon.com.  In addition to my new book I have written six other books that are available on Amazon.com including "7 Year Apocalypse", "Lost Prophecies Of The Future Of America", "The Beginning Of The End", and "Living A Life That Really Matters". (#CommissionsEarned)  When you purchase any of these books you help to support the work that I am doing, and one way that you can really help is by sending copies as gifts to family and friends.  Time is short, and I need help getting these warnings into the hands of as many people as possible.  I have published thousands of articles on The Economic Collapse Blog, End Of The American Dream and The Most Important News, and the articles that I publish on those sites are republished on dozens of other prominent websites all over the globe.  I always freely and happily allow others to republish my articles on their own websites, but I also ask that they include this "About the Author" section with each article.  The material contained in this article is for general information purposes only, and readers should consult licensed professionals before making any legal, business, financial or health decisions.  I encourage you to follow me on social media on Facebook and Twitter, and any way that you can share these articles with others is definitely a great help.  These are such troubled times, and people need hope.  John 3:16 tells us about the hope that God has given us through Jesus Christ: "For God so loved the world, that he gave his only begotten Son, that whosoever believeth in him should not perish, but have everlasting life."  If you have not already done so, I strongly urge you to invite Jesus Christ to be your Lord and Savior today.