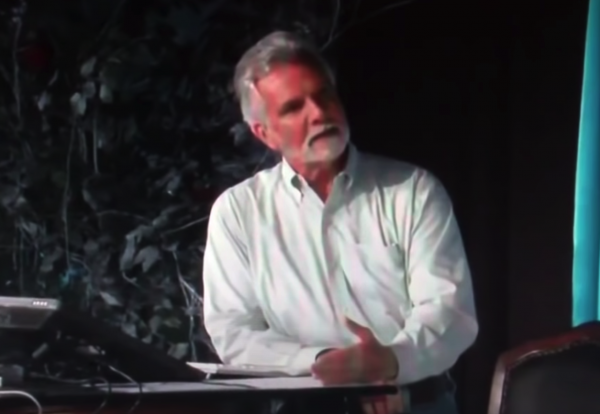 What we are witnessing in California is unlike anything that we have ever seen before.  Over the past couple of weeks, a "parade of cyclones" has been absolutely hammering the state.  Unfortunately, this crisis is far from over because "atmospheric rivers" will continue to funnel more rain into California for at least several more days.  What I have shared so far is common knowledge at this point.  But what most people don't know is that more than a decade ago John Paul Jackson had a supernatural experience in which he was shown that "a storm of incredible force" would hit California, and that it would be a sign that precedes the colossal earthquake that permanently alters the geography of the state.  You can see video footage of John Paul Jackson describing what he was shown right here…
If you live on the west coast, the video that you just watched should chill you to the core.  The following is a very rough transcript of John Paul Jackson's remarks…
"There is a an earthquake that has been predicted to devastate California. Meaning skyscrapers are going to fall that the shape of the United States will change after that earthquake. That won't happen until after there's a storm – a major storm is going to come to California. It's either a hurricane of incredible force, or it is a storm of incredible force. But a great, great hurricane or incredible force is going to come to California, and the earthquake that destroys it will not happen until after that takes place. So there's a way of saying, okay, I have time, but that doesn't mean it won't be an earthquake tomorrow 7.5 you know, or next week or two weeks from now of some some magnitude. I'm talking about the one that changes the shape of California where you don't want to live in California, anywhere in California, when that happens or perhaps even most of the west coast. Where an inland ocean is formed and Baja becomes an island and the mouth of the inland ocean forms between between San Diego and Los Angeles. That is not going happen before that that storm comes. That is a sign that God is giving to the people- don't worry about that big one. Because this sign will happen first."
For years, I wondered what a storm of this nature would look like.
Unfortunately, it appears that the type of storm that John Paul Jackson described has finally arrived…
The hits keep coming to California as the state deals with an onslaught of atmospheric river storms that has brought torrential rain and life-threatening flooding, mudslides and debris flows to many parts of the state.

Widespread flooding was reported across California on Monday, with more than 300 reports of flooding coming into various National Weather Service offices across the state. While heavy rain drenched much of the Golden State, Santa Barbara, Ventura and San Luis Obispo counties were hit especially hard, with more than 15 inches of rain falling in higher elevations.
Needless to say, the atmospheric rivers that have been pummeling California are not hurricanes.
But CNN just posted an article that compares them to hurricanes…
NOAA's hurricane hunters might be just as busy now as they were during hurricane season. However, it's not hurricanes they are flying through, but the atmospheric river systems plaguing California since Christmas week.

Atmospheric rivers may not make headlines in the same way hurricanes do, but they can have extreme consequences.

"Atmospheric rivers can span the whole Pacific. They are long and narrow, but they're way larger than hurricanes," Atmospheric River Reconnaissance Coordinator Anna Wilson said.
It is interesting to note that at a time when Prince Harry and Meghan Markle have been seeking more attention than ever, the town in California where they live has been getting hit particularly hard…
The town of Montecito, home to Britain's Prince Harry and his wife Meghan Markle, was pounded by rain — threatening dangerous mudslides on hills already sodden by weeks of downpours — and sparking an evacuation order.

"Because the mountains are right there, when it really rains, it comes down at a really high rate… it's pretty dangerous pretty quickly," resident Daniel DeMuyer told AFP.
Montecito is normally such an incredibly beautiful place, but now flooding has brought absolutely catastrophic conditions.
As Ellen Degeneres has publicly admitted, local residents have never seen anything like this…
BREAKING: Ellen DeGeneres shares an intense clip of raging flood waters near her home in Montecito, California, which is under mandatory evacuation following the recent storm system in the area.#southerncalifornia #flooding pic.twitter.com/WetD81ocD2

— Los Angeles Magazine (@LAmag) January 10, 2023
Sadly, a lot more rain is coming.
In fact, it is being reported that another massive cyclone will "slam into the Pacific coast on Wednesday"…
As the latest storm to batter California begins to let off on Tuesday, leaving severe flooding and destruction in its wake, residents will be bracing for another "enormous" cyclone to slam into the Pacific coast on Wednesday, forecasters have predicted.

According to the latest short-range forecast from the National Weather Service (NWS), this "rapidly intensifying" weather system will impact areas from northern California and up the coast into the Pacific Northwest.
And forecasters are warning that even more storms are coming after that one.
What we are witnessing is definitely not normal…
The tyranny of the Pacific jet extension will continue for at least a few more days in #California. I'm not an expert on CA rainfall climatology, but it seems remarkable to see this train of events in a La Nina year. Hope they get a break from the flooding soon. #CAwx pic.twitter.com/dRBgBnfkHn

— Dr. Levi Cowan (@TropicalTidbits) January 10, 2023
So is this definitely what John Paul Jackson saw so many years ago?
I don't think that we can say for sure, but without a doubt this storm seems to fit.
And as I was doing research for this piece I actually found an old Newsweek article that discussed a scientific study that concluded that earthquakes along the San Andreas fault can actually be caused by rainfall…
Earthquakes along the San Andreas Fault in California are being triggered by winter rain and snowfall, scientists have discovered.

The finding is important as it helps us understand what triggers earthquakes—and when they are more likely to strike.
I am certainly not suggesting that "the Big One" must happen immediately.
It could happen very soon, or it could happen at some point down the road.
But if the cyclones that have been hitting California are what John Paul Jackson saw, that means that there is now nothing holding back the arrival of the giant earthquake that will permanently alter the geography of California.
As I have repeatedly warned in my books, it is just a matter of time before "the Big One" arrives.
The death and destruction that such a quake will cause will be off the charts, and scientists keep telling us that the region is way overdue for a major seismic event.
If you live on the west coast, this storm may be the final warning that you receive before it happens.
So I would take this warning very seriously.
***It is finally here! Michael's new book entitled "End Times" is now available in paperback and for the Kindle on Amazon.***
About the Author: My name is Michael and my brand new book entitled "End Times" is now available on Amazon.com.  In addition to my new book I have written six other books that are available on Amazon.com including "7 Year Apocalypse", "Lost Prophecies Of The Future Of America", "The Beginning Of The End", and "Living A Life That Really Matters". (#CommissionsEarned)  When you purchase any of these books you help to support the work that I am doing, and one way that you can really help is by sending copies as gifts to family and friends.  Time is short, and I need help getting these warnings into the hands of as many people as possible.  I have published thousands of articles on The Economic Collapse Blog, End Of The American Dream and The Most Important News, and the articles that I publish on those sites are republished on dozens of other prominent websites all over the globe.  I always freely and happily allow others to republish my articles on their own websites, but I also ask that they include this "About the Author" section with each article.  The material contained in this article is for general information purposes only, and readers should consult licensed professionals before making any legal, business, financial or health decisions.  I encourage you to follow me on social media on Facebook and Twitter, and any way that you can share these articles with others is definitely a great help.  These are such troubled times, and people need hope.  John 3:16 tells us about the hope that God has given us through Jesus Christ: "For God so loved the world, that he gave his only begotten Son, that whosoever believeth in him should not perish, but have everlasting life."  If you have not already done so, I strongly urge you to invite Jesus Christ to be your Lord and Savior today.