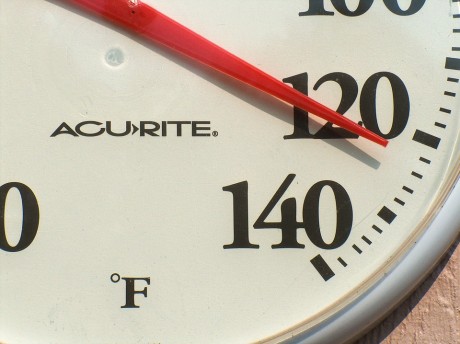 This week we are going to see "life threatening" heat all across the southwest United States.  In southern California, temperatures will top triple digits in many areas on Monday, and the forecast is for the mercury to reach an astounding 121 degrees in Palm Springs.  Further inland, it is being projected that Phoenix and Las Vegas could both experience their highest temperatures ever early this week.  Summer is just beginning and we are literally seeing things take place that we have never seen happen before.  Just a few weeks ago, I wrote an article about how the weather seems to be going crazy all over America.  Is this just a temporary phenomenon or have weather patterns in the United States changed permanently?
Most people know that the hottest place in America is Death Valley, California.  The record high for Death Valley during the month of June is 129 degrees, and it is being reported that even that record could fall this week…
The highest temperature on record in the United States during the month of June is 129 F in Death Valley, California, on June 30, 2013.

"That record could be in jeopardy this weekend or early this week," AccuWeather Meteorologist Ryan Adamson said.
On Sunday there were already news reports of people dying from this life-threatening heat, and so if you live in the southwest you are going to need to take some very important precautions during this heatwave.  The following are some tips that come from the L.A. County Public Health Department…
— Learn the warning signs of heat-related illnesses
— Stay out of direct sunlight
— Stay hydrated
— Reduce physical activity
— Identify a cool location, such as a mall, library, theater or designated cooling center
— Use cool compresses, misting and baths to lower body temperatures
— Wear lightweight, loose-fitting clothing
— Use sunscreen
— Check on pets, friends, family and neighbors who may be especially, sensitive to excessive heat.
Yes, things always get hot in the summer, especially in places like Phoenix.  But what we are witnessing right now is truly unusual, and this heatwave in June follows the hottest May ever recorded…
This past May was the warmest May month in a 137-year period, breaking global temperature records, according to a report published Thursday by the National Oceanic and Atmospheric Administration (NOAA).

The new data shows that May was the thirtieth consecutive month to have soaring global temperatures across land and sea surfaces. This is the longest and hottest streak since temperature record-keeping began in 1880, according to NOAA.

Right now, 2016 is on pace to be the hottest year on record.
So are these changes permanent?
It is hard to say, and there are people on both sides of the debate that will angrily argue these issues for hours.
But what we do know is that weather patterns have been changing all throughout human history, and they always will be changing.
And all it would take would be one major event to radically change weather patterns once again.  For example, a major volcanic eruption on the west coast that pumps massive amounts of dust and ash into the air could dramatically cool global temperatures.  If that happens, we could very rapidly be finding ourselves talking about record cold temperatures all across the United States.
But for now we are dealing with record heat, and with record heat comes very dangerous wildfires…
And along with the heat are coming some damaging wildfires in southern California, New Mexico, and Arizona covering tens of thousands of acres of land and displacing hundreds of families. Firefighters are working to contain the blazes, though the continued heat wave through the weekend could complicate things.
In particular, there is a very dangerous wildfire not too far from Santa Barbara, California that tripled in size from Thursday into Friday…
A blistering heat wave in Southern California this weekend along with strong winds could further fan a wildfire that has sent swirling flames close to ranches and triggered mandatory evacuations, officials said on Friday.

The so-called Sherpa Fire feeding on chaparral and grass about 20 miles (32 km) northwest of the affluent city of Santa Barbara tripled in size from 1,200 acres (486 hectares) on Thursday night to more than 4,000 acres (1,619 hectares) early on Friday, fire officials said.
If you follow my writing closely, you already know that last year was the worst year for wildfires in all of U.S. history.
And according to the National Interagency Fire Center, so far we are more than a million acres ahead of the pace that was set last year.
Someone that warned about all of this in advance was author John Paul Jackson.  He warned that record high temperatures would accompany crippling drought all across the southern portion of the country.  You can see a video clip in which he issues this warning right here.
So are we seeing record high temperatures hit the southwest right now?
Yes, that certainly is the case.
And drought is starting to spread all across the southern portion of the nation as well.  The following is the latest map from the U.S. Drought Monitor…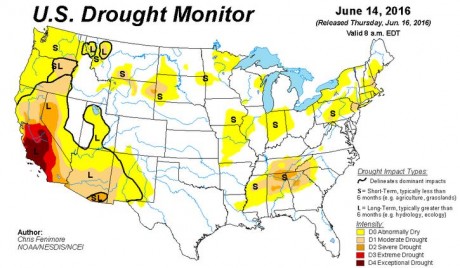 In my controversial new book, I also warn that a "perfect storm" is coming.  Weather patterns are going to continue to change, unprecedented natural disasters are going to hit this nation, and our planet is going to shake in frightening and unpredictable ways.
The Bible tells us that the period of time just before the return of Jesus Christ will be the most tumultuous time in all of human history.  Unfortunately, most people really don't understand what that is going to mean for them and their families.
We are entering a period of time when life is going to seem like it is one big Hollywood disaster movie after another.  There will be great earthquakes, tremendous volcanic eruptions, nightmarish terror attacks, devastating pandemics and crippling economic disruptions.
The days of "normal life" in America are coming to an end.  The years ahead are going to be incredibly challenging, and things are going to be radically different from what we have grown accustomed to.
Hopefully, you have already been preparing for what is coming.
If not, you have a lot of work to do, and not a lot of time to do it.
*About the author: Michael Snyder is the founder and publisher of End Of The American Dream. Michael's controversial new book about Bible prophecy entitled "The Rapture Verdict" is available in paperback and for the Kindle on Amazon.com.*