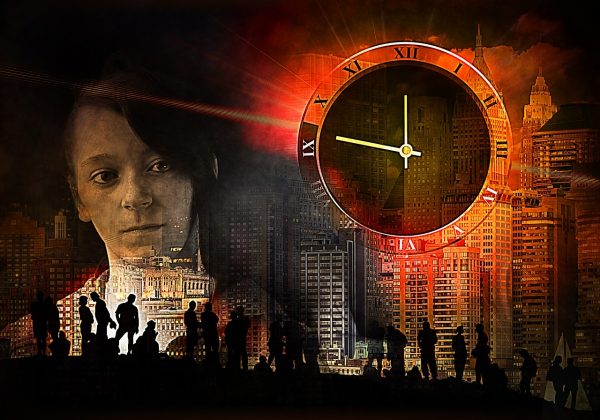 In my entire lifetime, I have never seen Americans so emotionally invested in the outcome of a presidential election.  Yes, things always get intense as we approach Election Day, but this time around is different.  There are many Democrats that do not even want to imagine another four years under Trump.  In fact, for many of them it is literally the worst thing that they could possibly imagine ever happening.  But for many Republicans, a Trump loss would be equally as devastating.  Not since the days of Ronald Reagan have we ever seen Republicans adore a president the way that they love Trump, and a loss would be emotionally crippling for millions of them.
With all of that in mind, check out what one shocking new survey just discovered…
As if the coronavirus pandemic wasn't giving Americans enough anxiety already, you may have heard there's a presidential election this November. With political divisions reaching historical highs, a survey finds a majority of the country believe their most stressful day of 2020 hasn't even arrived yet. The poll examining mental health reveals 55 percent of Americans think Election Day 2020 will be the most stress-filled day of their lives.
There is so much at stake for both sides.
Once a winner is officially declared, one side will be jubilant, but the other will instantly plunge into deep despair.
As this election has drawn to a close, I have been amazed at the incredible outpouring of support that we have seen for President Trump all over the nation.  If you don't understand what I am talking about, just watch this video, this video and this video.  I have never seen anything even close to this, and I have been following politics very closely for decades.  In the old days, it was always tough just to get a few people to hold signs on a street corner, and so I was absolutely blown away by a 96 mile show of support for President Trump.
It is a very rare politician that can inspire that sort of enthusiasm, but if Trump is not able to win all of that emotion is going to come crashing down like a tsunami.
I personally know so many conservatives, patriots and evangelicals that are all-in emotionally for this election, and I am deeply concerned about what will happen if Joe Biden emerges with a victory.  It would literally be the deepest emotional blow that conservatives, patriots and evangelicals have experienced since the days of World War II, and we could potentially see millions of them plunge into a very deep state of emotional depression.
On the other hand, if Trump wins it will literally seem like the end of the world for many on the left.
There are some that have already talked about moving out of the country, but others insist that life simply would not be worth living anywhere as long as Trump is in the White House.  I honestly believe that we could see a dramatic spike in attempted suicides following the election, and mental health officials will need to be on high alert.
Of course many others will likely take out their frustrations by resorting to violence, and that could lead to an eruption of civil unrest like we have never seen before.
As I write this article, businesses in major cities all across the U.S. are boarding up their windows, and law enforcement authorities are preparing for the worst.  In fact, Fox News recently reported that officials in New York, Chicago, Miami, Portland, Seattle, Orlando, Minneapolis and Philadelphia have all been making preparations for potential post-election violence.
At this hour, most Democrats want to believe that the national polls that show Joe Biden with a huge lead are accurate, but there is no forgetting what happened in 2016.
They were so sure that they would win that election, but then a "Trump miracle" in the the northern states of Pennsylvania, Michigan and Wisconsin changed everything.
And in 2020, the Trump campaign has been working very hard to possibly add Minnesota to that list…
Minnesota Democrats estimate that as many as 250,000 white residents who didn't go to college—the heart of Trump's base—weren't registered to vote in 2016. Republicans are taking pains to find them. While Democrats in the state have largely suspended door-to-door campaigning because of the pandemic, Republicans have kept at it. Last week, volunteers knocked on more than 130,000 doors in the state, a campaign official told me. "This is the largest organization that we've seen a Republican put into this state, in terms of advertising dollars, principal visits, and staff on the ground," Ken Martin, the chair of the Minnesota Democratic-Farmer-Labor Party, told me.
If Trump is able to pull off another miracle, it will crush Democrats emotionally like no other presidential election we have ever seen.
But if Trump is not able to pull off another miracle, it will crush Republicans emotionally like no other presidential election we have ever seen.
Either way, this is going to be a devastating emotional blow for tens of millions of Americans, and the emotional fallout will last for years.
If you are on the winning side in this election, there will definitely be a temptation to rub it in the faces of those that have lost.
But that temptation must be resisted, because that is not the proper response.
There are going to be people that you know that are deeply, deeply hurting, and they are going to need love and compassion to get through the grieving process.
If we are ever going to be united as a country ever again, we have got to learn to love those that we deeply disagree with.
Right now, most Democrats are convinced that Trump is going to lose, and most Republicans are convinced that Trump is going to win.
And the truth is that the races in the most critical swing states are very close and this election could still go either way.
In the end, one side is in for the emotional letdown of a lifetime, and I don't know if our country will ever be the same again after this is all over.
***Michael's new book entitled "Lost Prophecies Of The Future Of America" is now available in paperback and for the Kindle on Amazon.***
About the Author: My name is Michael Snyder and my brand new book entitled "Lost Prophecies Of The Future Of America" is now available on Amazon.com.  In addition to my new book, I have written four others that are available on Amazon.com including The Beginning Of The End, Get Prepared Now, and Living A Life That Really Matters. (#CommissionsEarned)  By purchasing the books you help to support the work that my wife and I are doing, and by giving it to others you help to multiply the impact that we are having on people all over the globe.  I have published thousands of articles on The Economic Collapse Blog, End Of The American Dream and The Most Important News, and the articles that I publish on those sites are republished on dozens of other prominent websites all over the globe.  I always freely and happily allow others to republish my articles on their own websites, but I also ask that they include this "About the Author" section with each article.  The material contained in this article is for general information purposes only, and readers should consult licensed professionals before making any legal, business, financial or health decisions.  I encourage you to follow me on social media on Facebook and Twitter, and any way that you can share these articles with others is a great help.  During these very challenging times, people will need hope more than ever before, and it is our goal to share the gospel of Jesus Christ with as many people as we possibly can.