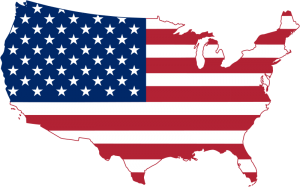 The United States is becoming a place where "anything goes", and most Americans are okay with that.  No matter which side of the "culture war" that you are on, you have to admit that our culture is being fundamentally transformed.  In fact, new numbers from Gallup confirm that there has been a colossal shift in America's moral values just since 2001.  Over the past 13 years, we have become a dramatically different country.  Many of the things that used to be considered "evil" are now considered to be "good", and many of the things that used to be considered "good" are now considered to be "evil".  In other words, our culture is literally being turned upside down, and the "values" that our national leaders speak of today are far different from the "values" that our grandparents grew up with.  So is this a good thing or a bad thing?
Every year, Gallup conducts an "annual Values and Beliefs survey", and the survey results for 2014 have just been released.  When you compare the numbers from 2001 to the numbers for this year, the difference in quite a few of the categories is quite striking.  Here are a few examples…
Sex between an unmarried man and woman
2001: 53%
2014: 66%
Divorce
2001: 59%
2014: 69%
Having a baby outside of marriage
2001: 45%
2014: 58%
Gay or lesbian relations
2001: 40%
2014: 58%
Medical research using stem cells from human embryos
2001: 52%
2014: 65%
Pornography
2001: 30%
2014: 33%
Suicide
2001: 13%
2014: 19%
Cloning Humans
2001: 7%
2014: 13%
As a nation, we are moving much more in the "socially liberal" direction.
But does that mean that everyone is changing?
Well, when Gallup broke the numbers down by political affiliation, they found something extremely interesting.
Gallup discovered that the values of Democrats had experienced a seismic shift since 2001, but that the values of Republicans had actually changed very little…
In the 12 years Gallup has asked this overall question, Democrats have become significantly more tolerant on many issues, while independents generally show a smaller shift in the same direction and Republicans' views have changed little. The percentage of Democrats who say an issue is morally acceptable has increased for 10 issues, including abortion, sex between an unmarried man and woman, extramarital affairs, cloning humans, divorce, cloning animals, suicide, research using stem cells from human embryos, polygamy, and gay and lesbian relations.

In some cases, the change among Democrats has been substantial. For example, in 2003, 52% of Democrats said having a baby outside of wedlock was morally acceptable, and 40% of Republicans and 61% of independents agreed. This year, 72% of Democrats, a 20-percentage-point increase, say it is morally acceptable. Meanwhile, Republicans have seen no change, with 40% still saying it is morally acceptable, although a higher 50% viewed it as morally acceptable last year. Independents have also not seen a change, with 60% saying having a baby out of wedlock is morally acceptable this year.
In other words, the "values gap" between the two major political parties is now larger than it has ever been.
And Gallup has previously found that there are huge differences between age groups when it comes to moral values as well.
For example, only 19 percent of Americans 55 and older consider pornography to be "morally acceptable", but 49 percent of Americans in the 18 to 34-year-old age group do.
This is true on issue after issue, and it is an indication that Americans will continue to become more "socially liberal" as older generations of Americans die off.
But as our values change, America is becoming a much different place.
You see, the truth is that moral values have consequences.  The following are just a few statistics about the current state of morality in America from one of my previous articles…
–18 percent of all women in the United States say that they have been raped at some point in their lives.
-It is estimated that one out of every four girls will be sexually abused before they become adults.
-Approximately one-third of the entire population of the United States (110 million people) currently has a sexually transmitted disease according to the Centers for Disease Control and Prevention.
-In the United States today, more than half of all couples "move in together" before they get married.
-For women under the age of 30 in the United States, more than half of all babies are being born out of wedlock.
-At this point, approximately one out of every three children in the United States lives in a home without a father.
-Right now, there are 70 million Americans that are on mind-altering drugs of one form or another.
-According to a study conducted by the Centers for Disease Control and Prevention, approximately two-thirds of all Americans in the 15 to 24-year-old age bracket have engaged in oral sex.
-During 2012, more than 85,000 military veterans were formally treated for sexual abuse that they suffered while serving in the U.S. military.
-According to the National Center for Missing & Exploited Children, there are 747,408 registered sex offenders in the United States.  And those are just the ones that have been caught and convicted.
Can our society survive if everyone just does "whatever seems right in their own eyes" and young people are allowed to decide for themselves what is right and what is wrong?
Some would suggest that our nation is "evolving" and that we are steadily becoming a more "progressive society".
Others are deeply alarmed that we are abandoning the values that this nation was founded upon and are calling for a return to those values.
So what do you think?
Please feel free to share your opinion about America's dramatic cultural shift by posting a comment below…