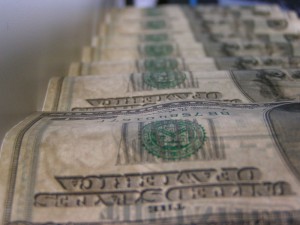 In American politics, it takes an enormous amount of money to win campaigns, and the rise of the "Super PACs" is allowing the wealthy to exert even more influence over the political process than they did before.  When you examine the results of federal elections over the past several decades, you quickly discover that the candidate that raises the most money almost always wins.  Wealthy individuals are limited by law as to how much money they can give directly to a political campaign, but there are no limits on how much money they can give to Super PACs.  During the 2012 election season, some of these Super PACs actually have more money than the campaigns of the candidates that they support do.  Buying the vote is not illegal in America, and these Super PACs are buying huge amounts of advertising in key states.  Unfortunately, most Americans have never learned to think for themselves.  Instead, they let the television do much of their thinking for them.  If their trusted friend, the television, tells them to vote a certain way, then that is what they are likely to do.  Super PACs are much more likely to run negative ads than the actual candidates are, and we have already seen very negative ads dramatically move the poll numbers in some of the states.  Sadly, as long as very negative ads keep working people are going to keep using them.
Super PACs are supposed to be completely and totally "independent" of the campaigns that they support, but the reality is that many of these Super PACs are run and staffed by former top aides of the candidates.
Some of the candidates are relying on the Super PACs to be the "attack dogs" while they sit back and try to maintain a more "positive" image.  If a Super PAC goes too far, a candidate can simply claim that he does not have any control over that Super PAC.
If money did not influence elections, then people would stop giving so much of it to the campaigns and to the Super PACs.  The truth is that money does influence elections, and when wealthy individuals and big corporations are allowed to pour millions upon millions of dollars into these Super PACs it gives them a much, much larger say in the outcome of our elections than you and I have.
When Mitt Romney stated that he was "not concerned about the very poor", he may have misspoke, but there was some truth to what he was saying.  Mitt Romney and the other candidates don't need the poor.  What they need is to keep the flow of money coming from the rich so that they can buy the votes of the poor.
When you have a very high percentage of "sheeple" in a society, the hearts and minds of the people can be bought.  Our horrific education system has dumbed-down the general population, and most Americans spend their days in an entertainment-induced haze.  Critical thinking is in short supply in the United States today, and most Americans are more than happy to have someone else tell them what to think.
Politics has become a war of money, and Super PACs are "bazookas" in that war.
The following are 12 facts about Super PACs that will blow your mind….
#1 Sheldon Adelson and members of his family have already given more than $10 million to Winning Our Future – the Super PAC that is promoting Newt Gingrich.
$10 million dollars sounds like a lot of money, but a recent CNN article put these donations into perspective….
Recent estimates peg his net worth at around $20 billion. That means his $10 million donation was exactly one twentieth of one percent of his net worth. Yes, 0.05%.

That would be like a millionaire giving a $500 donation. Or a $50 gift for someone worth $100,000.
#2 Texas businessman Harold C. Simmons has given more than $14 million to Republican Super PACs during this election season.
#3 Overall, well over $50 million has been spent by Super PACs so far and we have not even gotten to the general election yet.
#4 The Red, White And Blue Fund, a Super PAC that supports Rick Santorum, has raised at least 2.8 million dollars so far.
#5 Winning Our Future (the Newt Gingrich Super PAC) has raised at least 13.1 million dollars so far.
#6 American Crossroads, a super PAC that boasts Karl Rove as a senior adviser, has raised at least 23.4 million dollars so far.
#7 Restore Our Future, a super PAC that was created by former aides of Mitt Romney, has raised at least 36.8 million dollars so far.
#8 In January, Mitt Romney's campaign raised 6.54 million dollars.  Restore Our Future raised even more than that – 6.62 million dollars.
#9 The four Republican presidential candidates raised a total of more than 21 million dollars in January.  Their Super PACs raised a total of more than 22 million dollars.
#10 Donations from New York, Washington D.C., Massachusetts, California and Texas make up 2 out of every 3 dollars raised by the Super PACs.
#11 During the race for the Republican nomination, 27 percent of all the ads run by the Republican candidates have been negative.  Conversely, about 75 percent of all the ads run by the Super PACs have been negative.
#12 The Federal Election Commission is projecting that a total of 11 billion dollars will be spent on political campaigns during the 2012 election season.
Right now, Mitt Romney has raised far more money than the other Republican candidates have an his Super PAC has raised far more money than the other Republican Super PACs have.
It doesn't really matter that he is just a slightly more experienced version of Barack Obama.  He has the money, he has the support of the establishment, and the mainstream media is telling Americans that he is the person that the "red team" is supposed to vote for.
Yes, there is always the chance that Romney could fall apart and that the Republican establishment would be forced to find another option.  Miracles do happen.
But remember, the candidate that raises the most money almost always wins.  The following is from Politifact….
In congressional races in 2010, the candidate who spent the most won 85 percent of the House races and 83 percent of the Senate races, according to the Center for Responsive Politics. That's a large percentage, but it's lower than what the sign indicated.

Indeed, the percentage for 2010 was lower than it had been in recent election cycles. The center found that in 2008, the biggest spenders won 93 percent of House races and 86 percent of Senate races. In 2006, the top spenders won 94 percent of House races and 73 percent of Senate races. And in 2004, 98 percent of House seats went to candidates who spent the most, as did 88 percent of Senate seats.
If you think that most Americans are going to sit down and critically assess the political positions of these candidates before deciding who to vote for you are being delusional.
Most Americans do what the television tells them to do.
And the candidates with the most money are able to buy more influence on television.
What do you think our founding fathers would say if they could see us now?