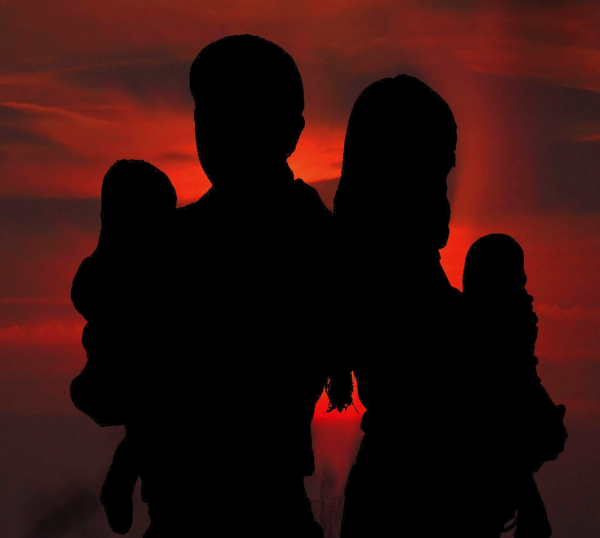 The reason why so many people are clamoring for Congress to get another stimulus bill passed is because an unprecedented number of households are in desperate financial need right now.  As you will see below, millions of Americans missed their rent or mortgage payments last month, millions missed their student loan payments, and millions are falling into poverty.  The economic downturn that was sparked by the coronavirus pandemic has stretched on far longer than most people originally anticipated, and many Americans are simply running out of money at this point.  In fact, one survey that was conducted not too long ago found that 40 percent of all households have "used up all or most of their savings" and 74 percent of families with children that make less than $100,000 a year have "experienced serious financial problems" during this crisis…
Nationwide, food insecurity has become a pervasive problem. The percentage of families with children who reported not having enough to eat more than tripled in July compared with 2019. One report found nearly half of American families lived with hunger in the summer.

Another found more than 40% of surveyed households with children had used up all or most of their savings by early August. Children in households making less than $100,000 have been especially affected: 74% of those families experienced serious financial problems.
Those are deeply alarming numbers.
If "nearly half" of U.S. families are living with hunger now, how bad will things get if the U.S. economy takes another turn for the worse?
One hard working American that has almost reached her breaking point is a 43-year-old veteran and mother of three named Kaneadsha Jones…
By early October, Kaneadsha Jones was close to giving up. It had been seven months since she or her husband had steady work. Seven months since her three school-age children, including a 14-year-old daughter with autism who is blind, nonverbal and immunocompromised, had been to school. Four months since a shooting on her block left her car and her family's rented house in north Columbus, Ohio, riddled with bullet holes and her 12-year-old daughter struggling with severe post-traumatic stress disorder.
When she received the first stimulus check from the federal government, she used it all to pay utility bills that were past due.
But since then there have been no more checks and the bills have just continued to pile up.
She continues to fight for the sake of her family, but she admits that she is really, really tired…
"I'm so tired," Jones said. "It seems nothing is getting a little better. The only thing that keeps me trying is my family."
Have you ever felt like she is feeling right now?
I think that most of us have at some point in our lives.
All across the country, unemployed workers are becoming very desperate because they are starting to exhaust their unemployment benefits and they still haven't been able to find jobs.  One such individual is a chemist in Ohio named Kate McAfee…
New research from JPMorgan Chase Institute and the University of Chicago focused on 80,000 unemployed people shows savings built up when the government provided aid is now rapidly running out, leaving people like chemist Kate McAfee fretting about their futures.

"I'm still unemployed," said McAfee, who was laid off from her job outside Cleveland back in April. "I've now exhausted my 26 weeks of unemployment here in Ohio and have moved on to the additional 13 weeks of extended benefits from the federal government."
Since the pandemic started, more than 64 million Americans have filed new claims for unemployment benefits, and every single one of those workers has a unique story.
Most of them had at least some savings, but when you are not working month after month those savings tend to disappear very quickly.
Now as we approach the holiday season a lot of people have completely run out of money and lots of bills are starting to go unpaid.
For example, it is being reported that over 6 million households didn't pay their rent or mortgage last month…
More than 6 million households failed to make their rent or mortgage payments in September, according to the Mortgage Bankers Association's Research Institute for Housing America, a sign that the economic fallout from the coronavirus pandemic is weighing on jobless Americans as Congress stalls on relief measures.
And we are also being told that approximately 26 million Americans didn't make their student loan payment last month…
In September, roughly 26 million people missed their student loan payment. The proportion of student debt borrowers who missed a monthly payment has remained steady at 40% since May.
We have never seen anything like this before.
Just like during the last recession, vast numbers of Americans that once lived comfortable middle class lifestyles are rapidly falling into poverty.
In fact, one recent study found that 8 million Americans have fallen into poverty just since the month of May…
Some eight million Americans have fallen below the poverty level since May after federal stimulus money dried up and Congress did not follow up with more relief legislation, according to a new study.

Meanwhile, the economic recovery has slowed down as more than 55 million Americans are now earning less than $26,200 a year – which is what the federal government considers the poverty line.
Coming into this year, most Americans were living paycheck to paycheck and were very deep in debt.
That works okay as long as the paychecks keep coming in, but once they stop things can take a disastrous turn very quickly.
Today, the average American has accumulated $90,460 in debt, and Generation X is drowning in more debt than anyone else…
Gen Z (ages 18 to 23): $9,593
Millennials (ages 24 to 39): $78,396
Gen X (ages 40 to 55): $135,841
Baby boomers (ages 56 to 74): $96,984
Silent generation (ages 75 and above): $40,925
The sad truth is that most of the U.S. population is simply not in any position to handle times of extreme financial stress.
Unfortunately, this pandemic is not going away any time soon, and that means that industries all over America will continue to let more workers go as economic conditions continue to deteriorate.
And as economic conditions continue to get worse, the level of economic suffering that Americans like Kaneadsha Jones and Kate McAfee are experiencing will continue to intensify.
This has already been such a challenging time for our country, and to be honest the days ahead are looking quite bleak at this point.
***Michael's new book entitled "Lost Prophecies Of The Future Of America" is now available in paperback and for the Kindle on Amazon.***
About the Author: My name is Michael Snyder and my brand new book entitled "Lost Prophecies Of The Future Of America" is now available on Amazon.com.  In addition to my new book, I have written four others that are available on Amazon.com including The Beginning Of The End, Get Prepared Now, and Living A Life That Really Matters. (#CommissionsEarned)  By purchasing the books you help to support the work that my wife and I are doing, and by giving it to others you help to multiply the impact that we are having on people all over the globe.  I have published thousands of articles on The Economic Collapse Blog, End Of The American Dream and The Most Important News, and the articles that I publish on those sites are republished on dozens of other prominent websites all over the globe.  I always freely and happily allow others to republish my articles on their own websites, but I also ask that they include this "About the Author" section with each article.  The material contained in this article is for general information purposes only, and readers should consult licensed professionals before making any legal, business, financial or health decisions.  I encourage you to follow me on social media on Facebook and Twitter, and any way that you can share these articles with others is a great help.  During these very challenging times, people will need hope more than ever before, and it is our goal to share the gospel of Jesus Christ with as many people as we possibly can.