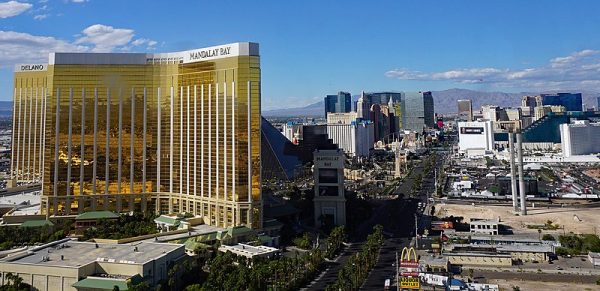 The Las Vegas shooting was evil on a level that is difficult to comprehend, but when things are the darkest that is also when the light shines the brightest.  Even in the midst of all of the chaos and all of the bloodshed, there were acts of great heroism that need to be applauded.  It takes great courage to run toward gunfire when it seems like everybody else is running away from it, but that is precisely what many brave individuals decided to do.  And some of those that risked everything to save lives ended up paying a great price for doing so.
There are so many stories that could be shared, and I apologize in advance for not sharing them all.  Out of everything that I read, the following are five that really stood out to me…
#1 A 30-year-old father of three ran back into a hailstorm of bullets to lead 30 people to safety.  During his rescue mission, he was shot in the neck, and he now has "a bruised lung, cracked rib and a fractured collarbone"…
The Post reported Smith, 30, rushed about 30 people to safety as bullets showered the crowd at the Route 91 Harvest Country Music Festival.

ABC News reported Smith destroyed a security gate and "formed a human chain" in order to lead the group to safety.

"I ran back towards the shooting," Smith told ABC.

He was shot in the neck, the Post reported, when he stood up to warn a group of girls to get down. Smith told the newspaper he may have to live with the bullet in his body for the rest of his life. He also has a bruised lung, cracked rib and a fractured collarbone.
#2 During all of the chaos, an Army reservist named James Lawson stopped to tend to Tom McIntosh's bleeding leg, and that was enough to save his life…
Tom McIntosh and James Lawson shared an emotional hug during an exclusive interview on TODAY Tuesday, a day after Lawson's quick thinking saved McIntosh's life.

After McIntosh was wounded in the leg, Lawson, who serves in the Army Reserve, adjusted a makeshift tourniquet on his leg and accompanied him to a hospital.

"By the time I got over the wall (to safety), my pants were already soaked and my shoe was full of blood," McIntosh said. "No, I wouldn't have made it. I know it wouldn't have stopped. I'm very thankful that James was there to help me."
#3 A young woman from Los Angeles named Renee Cesario had her life saved by a brave Marine named Brendan Kelly that she had only met a couple of hours before…
"Brendan and I met only 2 hours before the Jason Aldean show. I left my friends so we could go up super close to the front for the end of the night. We were just dancing and having fun and then all of the sudden there were loud noises that sounded like fireworks, but no lights were going off. It stopped, and Jason Aldean kept playing but then the shots fired again and he ran off the stage. Before I knew what was going on, Brendan tackled me down to the ground and covered me from the fire. It stopped again and he looked around to see what was happening and then it just kept going. He looked at me and said 'We have to get out of here. We can't stay here. It's not safe.' Then he pulled my arm up to get me out of the piles of people. We had no idea who was dead or who was alive. We just started to run. He kept telling me it was going to be okay and to keep running until we were safe. He even let me use his phone to stay in touch with my sister so she knew I was safe, which is the text you'll see. The whole night he didn't leave my side."
#4 An off-duty firefighter named Kurt Fowler was hit in the leg with a bullet while acting as a human shield for his wife…
Off-duty firefighter Kurt Fowler, of Lake Havasu, Ariz., was shot in the lower right leg while protecting his wife, and is recovering in a hospital.

"They heard the gunfire, him and his wife. Kurt took his wife to the ground and was shielding her and then was struck in the leg," Steve Bunn, Erickson and Desert Hills fire captain and union president, told AZFamily.com.
#5 53-year-old Mike McGarry's shirt literally has footmarks from the people that were trampling him as he laid on top of his kids to protect them from the gunfire…
Mike McGarry, a 53-year-old financial adviser from Philadelphia, was at the concert with his family when he heard hundreds of shots ring out. He told Reuters that his first response was to protect his children.

"It was crazy–I laid on top of the kids. They're 20. I'm 53. I lived a good life," McGarry said. Reuters reported the back of McGarry's shirt bore the footmarks of those who had ran over him in the panicked crowd.
As I write about so frequently, we need much more of this kind of unconditional love in our society today.  Being willing to lay down your life for someone else takes an extraordinary amount of love, and those that risked everything in Las Vegas deserve every ounce of publicity that they are now receiving.
Sadly, others are exploiting this crisis to promote their own agendas.  Many liberals are using this as an opportunity to push gun control, and others are using it to viciously attack the U.S. Constitution…
Perhaps the most brazenly insensitive comments came from Esquire columnist Charles Pierce, who immediately penned a column headed "If Newtown Wasn't Enough, Why Would Las Vegas Be Enough? Our leaders are afraid to tolerate limits on Second Amendment "freedoms."

"The Constitution is not a pact with the devil, nor is it a suicide pact. It is a formalized, legalistic ritual of blood sacrifice… The massacre of country music fans is…. the 273rd blood sacrifice to that one provision of the Constitution this year." Pierce frothed.
Instead of immediately politicizing this great crisis, what we really need to be doing is to figure out exactly what happened.
Evidence continues to emerge that there was more than one shooter, and if that is true, it is imperative that we bring whoever else was involved to justice as soon as possible.
This was a crime against all of us, and the sooner that we can solve the mystery of what really happened in this case the better.
Michael Snyder is a Republican candidate for Congress in Idaho's First Congressional District, and you can learn how you can get involved in the campaign on his official website. His new book entitled "Living A Life That Really Matters" is available in paperback and for the Kindle on Amazon.com.