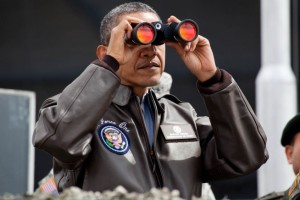 Is the U.S. economy in a recession right now?  Has the next recession in the United States already begun?  Unfortunately, there are a lot of economic numbers that are pointing in that direction.  U.S. retail sales have fallen for three months in a row, U.S. manufacturing activity is contracting and there are numerous indications that the labor market is getting weaker.  Of course there are some economists that will argue that we never even left the last recession.  For example, the percentage of working age Americans with jobs fell from above 63 percent in 2007 to under 59 percent during the last recession.  Since the end of the last recession, that number has not gotten back above 59 percent.  In fact, it has been below 59 percent for 34 months in a row.  In addition, we have continued to see poverty and government dependence steadily rise during this "economic recovery".  Since Barack Obama became president, the number of Americans living in poverty has risen by 6 million and the number of Americans on food stamps has risen by 14 million.  So it would be really hard to argue with anyone that wants to say that the last recession never really ended.  However, the latest economic numbers indicate that things are about to get even worse for the U.S. economy, and that is not good news at all.
The following are 12 signs that the next recession in the United States has already begun….
#1 U.S. retail sales have declined for three months in a row, and that is a very bad sign.  Retail sales in America have fallen three months in a row only 27 times since 1947.  In 25 of those instances, the U.S. economy was either "in a recession or within three months of a recession."
#2 Manufacturing activity in the mid-Atlantic region has declined for three months in a row.
#3 Overall, the U.S. manufacturing sector contracted last month for the first time in almost three years.  The following is from a recent article in the Los Angeles Times….
A factory index calculated by the Institute for Supply Management slid to 49.7 in June from 53.5 in May to the lowest reading since July 2009. Any level below 50 denotes tightening in the sector; anything above signifies growth.
#4 Sales of previously occupied homes dropped by 5.4 percent during June.
#5 Initial claims for unemployment benefits rose to 386,000 last week – another sign that the labor market is weakening again.
#6 According to one survey, only 23 percent of all U.S. businesses plan to hire more workers over the next 6 months.
#7 The Philadelphia Fed's employment index indicates that there is bad news ahead for the labor market….
Labor market conditions at the reporting firms deteriorated this month. The current employment index decreased 10 points, to ‐8.4, its second negative reading in three months. The percent of firms reporting decreases in employment (18 percent) exceeded the percent reporting increases (10 percent).
#8 Unless Congress acts, the U.S. Postal Service is going to financially default for the first time ever on August 1st.
#9 The Conference Board's index of leading economic indicators fell by 0.3 percent in June.
#10 A Washington Post survey that was conducted back in April discovered that 76 percent of all Americans believe that the U.S. economy is still in a recession.
#11 According to AARP, 600,000 American homeowners that are 50 years of age or older are currently in foreclosure.
#12 The unemployment rate in New York City is now back up to 10 percent.  That equals the peak unemployment rate in New York City during the last recession.
So where do we go from here?
Are poverty and government dependence going to reach even higher levels during the next recession than they did during the last recession?
Yes, we always want to help those that are hurting and that cannot take care of themselves.  We don't want to see anyone going without food or sleeping in the streets.
But handouts are not going to solve our economic problems.  The U.S. government even admits that handouts can be very damaging to those that become accustomed to them.  The following is from the website of the U.S. National Park Service….
Feeding bears or allowing them access to human food causes a number of problems:

• It changes the bear's wild behavior and causes them to lose their instinctive fear of humans. This lack of fear causes panhandler or "nuisance" bears to be more unpredictable and dangerous when they encounter humans.

• At their best, panhandler bears perform tricks to obtain food. At their worst, they damage property and injure people. In 2009, 288 bear-related incidents were recorded in the park. One incident involved an injury to a park visitor and others resulted in extensive property damage.

• It transforms wild and healthy bears into habitual beggars. Studies have shown that panhandler bears never live as long as wild bears. Many are hit by cars and become easy targets for poachers. Beggar bears may die from ingesting food packaging or toxins.
But although socialism is bad for bears, apparently it is just right for humans.
According to the Daily Caller, the federal government is actually working with the Mexican government to increase participation in the U.S. food stamp program….
The Mexican government has been working with the United States Department of Agriculture to increase participation in the Supplemental Nutrition Assistance Program (SNAP), or food stamps.

USDA has an agreement with Mexico to promote American food assistance programs, including food stamps, among Mexican Americans, Mexican nationals and migrant communities in America.

"USDA and the government of Mexico have entered into a partnership to help educate eligible Mexican nationals living in the United States about available nutrition assistance," the USDA explains in a brief paragraph on their "Reaching Low-Income Hispanics With Nutrition Assistance" web page. "Mexico will help disseminate this information through its embassy and network of approximately 50 consular offices."
This doesn't make any sense at all.
Why is the U.S. government seeking the assistance of a foreign government to help get more people on food stamps?
Sadly, many in our government actually believe that getting people on food stamps is one of the best things we can do for our economy.
For example, House Minority Whip Steny Hoyer recently told reporters that enrolling more Americans in the food stamp program is one of the "most stimulative" things that the government can do for the U.S. economy.
Isn't that frightening?
No wonder why so many people are skeptical of the government these days.  One recent survey found that 23 percent of all Americans believe that "government is the solution to the problem" while 64 percent of all Americans believe that "government is the problem".
What we really need is for the government to get off of the backs of our businesses so that they can start thriving again and so that they can start creating more jobs.
But as we have seen in the past, that never seems to happen no matter which political party is in power.
Meanwhile, the next great global financial crisis is rapidly approaching and there seems to be little hope that the U.S. is going to be able to avoid another major economic downturn.
If you expect the government or the Federal Reserve to save you from what is coming, then you are going to be bitterly disappointed.  They were not able to prevent the last economic crisis and they are not going to be able to prevent the next one either.
The truth is that our financial system is massively overloaded with debt and our economy is failing.
A great storm is coming and it is going to be exceedingly painful.
You better get ready while you still have time.