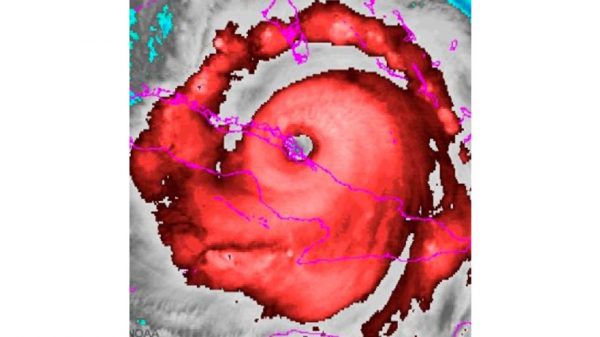 A senior meteorologist at The Weather Channel is claiming that a satellite image of Hurricane Irma that comes from NASA's earth science office "has an embedded face". Some say that it kind of looks like a dinosaur, others believe that it looks like a pig, and yet others seem to think that it sort of resembles an elephant. Since most hurricanes have a clearly defined "eye", all it really takes to make a "face" is to find a "mouth" on a satellite image somewhere. So I can understand what the guys over at the Weather Channel are saying, but it is not the type of claim that I would make. But needless to say, this photograph will probably be shared a few million times on Facebook. Here is an excerpt from the original Weather Channel article…
For the second year in a row, as a large hurricane threatened the United States, some swore they saw a face in satellite imagery of the storm.

The image above was posted early Saturday morning to Twitter by Stu Ostro, a senior meteorologist at The Weather Channel. As Hurricane Irma made landfall along the coast of northern Cuba, it appeared as if the satellite imagery of the storm had an embedded face.

You can argue whether the face better resembles a pig or an elephant, but it's the second such face Ostro has spotted in a satellite image of a hurricane in as many years. Last October, as Hurricane Matthew's eye moved away from Haiti, a very sinister face appeared in satellite imagery.
Storms such as this definitely seem to bring out the strangeness in people. Within hours of hurricane winds striking south Florida, people were already breaking into homes and looting stores. In fact, one local news station captured footage of a "group of about 8-9 people" looting a retail store in broad daylight…
Local 10 cameras caught a group breaking into the Simon's Sportswear on Sunrise Blvd. and Powerline Road.

The group of about 8-9 people broke through the front window and were seen walking in and then walking out with stolen items.

The group then began looting a Footlocker and CashAmerica Pawn Store in the same area.
Both Hurricane Harvey and Hurricane Irma have caused absolutely catastrophic damage, and millions of lives have been completely turned upside down. For those of us that live in areas that were not affected by these storms, it can be difficult to grasp the extreme stress that people down in Texas and Florida have been experiencing.
I would like to share with you a letter that was sent to me by a reader named Carol. She said that I could share this with my readers, and my hope is that this will encourage you to pray for those that have been caught in the middle of these storms…
*****
Dear Michael,
I felt impressed to write to you this morning. The situation here in Florida is very, very tense. My husband and I live in Boynton Beach, FL, near West Palm Beach, on the southeast coast. My son lives in a condo close by.
When the storm appeared to be coming straight towards us, we had to quickly decide what was important to us, and literally threw everything in the back of our car that we ever expected to own again, as we left the east coast to go to his brother's house in Tampa, FL on the west coast.
Now that we are in Tampa, the storm is , at least for now, coming straight for us here. My 21 year old son refused to come with us as he wants to stay behind and experience the "adventure". I begged and pleaded, but he would not come.
As the path trajectory vascillates around, we have noticed how the track is going from one coast to the other, throwing everyone in the whole state into a panic. Except for the snowflakes of course, who also think this is no big deal.
Why I'm writing, Michael, is that strange things have been happening in the last couple of days. I am a Christian, and so are my friends. But I don't hear God's voice talking to me, or have prophetic dreams, or anything like that.
2 days ago, when I was in panic mode, driving around town trying to find gas, a CD in my car CD player popped out. I DID NOT TOUCH THE EJECT BUTTON. I was not even listening to the radio. I was focused on getting supplies .
I don't even know what CD it was or when or how it got into my car, other than I was frantically packing stuff. I don't even know the name of the CD or the musician. I tried to pushing it in , but it kept on jutting out , aggravating me as it was in the way. I finally just pushed the load button and it played.
And the song said:
I am the EYE in the SKY…I CAN READ YOUR MIND… I'M DEALING WITH FOOLS, BUT YOU WILL BE FINE.
At least those are the words that I heard. And the Holy Spirit came over me as I had to pull off the side of the road. It was God giving me a message. I broke down and cried.
Then that night I woke up in a sweat from a dream. I saw those 3 biblical guys, Mesach and ABendego , forgot the other name, in the middle of the fire , where they were protected. You know the story.
But the middle of the fire was the eye of the hurricane, which was 180 mph.
I think that God was saying that either myself or His people would be protected, even thought we are in the hurricane, like those biblical guys in the middle of the fire were protected.
The a girlfriend who lives in Melbourne, FL called me and said she was totally freaked out about something strange that just happened to her. She has one of those clear, plastic cutting boards on her counter. She came into the kitchen, had not touched the cutting board, nor was anything on it , and the board was sitting there completely shattered, into hundred of pieces.
She was totally freaked out and couldn't understand how it happened. I then told her that very day I had the CD pop out of my CD player for no reason.
I don't know what the cutting board means, but I told her that maybe it meant her house would be shattered, and she then went into full preparation mode. This is a girl that had nothing in her fridge, nor her cupboard, who doesn't even have a battery operated radio, and lives alone.
Maybe it means that the whole state of Florida will be shattered like glass.
When the evacuation order was issued for Miami Beach, I knew it was time to decide whether to stay in our house, or go. We have 2 very large trees on either side of the house, plus it was built in 1960 and the roof could come off. We decided to go to Tampa, as the storm appeared to be going to the east coast at the time.
I had to leave by myself with our 2 dogs first, as my husband needed more time to put up our hurricane shutters. I drove across the state on one tank of gas, with no gas at the gas stations available. I had only slept 3 hours , was exhausted, and didn't even have time to map out my route. I knew I had to stay off the main roads, which are literally bumper to bumper. So I got on a back road and simply headed west.
My phone GPS maps brought me way out in the country, with no houses, near cow pastures and railroad tracks, in the middle of Florida. There were no cars, and I did not know if I would end up on a dirt road that led nowhere, with no gas, in thunderstorms and heavy rain. The roads were starting to flood.
But the GPS brought me straight to my brother in law's house with no traffic, after 6 hours of driving.
Now that we are here, it appears the storm is headed straight for Tampa, where we now are. I am exhausted. The panic from the sheer gravity of the situation, doesn't allow me to sleep but 3 hours.
For years I have been prepping for the "economic collapse", when the SHTF. I now believe that this is the moment I have been preparing for. I believe that God will bring people to their knees, if they aren't already there, with this storm.
I am prepared to have no home to go back to, nor for my son to even be alive.
I should be panicked, but after 5 long days of frantically facing the realism of what was happening, and God talking to me through my CD player, I now feel ready for whatever happens.
Knowing what hurricane Andrew did, and this storm being much stronger than Andrew, I know that we will be on our own for days, weeks, maybe months. We will have to live on the food that we bought yesterday, as we had to leave our preps behind, live without electricity, no air conditioning in 90 degree heat, and possibly in a house with no roof or walls.
But I will be here, along with others, helping strangers, getting to know our neighbors. And hopefully sharing stories of God's mercy. It is the time for Christians to no longer be silent, no longer worry about what others may think of what they say. God is showing his Mighty Hand through mother nature.
I believe he is showing Florida that there is no way to get out of His wrath, because as people think they are getting away from the storm, it turns and starts coming towards them. There is no safe place in Florida right now.
Sure, there will be the ones who say that these storms are due to "global warming". Those are the FOOLS, as the song said to me.
I doubt there will be internet here for awhile, but if there is, and you want to know what's going on , on the ground here, I'd be glad to inform you. I fully realize we may not make it out of this alive, but now feel calm, despite that fact.
I want to thank you Michael, for your moral support and hard work, in bringing the truth to the people with your terrific articles. You have worked tirelessly for years with your research and writing. And I fully expect you to win your political race. Godspeed.
I'll talk to you on the other side, either the storm or in heaven. May God have mercy on us here in Florida.
PS…You can print what I said if you want..
Sincerely,
Carol