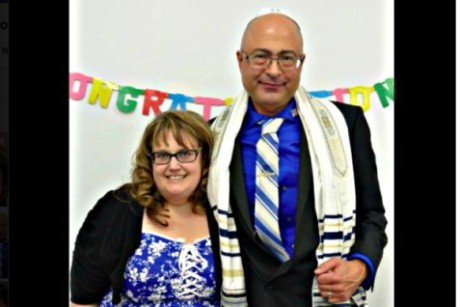 Why is the mainstream media ignoring evidence that the primary reason why Sayed Farook and his wife went on a deadly shooting spree in San Bernardino, California was because Farook wanted to get revenge on a pro-Israel Messianic Jewish Christian co-worker? 52-year-old Nicholas Thalasinos had worked alongside Farook as an inspector for an extended period of time, and it is being reported that they would often have discussions about religion and politics. As you will see below, the two had been arguing about whether Islam was a peaceful religion or not, Farook had reportedly made threats to kill Thalasinos, and Farook had was quite insistent that Islam would someday "rule the world".
As authorities search for a motive for the shootings, you would think that a "heated, passionate" debate that took place between Farook and Thalasinos just a few days earlier would be a natural place to start. The following comes from CNN…
One of Farook's colleagues killed in the attack, Nicholas Thalasinos, liked to discuss religion and politics. Farook and Thalasinos, reportedly a devout Messianic Jew, had a "heated, passionate" discussion about politics and religion a few days earlier, said Kuuleme Stephens, a friend of Thalasinos, who called him at work while Thalasinos was in the middle of the conversation.
But apparently what transpired between the two went far beyond just a "discussion". According to a close friend of Thalasinos, Farook told Thalasinos that "Christians and Jews deserve to die", and he also threatened to kill Thalasinos in particular. This next excerpt comes from an article by Paul Joseph Watson…
A close friend of Nicholas Thalasinos, one of the victims of the San Bernardino shooting, said that gunman Sayed Farook had threatened to kill Thalasinos because he was Jewish and asserted that "Islam will rule the world."

CV Claverie posted the following Facebook message on Thursday evening;

"The islamic terrorist who took the Life of my friend & bro in Christ, Nicholas Thalasinos, on yesterday in San Bernadino, CA, had been threatening him, telling him that islam will rule the world, Christians and Jews deserve to die; and that he (Nicholas) was going to die."
To me, this appears to be the core of the whole story. But it has been almost entirely discarded by the mainstream media because it does not fit with any of the "narratives" that they are trying to push.
If Thalasinos was a member of a group favored by the liberal media, his name would be everywhere and this angle of the story would be front page news. But because he was a pro-Israel Messianic Christian Jew, the fact that Thalasinos and Farook had been heatedly arguing only a few days before the shootings is being given very little importance. Apparently at least one of the "discussions" that had really upset Farook was one about whether or not Islam is a peaceful religion…
Thalasinos is a member of a messianic church and is strongly pro-Israel. His Facebook page is filled with positive postings about Israel and Jewish holidays and messages of Shabbat Shalom. He was also a strong political conservative.

Co-workers described Thalasinos as strongly outspoken about his political views, but "wonderful and compassionate."

But here's the kicker: The USA Today report, which buried this detail 31 paragraphs down in a 54 paragraph story about some of the victims, on Tuesday, the day before the massacre, Thalasinos posted on social media that he had received threats in recent days, including one stating he "will die."

An Associated Press report revealed that a co-worker said that Thalasinos and Farook had argued recently about religion, and Thalasinos complained to her that Farook "doesn't agree that Islam is not a peaceful religion."

Thalasinos and his wife are members of the Shiloh Messianic Congregation church in Crestline, California.
If I was a detective assigned to this case, I would be focused like a hawk on the interactions between Thalasinos and Farook. To me, this is clearly what motivated Farook and his wife to murder Thalasinos and the others. But the vast majority of the news stories that I have read about this event do not even mention Thalasinos.
Although the mainstream media does not like to admit it, there are lots of radical Muslims living inside the United States that hate Christians, that hate Jews, and that hate the state of Israel. And since Thalasinos was a Christian, a Jew, and a tremendous supporter of the state of Israel, that made him easy for Farook to hate.
And of course that are lots of other radical Muslims that harbor similar hatred in their own hearts. For example, it has been reported that radical Muslims in Dearborn, Michigan celebrated the terror attacks in Paris on November 13th by setting off fireworks…
Radical Muslims in the Dearborn, Mich., area were celebrating the Nov. 13 Paris attacks orchestrated by ISIS, according to a resident.

"As the news started, I don't remember exactly what time but it was in the early evening [of the shooting], at first there was a large crack and it startled me, and I'm like 'okay, what was that?' and shortly thereafter there were several more fireworks going off," the Dearborn, Mich., resident reported, who wished not to be identified. "What I found out later [they were] fireworks and in the streets, I did not see the people, however it was several blocks away, within four or five blocks from my house, people were shouting 'Allah Ackbar.'"

Last month, at two different soccer games in Azerbaijan and Turkey, soccer fans were similarly chanting "Allahu Akbar" and booing during a moment of silence for the victims of the attacks, and in 2001 radical Muslims were celebrating 9/11.
The mainstream media does not like to report things like this because they are not "politically correct".
Decades ago, journalists often made an honest attempt to report the news, whether it was good or bad. But now so much of our "journalism" is really just agenda-driven propaganda.
And since the fact that a radical Muslim was trying to take revenge against a conservative Messianic Jewish Christian does not "fit the narrative" that the mainstream media is trying to craft around this story, it is almost entirely ignored.
Please share this article with as many people as you can, because the American people deserve the truth.
And please pray for the family of Nicholas Thalasinos and the other families that lost loved ones in this horrifying terror attack. Nobody should ever have to go through what they are going through right now.