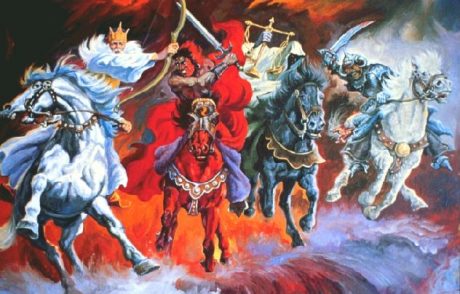 There are consequences for our actions, and on a national level we are going to experience tremendous consequences for the very foolish decisions of our national leaders. When Barack Obama decided to betray Israel at the United Nations, he made the most fateful decision of his entire presidency. Because the Scriptures tell us that those that curse Israel will be cursed, and so America is now under a great curse due to what Barack Obama has done.
All throughout the Scriptures there are equations. What I mean by that is there are many passages that tell us that if we do things God's way we will get one result, and if we do things another way we will get another result. One of my favorite examples of this is Matthew 5:19. I have been on both sides of that particular equation, and being on God's side of the equation is much better by far.
As far as Israel is concerned, all throughout the Bible we see the principle that those that bless Israel are blessed and those that curse Israel are cursed. The very first place where we find this is in Genesis chapter 12 where God makes his famous promise to Abraham. The following is what Genesis 12:1-3 says in the Modern English Version…
Now the Lord said to Abram, "Go from your country, your family, and your father's house to the land that I will show you. I will make of you a great nation; I will bless you and make your name great, so that you will be a blessing. I will bless them who bless you and curse him who curses you, and in you all families of the earth will be blessed."
In the Book of Numbers, we see almost the exact same wording being used. In this case, Balaam had been summoned to cast a curse on Israel, but God had him deliver a blessing instead. This is what Numbers 24:9 says…
He crouches, he lies down as a lion, and as a lion, who will stir him up? "Blessed is he who blesses you, and cursed is he who curses you."
So how does one curse Israel? There are lots of ways to do that, but one thing that God really doesn't like is when someone tries to divide up His land. In Joel chapter 3 we find a prophecy about the last days, and one of the things that God says He will really be upset about is the fact that the nations have "divided up My land"…
In those days and at that time, when I restore the fortunes of Judah and Jerusalem, I will gather all the nations, and bring them down to the Valley of Jehoshaphat. I will enter into judgment with them there regarding My people and My heritage Israel, whom they have scattered among the nations; they have also divided up My land.
This warning has been around for well over 2000 years, but our leaders are completely ignoring God's warning that He will judge them for dividing up His land. On Friday, UN Security Council Resolution 2344 declared that all Jewish settlements in East Jerusalem and the West Bank are illegal, and it gave the Palestinians legal ownership of those territories.
Is this the dividing of the land that Joel chapter 3 warns about? If not, it is pretty close. Many are still anticipating that there may be another UN Security Council resolution that would formally establish a Palestinian state, and if that happens that would definitely fulfill Joel 3.
In Zechariah chapter 12, we are told that the city of Jerusalem will be particularly troublesome in the last days. The following is what Zechariah 12:3 says in the Modern English Version…
And it will be on that day that I will set Jerusalem as a weighty stone to all the peoples. All who carry it will surely gash themselves, and all the nations of the land will be gathered against it.
And of all the issues that separate the Israelis and the Palestinians, the status of Jerusalem is perhaps the most controversial. You see, the truth is that the Palestinians will never accept any solution that does not give them East Jerusalem as their capital, and Israeli Prime Minister Benjamin Netanyahu has pledged that the city of Jerusalem will remain undivided forever.
By attempting to divide God's holy city, Barack Obama and the United Nations are setting themselves against God, and the consequences are likely to be quite dramatic.
Sadly, relatively few Christian leaders are speaking out about this. There has been only a limited uproar against this betrayal of Israel, and this is something that I simply do not understand.
Fortunately, there are a few that are speaking out. One of them is Franklin Graham, and I really like what he had to say about this crisis on his Facebook page…
Israel is America's closest ally in the Middle East and the only true democracy in that region of the world. I'm disappointed that the current administration in Washington seems to have such contempt for this nation and its elected leaders. For the U.S. not to stand with Israel is shameful.
Without a doubt, what we have done to Israel is shameful. And now that we are on the wrong side of the equation, we will most definitely be cursed.
Nothing extremely dramatic has happened so far, but there have been some rumblings. For example, it is being reported that there have been nearly 700 earthquakes in California and Nevada over the past week…
A reporter for KWTV News tweeted that there have been at least 28 reported earthquakes since the early morning hours in California and Nevada.

A map put out by the Southern California Earthquake Data Center shows that in the last week that have been almost 700 light-to-moderate tremors in the area.
And on the east coast, a horrible winter blizzard is set to dump nearly two feet of snow on some areas of New England…
A powerful winter storm will unleash heavy, wet snow and howling winds across portions of New England from late Thursday through midday Friday, with blizzard conditions possible in some areas.

Much of New Hampshire, Vermont and Maine should see a foot of snow, with nearly two feet expected in some spots, the National Weather Service said. "This looks to be a high-impact storm with power outages and significant drifting issues likely," the weather service warned.
But if God continues to respond to U.S. moves toward diving the land of Israel as He has in the past, we could potentially see something much more dramatic happen in the days ahead. In a previous article, I detailed ten of the most striking examples of how God has hit America with disaster when our government has cursed Israel…
#1 The last time the U.S. government refused to veto an anti-Israel resolution at the UN Security Council was in 1979. On March 22nd, 1979 the Carter administration chose not to veto UN Resolution 446. Four days after that on March 26th, the Egypt-Israel Peace Treaty was signed in Washington. As a result of that treaty, Israel gave up a tremendous amount of territory. Two days later, on March 28th, the worst nuclear power plant disaster in U.S. history made headlines all over the globe. The following comes from Wikipedia…
The Three Mile Island accident was a partial nuclear meltdown that occurred on March 28, 1979, in reactor number 2 of Three Mile Island Nuclear Generating Station (TMI-2) in Dauphin County, Pennsylvania, United States. It was the most significant accident in U.S. commercial nuclear power plant history.[2] The incident was rated a five on the seven-point International Nuclear Event Scale: Accident With Wider Consequences.[3][4]
#2 On October 30th, 1991 President George H. W. Bush opened the Madrid Peace Conference which brought Israelis and Palestinians together to negotiate for the very first time. In his opening speech, Bush told Israel that "territorial compromise is essential for peace". At the exact same time, "the Perfect Storm" was brewing in the north Atlantic. This legendary storm traveled 1000 miles the wrong direction and sent 35 foot waves slamming directly into President Bush's home in Kennebunkport, Maine.
#3 On August 23rd, 1992 the Madrid Peace Conference moved to Washington D.C., and the very next day Hurricane Andrew made landfall in Florida causing 30 billion dollars in damage. It was the worst natural disaster up to that time in U.S. history.
#4 On January 16th, 1994 President Clinton met with President Assad of Syria to discuss the possibility of Israel giving up the Golan Heights. Within 24 hours, the devastating Northridge earthquake hit southern California. It was the second worst natural disaster up to that time in U.S. history.
#5 On January 21st, 1998 Israeli Prime Minister Benjamin Netanyahu arrived at the White House but received a very cold reception. In fact, President Clinton and Secretary of State Madeleine Albright actually refused to have lunch with him. That exact same day the Monica Lewinsky scandal broke, sending the Clinton presidency into a tailspin from which it would never recover.
#6 On September 28th, 1998 Secretary of State Madeleine Albright was working on finalizing a plan which would have had Israel give up approximately 13 percent of Judea and Samaria. On that precise day, Hurricane George slammed into the Gulf Coast with wind gusts of up to 175 miles an hour.
#7 On May 3rd, 1999 Palestinian leader Yasser Arafat was supposed to hold a press conference to declare the creation of a Palestinian state with Jerusalem as the capital. On that precise day, the most powerful tornadoes ever recorded in the U.S. ripped through Oklahoma and Kansas. At one point one of the tornadoes actually had a recorded wind speed of 316 miles an hour.
#8 On April 30th, 2003, "the Road Map to Peace" that had been developed by the so-called "Quartet" was presented to Israeli Prime Minister Ariel Sharon by U.S. Ambassador Daniel Kurtzer. Over the next seven days, the U.S. was hit by a staggering 412 tornadoes. It was the largest tornado cluster ever recorded up to that time.
#9 In 2005, President George W. Bush (the son of George H. W. Bush) convinced Israel that it was necessary to remove all of the Jewish settlers out of Gaza and turn it over entirely to the Palestinians. According to the New York Times, the very last of the settlers were evacuated on August 23, 2005. On that precise day, a storm that would be given the name "Katrina" started forming over the Bahamas. The city of New Orleans still has not fully recovered from the damage that storm caused, and it ranked as the costliest natural disaster in all of U.S. history up to that time.
#10 On May 19th, 2011 Barack Obama told Israel that there must be a return to the pre-1967 borders. Three days later on May 22nd a half-mile wide EF-5 multiple-vortex tornado ripped through Joplin, Missouri. According to Wikipedia, it was "the costliest single tornado in U.S. history."
Barack Obama is scheduled to leave the White House on January 20th, and many are hoping that the new Trump administration will rapidly repair the damage that has been done to our relationship with Israel. One of the things that is already being discussed is cutting off U.S. funding for the United Nations…
Congress is already setting the stage to cut off U.S. funding to the United Nations in the wake of a contested vote last week in which the Obama administration permitted an anti-Israel resolution to win overwhelming approval, according to congressional leaders, who told the Washington Free Beacon that the current administration is already plotting to take further action against the Jewish state before vacating office.

Other punitive actions by Congress could include expelling Palestinian diplomats from U.S. soil and scaling back ties with foreign nations that voted in favor of the controversial measure, according to multiple sources who spoke to the Free Beacon about the situation both on and off the record.
Hopefully members of Congress will take very swift and decisive action once they return to Washington in early January. Because at this moment we are definitely under a curse, and we need to do whatever we can to change direction.
And let us pray that the Obama administration will not betray Israel again by supporting a UN Security Council resolution that would officially establish a Palestinian state before January 20th. If that happens, all hell is going to break loose in America.
About the author: Michael Snyder is the founder and publisher of The Economic Collapse Blog and The Most Important News. Michael's controversial new book about Bible prophecy entitled "The Rapture Verdict" is available in paperback and for the Kindle on Amazon.com.