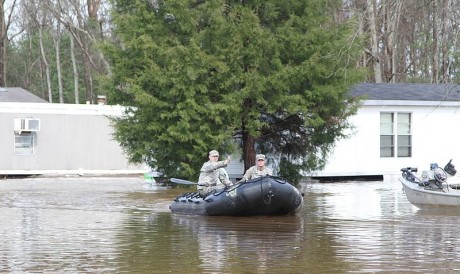 Since last October, the United States has been hit by "historic flood" after "historic flood", and this latest flooding down in Louisiana that is making headlines all over the world has been caused by a "500 year storm". Even before some areas of the state received more than 30 inches of rain, this was already the worst 12 months for floods in U.S. history, but without a doubt this has put an exclamation mark on this exceedingly unusual stretch of flooding. There are some rivers down in Louisiana that have crested three to four feet higher than their previous all-time records, and Governor Edwards is using the words "unprecedented" and "historic" to describe these floods. So far, 20,000 people have been rescued by authorities, and Governor Edwards even had to evacuate the Governor's Mansion due to chest-high water in the basement.
So why is this happening?
Why are we being hammered by historic flood after historic flood?
One of the most amazing images from the flooding down in Louisiana was of caskets that had been washed up from a graveyard that were literally floating down the street. Meteorologists are telling us that the storm that brought all of this rain was essentially equivalent to a tropical storm…
As meteorologist Tim Destri with the NWS New Orleans/Baton Rouge office explains it, a low pressure system forms near the surface bringing deep tropical moisture from the warmer water in the Caribbean — almost like a hurricane but without the wind and the name.

"Everything came together just right like it would with a tropical weather system," Destri said.
Destri went on to compare the damage caused by this storm to Hurricane Katrina…
"This probably ranked up there with some of the top rainfall-producing systems in history," Destri said. "Damage is really significant, I mean extreme, because it's been so devastating with some houses just completely inundated, just scenes like Katrina almost."
In fact, in some areas the damage was even worse than we saw during Hurricane Katrina. According to the Washington Post, one resident said that this flooding was "the worst situation I've ever been through".
And unfortunately, it isn't over yet. More rain was forecast for today, and that is going to make the flooding even worse.
They will be talking about this current flood down in Louisiana for many years to come, and we will add this flood to the other historic floods on my ongoing list from previous articles…
October: Hurricane Joaquin never makes landfall, but it tracks up the east coast of the United States causing nightmarish rainfall and flooding all over the eastern seaboard. Things were particularly bad in South Carolina, where the governor declared that it was the worst rainfall that many areas of her state had seen in 1,000 years.
October: Violent storms in southern California caused flash flooding that buried some highways in "rivers of mud" that were up to six feet deep. Hundreds of vehicles got buried in the fast moving mud, and the lifeless body of one man that had his vehicle completely encased by several feet of mud was recovered only after a few days had passed because that is how long it took emergency workers to dig him out.
October: Hurricane Patricia was the second most intense tropical cyclone ever recorded in the entire world, and remnants from that storm caused absolutely horrible flooding in some parts of Texas. The flood waters were moving so fast at one point that a freight train was actually knocked entirely off the tracks.
November-December: A "conveyor belt" of violent storms barreled into coastal areas of Oregon and Washington causing nightmarish flooding in many areas. The resulting landslides and floods made headlines all over the country, and it is going to be a long time before the region fully recovers. In early December we witnessed the wettest day in the history of Portland, Oregon, and things were also extremely bad at that time up in the Seattle area.
January: The middle part of the country experienced record-breaking flooding as the calendar rolled over from 2015 to 2016. The only thing that people could really compare it to was the great flood of 1993, and Missouri Governor Jay Nixon said that some communities saw floodwaters get to "places they've never been before". Normally, if the middle of the country is going to see flooding like this it is going to take place when the snow begins to thaw in the spring. For something like this to happen in the middle of the winter was absolutely unprecedented.
January: On January 22nd, one of the worst east coast blizzards in history slammed into Washington D.C., New York City and other major metropolitan areas. More than three feet of snow was dumped on some areas, hundreds of thousands of people were left without power, and coastal cities all long the eastern seaboard experienced flooding that was described as "worse than Hurricane Sandy". It is also interesting to note that this storm was known as "Jonas", which is actually a Greek transliteration of the Hebrew name "Jonah". Jonah, of course, was a Hebrew prophet that was sent to the capital city of Assyria (Ninevah) to warn that the judgment of God was coming. Well, it turns out that this storm called Jonas also hit our capital city (Washington D.C.) on the exact anniversary of Roe v. Wade and in the exact location where Roe v. Wade was decided.
March: Almost two feet of rain triggered historic flooding in parts of Texas, Louisiana and Mississippi. Flooding along one area of the Sabine River broke the previous record by more than five feet, and some sections of Interstate 10 were closed for four days.
April: City officials in Houston declared that the flooding that struck that city was "a life-threatening emergency", and substantial sections of Interstate 10 and Interstate 45 near downtown were fully underwater. Authorities admitted that water was getting to areas that it had never been before, and Fire Department spokesman Jay Evans said that the water was 10 to 15 feet deep in some areas.
May: Long stretches of Interstate 95 were shut down in South Carolina after Tropical Storm Bonnie dumped massive amounts of rain on the state. At the time, Lance Cpl. Matt Southern of the South Carolina Highway Patrol told reporters that "we are at the mercy of mother nature".
June: Extremely heavy rain caused the Brazos River in Texas to hit its highest level "in more than a century", and many parts of Houston found themselves under water yet once again. According to CNN, this was "the second year in a row that Texas has been hit by 500-year floods"…
"It could just be really bad luck," said CNN Senior Meteorologist Brandon Miller. "A 500-year flood doesn't mean you will go 500 years between them. It just means it is such an extreme event that the odds of it happening are very low, therefore it only happens on average every 500 years.

"It just so happens that parts of Texas have seen them now in back-to-back years, and maybe even twice this year. The odds of that happening are infinitesimally small."
June: West Virginia was hit by the deadliest flash flood in the United States in six years, and 23 people died as a result. The following comes from Wikipedia…
On June 23, 2016, a flood hit areas of the U.S. state of West Virginia and nearby parts of Virginia, resulting in 23 deaths. The flooding was the result of 8 to 10 inches (200 to 250 mm) of rain falling over a period of 12 hours, resulting in a flood tied for seventh among Deadliest floods in West Virginia history. It is also the deadliest flash flood event in the United States since the 2010 Tennessee floods.[2]
Meanwhile, horrible wildfires continue to rip through the state of California. The latest major wildfire to make headlines all across the nation has literally reduced homes, offices and businesses to "smoldering rubble" in the little town of Lower Lake…
Entire streets have been reduced to smoldering rubble, and more than 175 buildings and other structures have been destroyed, as a Northern California wildfire continues to spread.

The fire about 100 miles north of San Francisco has so far spread to 3,000 acres and is 5 percent contained, officials said.

The blaze on Sunday swept into Lower Lake, a town of about 1,200 people, according to The Associated Press, where it burned buildings including a post office, a Habitat for Humanity office and a winery.
If you have read my latest book, you already know that 2015 was the worst year for wildfires in all of U.S. history.
So that seems like a very odd "coincidence" – we are being hit by the worst flooding in U.S. history at a time when we have also experienced the worst wildfires in U.S. history.
Is there some kind of a connection?
Why are all of these disasters happening to us one right after another?
Could it be possible that there is an explanation other than bad luck?
As you can probably guess, I have come to the conclusion that we are experiencing something that goes far beyond bad luck. Just like many others out there, I believe that someone is trying to tell us something, but unfortunately most Americans are simply not paying attention.