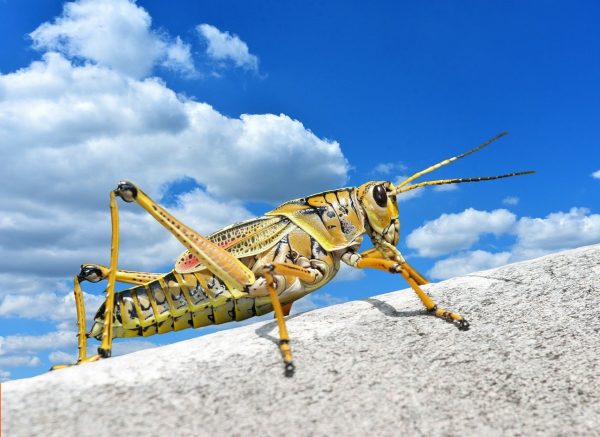 I know that headline may seem a bit over the top, but these things really are happening.  We really are in the midst of a multi-year "megadrought" in the western half of the country, meteorologists really are warning that we could see the worst heatwave that the Northwest has ever experienced next week, and a plague of "voracious grasshoppers" has already started in some parts of the nation.  As I keep warning my readers, we live at a time when our world seems to be going nuts.  Just when it seems like things can't get any crazier, somehow they do.  In this article I am going to be focusing on weather conditions, but next week I will almost certainly be writing about something else that has gone totally haywire.  These are not "normal times", and we need to stop treating them as such.
Let me start by discussing the dreadful heatwave that is about to slam into the Northwest.  Accuweather is actually using the word "unprecedented" to describe it…
A heat wave of unprecedented magnitude and duration is forecast to grip the Pacific Northwest this weekend and bring dangerously high temperatures that could make life miserable into next week for a region where air conditioning is not a fixture in most households.

Triple-digit temperatures are forecast throughout parts of Oregon and Washington, which includes the Interstate 5 corridor. Both Portland, Oregon, which could see the mercury crack the 110-degree mark, and Seattle, which is expected to top 100, could experience temperatures around 30 to 40 degrees above normal and challenge daily record highs.
To most of my readers, a high temperature of 100 degrees in Seattle may not sound that dramatic, but the truth is that the city has only seen the temperature reach triple digits three times before…
Historically, Seattle has only seen 100 degree temperatures in June once, on June 9, 1955, while touching triple-digits on three occasions in total. By Sunday or Monday, the region will see what the NWS labels "unprecedented record breaking heat," with a chance that Seattle sees its hottest recorded day of all time for any month.
But of much greater concern is what we could see in some of the other cities in the Northwest.
In Missoula, the high temperature is supposed to reach 105 degrees on Tuesday.
In Spokane, the high temperature is supposed to reach 110 degrees on Tuesday.
In Portland, the high temperature is supposed to reach 113 degrees on Sunday.
In Yakima, the high temperature is supposed to reach 113 degrees on both Monday and Tuesday.
Throughout all of next week, it is expected that high temperatures will shatter existing records all over the region.  What many people may not realize is that vast numbers of people in the Northwest do not have any air conditioning in their homes because most years it is simply not needed.
So this has the potential to become a life-threatening situation for a whole lot of people.
Of course all of this intense heat is just going to make the "megadrought" in the western third of the nation even worse.  At this point, an astounding 98 percent of the land in our western states is "abnormally dry"…
Unstoppable drought is rolling over California and the Western U.S. once again, as it has with little interruption since the new century began. Nearly 98% of land across 11 Western states is abnormally dry, and more than 90% is covered by some category of drought—the worst levels in the U.S. Drought Monitor's 21-year history. Reservoirs have drained to their bottoms, leaving bath-tub rings on their shorelines. Rivers reduced to trickles are setting off conflicts for dwindling water rights. Millions of acres of trees and shrubs have turned from shade to fuel for the out-of-control blazes everyone predicts will come.
We have never seen anything like this before, and it is only going to get worse during the summer months.
But guess who absolutely loves hot, dry conditions like this?
Grasshoppers are having a field day, and U.S. authorities are getting ready for the largest outbreak of the little critters "since the 1980s"…
A punishing drought in the U.S. West is drying up waterways, sparking wildfires and leaving farmers scrambling for water. Next up: a plague of voracious grasshoppers.

Federal agriculture officials are launching what could become their largest grasshopper-killing campaign since the 1980s amid an outbreak of the drought-loving insects that cattle ranchers fear will strip bare public and private rangelands.
Many farmers in the western portion of the country that are already dealing with severe drought now have a new problem to contend with.
In central Montana, one farmer named Frank Wiederrick says that the grasshoppers are "everywhere" on his farm and are starting to eat everything in sight…
In central Montana's Phillips County, more than 50 miles (80 kilometers) from the nearest town, Frank Wiederrick said large numbers of grasshoppers started showing up on prairie surrounding his ranch in recent days. Already they're beginning to denude trees around his house.

"They're everywhere," Wiederrick said. "Drought and grasshoppers go together and they are cleaning us out."
To combat this plague of grasshoppers, federal officials plan to start spraying large amounts of pesticides over thousands of square miles of prime farming territory.
So if you see a plane spraying a mysterious substance over your home in the near future, you might be about to get coated with very dangerous pesticides.
But officials insist that this must be done, because otherwise this plague of grasshoppers could get completely out of control.
In the end, they will probably be able to keep the grasshopper plague in check, but the damage that is done to other species will be incalculable.
Way too often, the "solution" that they come up with is far worse than the original problem, and I have a really bad feeling about all of this.
***Michael's new book entitled "Lost Prophecies Of The Future Of America" is now available in paperback and for the Kindle on Amazon.***
About the Author: My name is Michael Snyder and my brand new book entitled "Lost Prophecies Of The Future Of America" is now available on Amazon.com.  In addition to my new book, I have written four others that are available on Amazon.com including The Beginning Of The End, Get Prepared Now, and Living A Life That Really Matters. (#CommissionsEarned)  By purchasing the books you help to support the work that my wife and I are doing, and by giving it to others you help to multiply the impact that we are having on people all over the globe.  I have published thousands of articles on The Economic Collapse Blog, End Of The American Dream and The Most Important News, and the articles that I publish on those sites are republished on dozens of other prominent websites all over the globe.  I always freely and happily allow others to republish my articles on their own websites, but I also ask that they include this "About the Author" section with each article.  The material contained in this article is for general information purposes only, and readers should consult licensed professionals before making any legal, business, financial or health decisions.  I encourage you to follow me on social media on Facebook, Twitter and Parler, and any way that you can share these articles with others is a great help.  During these very challenging times, people will need hope more than ever before, and it is our goal to share the gospel of Jesus Christ with as many people as we possibly can.