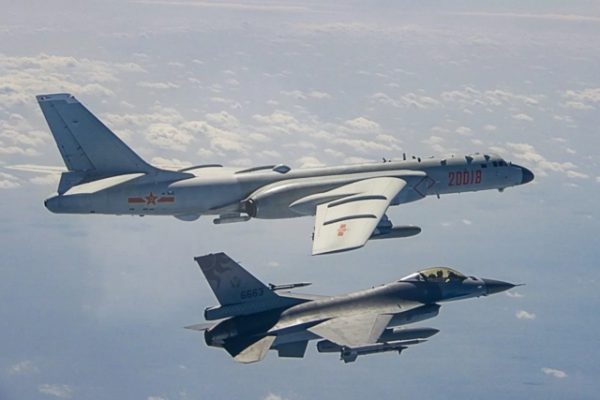 Are we in danger of stumbling into a major military conflict?  This week, a couple of startling revelations have really shaken up those that closely watch U.S. relations with China.  The relationship between our two nations continues to deteriorate, and we are now closer to a war with China than we have ever been since the end of the Korean War.  This is something that I have been warning about for a long time, and I am extremely alarmed by what has just been revealed.  But for most Americans, a war with China is so improbable that it isn't even worth thinking about.  In fact, if you put together a list of all the issues that the American people are concerned about, war with China would probably not even make the top 1000.  Here in the United States, it is pretty much a non-issue, because the vast majority of the population does not think that such a war will ever happen in their entire lifetimes.
But over in China they see things very differently.  In fact, state-controlled media outlets openly talk about an invasion of Taiwan and a future military conflict with the United States.
To the Chinese, reunification with Taiwan is a top national priority, and the U.S. military is the only thing standing in the way of achieving that extremely important goal.
In recent years, the U.S. military has conducted "freedom of navigation" exercises in the Taiwan Strait and the South China Sea as a "show of strength" to China.
In response, the Chinese Navy is now conducting "freedom of navigation" exercises off the coast of Alaska.  The following comes from Zero Hedge…
The US Coast Guard revealed a significant incident involving Chinese military vessels coming near American waters off Alaska. While the incident was first divulged to the public on Monday, it happened at the end of August.

No less than four People's Liberation Army (PLA) Navy ships were spotted and shadowed by US vessels off Alaska's Aleutian Islands, including a guided missile destroyer and guided missile cruiser, as well as an intelligence gathering vessel and auxiliary ship. They stayed in international waters but came within the United States' exclusive economic zone.
Needless to say, this is extremely unusual.
According to a Coast Guard news release, Chinese vessels actually came as close as 46 miles to U.S. territory…
During the deployment, Bertholf and Kimball observed four ships from the People's Liberation Army Navy (PLAN) operating as close as 46 miles off the Aleutian Island coast. While the ships were within the U.S. exclusive economic zone, they followed international laws and norms and at no point entered U.S. territorial waters.

The PLAN task force included a guided missile cruiser, a guided missile destroyer, a general intelligence vessel, and an auxiliary vessel. The Chinese vessels conducted military and surveillance operations during their deployment to the Bering Sea and North Pacific Ocean.
This "intrusion" made a lot of people angry, but the truth is that the Chinese are only doing this because of what we have been doing to them for several years.
Most Americans don't realize this, but our relations with China have been going down the tubes for a long time.  By the end of the Trump administration, things were so tense that the chairman of the Joint Chiefs of Staff called his counterpart in China twice to assure him that we were not about to launch some sort of an attack…
Twice in the final months of the Trump administration, the country's top military officer was so fearful that the president's actions might spark a war with China that he moved urgently to avert armed conflict.

In a pair of secret phone calls, Gen. Mark A. Milley, the chairman of the Joint Chiefs of Staff, assured his Chinese counterpart, Gen. Li Zuocheng of the People's Liberation Army, that the United States would not strike, according to a new book by Washington Post associate editor Bob Woodward and national political reporter Robert Costa.
In fact, Milley specifically promised the Chinese that he would tell them ahead of time if the U.S. was about to initiate a strike…
'General Li, you and I have known each other for now five years. If we're going to attack, I'm going to call you ahead of time. It's not going to be a surprise,' Milley reportedly told him.
Of course the chairman of the Joint Chiefs of Staff is not ever supposed to do something of this nature.  Many have pointed out that it was treason for him to go behind President Trump's back like this, and there have been lots of calls for him to resign now that this has been revealed.
When Senator Marco Rubio heard about this, he wrote to Joe Biden and asked him to immediately fire Milley…
He wrote President Biden demanding he dismiss Milley 'immediately.'

'I write with grave concern regarding recent reporting that General Mark Milley, Chairman of the Joint Chiefs of Staff, worked to actively undermine the sitting Commander in Chief of the United States Armed Forces and contemplated a treasonous leak of classified information to the Chinese Communist Party in advance of a potential armed conflict with the People's Republic of China (PRC),' Rubio wrote.
Unfortunately, we all know that Biden is not going to dismiss Milley.
Hardly anyone ever gets held accountable in Washington anymore.
We were promised that relations with China would improve once Biden was in the White House, but instead things have just gotten even more tense.  The Biden administration has been very aggressive with China regarding the status of Taiwan, and the Chinese have responded by sending lots and lots of military aircraft into Taiwanese airspace.
But so far the Chinese have not sent any military aircraft over the island itself.
Could that soon change?  This week, a newspaper controlled by the CCP published a piece that suggested that now is the time to send Chinese fighter jets directly over Taiwan…
Sending PLA fighter jets over the island of Taiwan is a step we must take. The move will pose a fundamental warning to the Taiwan authorities and bring about reconstruction of the situation across the Taiwan Straits. It will be a clear declaration of China's sovereignty over Taiwan island, and create unprecedented conditions for us to further implement this sovereignty.

The "airspace" over the Taiwan island belongs to the airspace of China. The so-called middle line of the Taiwan Straits has never been recognized by the Chinese mainland. Therefore, there is sufficient legal basis for the PLA fighter jets to fly over the island. Previously, PLA fighter jets did not fly over Taiwan. That was out of consideration for taking care of the emotions and feelings of Taiwan residents and out of the goodwill to maintain stability across the Straits. Now that the DPP authority has gone completely hostile toward the mainland and is willing to play a role as a pawn of the US in strategically containing the Chinese mainland, it is time for us to take back the favor we granted to the island in the past and prepare to exercise the sovereignty of sending fighter jets to patrol the Taiwan island.
Of course if Chinese military aircraft fly over the island, there is a really good chance that the Taiwanese military will start shooting at them.
The same piece that I just quoted above suggested that such an action by the Taiwanese military could be the start of "a war to liberate the Taiwan island"…
Will the military on the Taiwan island dare to prevent PLA fighters from flying over the island and fire? Our answer is that: As long as the mainland's determination to conduct such a patrol is unwavering, if Taiwan fires, it would mean that the Chinese mainland will launch a destructive retaliation. Even a war to liberate the Taiwan island will start. In this context, the Taiwan military will never dare to fire at a PLA aircraft on such a mission.

The mainland fighter jets' flight over the Taiwan island must be backed by large-scale and overwhelming military preparedness. Fighters flying over the Taiwan Straits is only a part of the Chinese mainland's determination to reset the situation across the Straits. This will be a showdown that gives the DPP authority two choices: either accept the patrol and refrain from the extreme anti-mainland line of colluding with the US and Japan, or start a war by firing at military aircraft of the Chinese mainland and face the consequence of being destroyed and eliminated by the PLA.
If China did invade Taiwan, that would instantly put the United States and China into a state of military conflict.
And the war that most Americans thought could never happen will have begun.
We are so close.
All it will take is one false move and there will be no turning back.
So let us hope for peace.  Unfortunately, we have a hothead that is in an advanced state of mental decline in the Oval Office, and he is surrounded by the worst foreign policy team in modern American history.
***It is finally here! Michael's new book entitled "7 Year Apocalypse" is now available in paperback and for the Kindle on Amazon.***
About the Author: My name is Michael Snyder and my brand new book entitled "7 Year Apocalypse" is now available on Amazon.com.  In addition to my new book I have written five others that are available on Amazon.com including  "Lost Prophecies Of The Future Of America", "The Beginning Of The End", "Get Prepared Now", and "Living A Life That Really Matters". (#CommissionsEarned)  By purchasing the books you help to support the work that my wife and I are doing, and by giving it to others you help to multiply the impact that we are having on people all over the globe.  I have published thousands of articles on The Economic Collapse Blog, End Of The American Dream and The Most Important News, and the articles that I publish on those sites are republished on dozens of other prominent websites all over the globe.  I always freely and happily allow others to republish my articles on their own websites, but I also ask that they include this "About the Author" section with each article.  The material contained in this article is for general information purposes only, and readers should consult licensed professionals before making any legal, business, financial or health decisions.  I encourage you to follow me on social media on Facebook and Twitter, and any way that you can share these articles with others is a great help.  During these very challenging times, people will need hope more than ever before, and it is our goal to share the gospel of Jesus Christ with as many people as we possibly can.