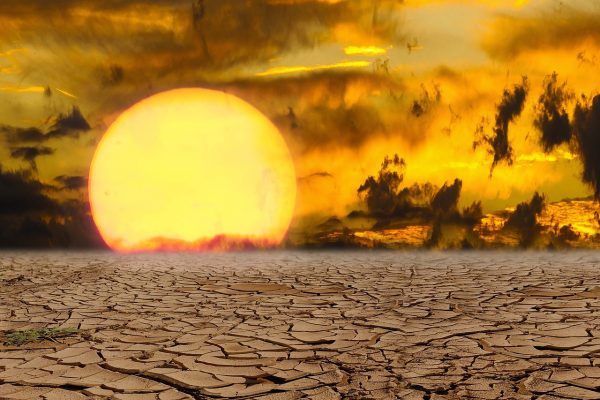 One of the worst natural disasters in the history of our country is unfolding right in front of our eyes.  In the entire history of the United States, we have never seen heat in the western third of the nation like we have in 2021.  In the entire history of the United States, we have never seen drought in the western third of the nation like we have in 2021.  Needless to say, countless numbers of farmers and ranchers are deeply suffering because of the heat and drought, and it is being projected that this is going to be one of the worst years for wildfires that we have ever experienced.  As you will see below, this crisis is being compared to Hurricane Katrina, but Hurricane Katrina only lasted for a few days.  The crisis that we are now facing has already stretched on for many months, and there is no end in sight.
Let me start by discussing the record-breaking heat.  Yet another heat wave is baking the western third of the nation right now, and it is being reported that the high temperature in Death Valley actually reached 130 degrees on Friday…
On Friday, the temperature at Death Valley soared to 130 degrees, breaking the previous daily record high of 129 set back in 1913, according to the National Weather Service. This reading comes within 4 degrees of the all-time world record of 134 F set there in 1913. The 134-degree mark happens to be the world record for the highest temperature ever measured on Earth.
Unfortunately, things didn't really cool off during the weekend.  The high temperature in Death Valley was 129 degrees on Saturday, and it was expected that the same high temperature would be hit on Sunday…
AccuWeather expected the temperature in Death Valley to reach 129 degrees Sunday, which would tie for the daily record high. Death Valley hit the same temperature Saturday. The world record high is 134 degrees.

Forecasters called for Las Vegas to hit another all-time high, as it did Saturday with a temperature of 117 degrees.

On Saturday, St. George, Utah, also hit 117, setting another tie for an all-time high, according to the National Weather Service in Salt Lake City.
There are moments every summer when conditions get really hot, but so far this summer the heat has been absolutely relentless.  The extremely high temperatures that we have witnessed this month follow the hottest June that the continent of North America has ever experienced…
Researchers have confirmed what millions of Americans and Canadians who just endured scorching temperatures probably already suspected: Last month was the hottest June on record in North America.

The Copernicus Climate Change Service (C3S), an agency supported by the European Union, said that average surface temperatures for June in North America were about one-quarter of a degree Fahrenheit (0.15 of a degree Celsius) higher than the average for June 2012, the previous record-holder.
At the same time, there has been very little meaningful precipitation in the western third of the nation this summer, and the latest map from the U.S. Drought Monitor is the worst that I have ever seen.
The state of Utah is being hit particularly hard, and one official is openly admitting that this is "the worst drought in the state of Utah's history"…
That official, Dave Ure, speaking just after a tour of waterworks facilities in Summit County, put the situation in stark terms.

"We are in the worst drought in the state of Utah's history right now, and the only thing compared to it is the droughts back in 1895 and 1933," Ure said.
If you don't live in the western third of the nation, it is going to be difficult for you to grasp how desperate things are becoming.
This isn't just a drought.  What we are witnessing right now is a mega-disaster of epic proportions, and scientists are telling us not to expect relief for the foreseeable future.
Farmers and ranchers are having a particularly difficult time.  They can't operate successfully without water, and one rancher in Utah told Fox News that this crisis is "going to equal or surpass the amount of people that that were impacted by Hurricane Katrina"…
Ron Gibson manages 1,500 head of cattle in Northern Utah but may soon lack the resources to sustain his herd. Scorching temperatures and the absence of rain have created a depletion in feed supply for cattle farmers like Ron. With watering rights in his area cut about 70% in efforts to preserve the water supply, more farmers are forced to outsource their feed, and the high demand has driven up the price four times greater than usual.

"When we look at the amount of impact that this kind of disaster is going to have on the country, it's going to equal or surpass the amount of people that that were impacted by Hurricane Katrina," he told Fox News.
Hurricane Katrina absolutely devastated one major city, but this crisis threatens to cripple one-third of the entire nation.
The longer the drought drags on, the lower water levels get, and at this point reservoir levels are getting dangerously low…
Reservoir levels are dropping throughout the West, as the drought tightens its grip on the region and intense summer heat further stresses both water supply and the surrounding landscape. Many reservoirs are at or approaching historic low levels due to lackluster rainy seasons combined with increasing temperatures due to climate change.

The drought crisis is perhaps most apparent in the Colorado River basin, which saw one of its driest years on record, following two decades of less-than-adequate flows. The nation's largest reservoir, Lake Mead near Las Vegas, is at its lowest level since the lake filled after the construction of the Hoover dam in the 1930s; it currently sits at 1,069 feet above sea level, or 35% of its total capacity. It supplies water to Arizona, Nevada, California and Mexico.
Water restrictions have already been implemented in many areas, but if this drought persists we are eventually going to see water restrictions that are far more draconian than we have ever seen before.
Needless to say, a lot of people living in the region won't like that at all.
Of course the hot, dry conditions have also created an ideal environment for wildfires, and right at this moment hundreds of thousands of acres are currently burning…
More than 300,000 acres are burning across six states across the western United States on Sunday as the region battled yet another brutal heat wave that shattered records and strained power grids.

The largest, the so-called Bootleg Fire, burned across 143,607 acres in Oregon and was 0% contained. Officials in neighboring state California asked all residents to reduce power consumption quickly after the fire knocked out interstate power lines, preventing up to 4,000 megawatts of electricity from flowing into the state.
We are being told that this is going to be one of the worst years for wildfires in our history, and it may end up topping the list by the time it is all said and done.
This isn't just a "bad summer" we are talking about.
What we are facing is a crisis that is unprecedented in size and scope, and scientists are telling us that it isn't going to end any time soon.
***Michael's new book entitled "Lost Prophecies Of The Future Of America" is now available in paperback and for the Kindle on Amazon.***
About the Author: My name is Michael Snyder and my brand new book entitled "Lost Prophecies Of The Future Of America" is now available on Amazon.com.  In addition to my new book, I have written four others that are available on Amazon.com including The Beginning Of The End, Get Prepared Now, and Living A Life That Really Matters. (#CommissionsEarned)  By purchasing the books you help to support the work that my wife and I are doing, and by giving it to others you help to multiply the impact that we are having on people all over the globe.  I have published thousands of articles on The Economic Collapse Blog, End Of The American Dream and The Most Important News, and the articles that I publish on those sites are republished on dozens of other prominent websites all over the globe.  I always freely and happily allow others to republish my articles on their own websites, but I also ask that they include this "About the Author" section with each article.  The material contained in this article is for general information purposes only, and readers should consult licensed professionals before making any legal, business, financial or health decisions.  I encourage you to follow me on social media on Facebook, Twitter and Parler, and any way that you can share these articles with others is a great help.  During these very challenging times, people will need hope more than ever before, and it is our goal to share the gospel of Jesus Christ with as many people as we possibly can.