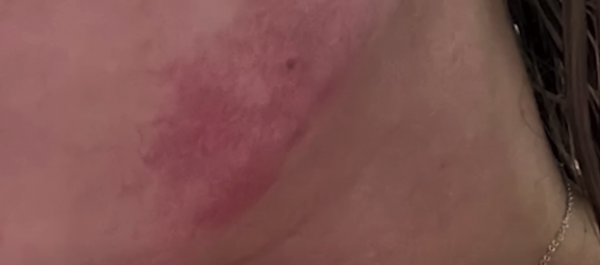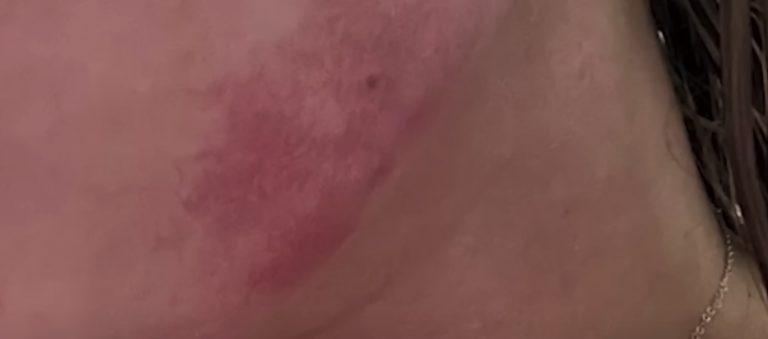 The true horror of what just happened in East Palestine, Ohio is starting to become clear, but federal, state and local officials continue to insist that everything is just fine.  So even though local residents have been puking up blood and developing weird rashes on their skin, everyone is being told that it is perfectly safe to return to their homes and that it is perfectly safe to drink the water.  This should make all of us extremely angry, because so many of these people are going to get sick and so many of them are going to die.
Look, the truth should be obvious to everyone at this stage.
Even CNN is admitting that local residents "have developed rashes, sore throats, nausea and headaches after returning to their homes this week"…
Some residents of East Palestine, Ohio, say they have developed rashes, sore throats, nausea and headaches after returning to their homes this week, and they're worried these new symptoms are related to chemicals released after a train derailment two weeks ago.

The February 3 incident caused a massive fire and prompted officials to evacuate hundreds of people who lived near the site because of fears that a hazardous, highly flammable material might ignite. To prevent a potentially deadly explosion, toxic vinyl chloride gas was vented and burned, releasing a plume of black smoke over the town for days.
Please note that these local residents did not develop these symptoms before they evacuated.
According to CNN, these symptoms developed after they returned to their homes.
And those local residents only returned to their homes because authorities told them that it was safe to do so.
When the decision was made to burn the vinyl chloride, officials knew that it would release enormous amounts of phosgene gas into the air…
Burning vinyl chloride, as the railroad company ultimately did, turns it into hydrogen chloride and phosgene gas, the later of which was used as a weapon of mass slaughter in World War I.

Concerning the release, Silverado Caggiano, a hazardous materials specialist, told WKBN, "We basically nuked a town with chemicals so we could get a railroad open."
The air, soil and water in much of eastern Ohio and western Pennsylvania have been poisoned, and they will continue to remain poisoned for the foreseeable future.
But the CEO of Norfolk Southern insists that burning the vinyl chloride was the "right move"…
Shaw claimed that the decision to destroy the five derailed train cars and release a column of black, toxic smoke into the air above the village on Feb. 6 was the right one — a claim he reiterated on Sunday, telling the DailyMail.com with a smile that it was the "right move."

According to the Norfolk Southern CEO, the "terrifying" plume of toxic smoke resulting from the "controlled release" signaled success.
If this was the "right move", I would hate to see what the "wrong move" would have looked like.
So many local residents have been developing really weird rashes lately.  In fact, News Nation just interviewed one woman that developed multiple rashes on her body after showering in East Palestine water that is supposedly safe…
Does watching that footage anger you?
It should.
Tucker Carlson interviewed another resident of East Palestine that says that he has a "chemical burn on my face"…
Tucker Carlson interviews East Palestine Ohio resident Nathan Izotic. "I have chemical burn on my face Tucker"

The Ohio River #Tucker interview
Nitric Acid truck overturned in Arizona, see my other tweet. pic.twitter.com/xjmgEwNCCb

— Jesse Watters Hair (@JesseWattersFur) February 15, 2023
But don't worry.
Authorities are telling us that this is perfectly normal.
Yes another local resident says that he was literally puking up blood after evacuating from East Palestine…
Nathan continued: 'I woke up about 6am after the night we evacuated and I was on the verge of calling the ER. I was coughing up blood.

'All I could think of was to strip down and cool myself off and go outside to get some relief. I was hot all over. I was very tired.

'It was until Thursday or Friday that week until I started to feel some relief. Coming back here now though my lips are starting to get tingly again and I feel a scratch in my throat and I'm getting headaches.'
So many others have reported similar symptoms.
What we are witnessing is a cover up of epic proportions, and the officials that are participating in this cover up should be held accountable.
But I doubt that will ever happen.
It isn't just adults that are being affected.
Children that are being brought back to their homes in East Palestine are also quickly developing extremely alarming symptoms once they return…
Ayla and Tyler Antoniazzi and their two daughters have been living in East Palestine since April. After the train crash, they weren't sure about moving out, Ayla says, but they're now considering it.

The Antoniazzis returned to their house less than a mile from the accident site the day after the evacuation notice was lifted.

"Before bringing my kids back home, I washed all the linen and a bunch of clothes, cleaned surfaces and aired the house out," Ayla said. "But the next day when they woke up, they weren't themselves. My oldest had a rash on her face. The youngest did too but not as bad. The 2-year-old was holding her eye and complaining that her eye was hurting. She was very lethargic, so I took them back to my parents' home."
The officials that told them that it was safe to return to their homes should be completely and utterly ashamed of themselves.
Do they actually expect anyone to trust them after this?
Before I end this article, there are three really odd "coincidences" that I wanted to mention.
Firstly, I think that it is very strange that residents of East Palestine "were urged to sign up and pick up a MyID device" just days before the train derailed…
In October, the East Palestine Fire Department announced it would be using the MyID service to allow residents to have health information stored and available to fire responders, according to the Morning Journal.

In late January, residents were urged to sign up and pick up a MyID device, according to WKBN-TV. The fire department promoted a sign-up that was held on Jan. 29, only a few days before the Feb. 3 derailment that changed East Palestine forever.
Secondly, an "18 inch pipe bomb" was just found on train tracks in Pennsylvania…
An 18 inch pipe bomb was discovered behind a church in the Holmesburg section of northeast Philadelphia.

The bomb was found on Sunday afternoon behind St. Dominic's Catholic Church, on the 8500 block of Frankford Avenue, according to reports by Fox 29.

One Twitter account of the location of the bomb pinned it to train tracks behind the church. The bomb was "near [the] Conrail railroad tracks in Philadelphia's Holmesburg section".
Were any of the major train derailments that we have seen in recent weeks caused by similar devices?
Thirdly, last week an absolutely massive fire erupted at one of the largest chemical plants in Europe…
More than 100 emergency workers had finally made some headway on a massive fire at an industrial compound outside of Milan late on Wednesday, Italian media reported. However, several workers were badly injured thousands of liters of chemicals were still burning.

"The situation is quite complex due to the nature of the material, which is liquid solvents in large quantities," the local fire was quoted as saying by Italian daily Corriere della Sera.

The fire broke out early in the morning in the town of San Giuliano Milanese, southeast of Milan at the Nitrolchimica company, which deals with solvent recovery and hazardous waste disposal.
Perhaps there is no connection between any of these three "coincidences" and the disaster that just occurred in East Palestine.
But in this day and age it pays to be observant.
We live in very strange times, and they will soon get a whole lot stranger.
If you live anywhere in eastern Ohio or western Pennsylvania, I would very much encourage you to consider leaving.
I know that it is not easy to start fresh somewhere else, but it is certainly a better choice than getting sick and slowly dying.
***It is finally here! Michael's new book entitled "End Times" is now available in paperback and for the Kindle on Amazon.***
About the Author: My name is Michael and my brand new book entitled "End Times" is now available on Amazon.com.  In addition to my new book I have written six other books that are available on Amazon.com including "7 Year Apocalypse", "Lost Prophecies Of The Future Of America", "The Beginning Of The End", and "Living A Life That Really Matters". (#CommissionsEarned)  When you purchase any of these books you help to support the work that I am doing, and one way that you can really help is by sending copies as gifts to family and friends.  Time is short, and I need help getting these warnings into the hands of as many people as possible.  I have published thousands of articles on The Economic Collapse Blog, End Of The American Dream and The Most Important News, and the articles that I publish on those sites are republished on dozens of other prominent websites all over the globe.  I always freely and happily allow others to republish my articles on their own websites, but I also ask that they include this "About the Author" section with each article.  The material contained in this article is for general information purposes only, and readers should consult licensed professionals before making any legal, business, financial or health decisions.  I encourage you to follow me on social media on Facebook and Twitter, and any way that you can share these articles with others is definitely a great help.  These are such troubled times, and people need hope.  John 3:16 tells us about the hope that God has given us through Jesus Christ: "For God so loved the world, that he gave his only begotten Son, that whosoever believeth in him should not perish, but have everlasting life."  If you have not already done so, I strongly urge you to invite Jesus Christ to be your Lord and Savior today.