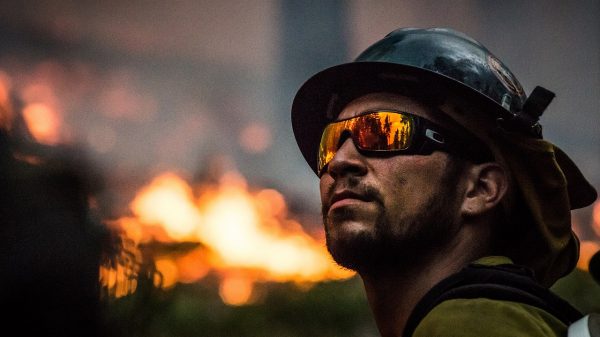 Firefighters all over the western part of the country are talking about an unprecedented wildfire season, and we are only in early July.  It is going to get a lot hotter and a lot drier as we move deeper into the summer, and the wildfires are likely to get a whole lot worse.  At this moment, more than 600,000 acres of land are on fire in America.  From California to Colorado and from Alaska to Arizona, extremely violent wildfires are raging out of control as firefighters battle relentlessly to save homes and lives.  Rain is desperately needed, but right now much of the Southwest is experiencing a historic drought.  In fact, things have gotten so bad that some experts are already comparing this drought to the Dust Bowl conditions of the 1930s.  If very high temperatures and extreme drought persist, that is going to continue to create ideal conditions for more wildfires.
Studies have shown that wildfires burn worse on federally-controlled land because of extreme mismanagement, and that is precisely what we are witnessing at this time.  Fox News is reporting that "about 70 fires" are raging currently, and unusually high winds in many areas are making some of them extremely difficult for firefighters to deal with…
Dozens of wildfires tore across wide swaths of Alaska, California, Colorado and other western states Wednesday, with meteorologists warning of more blazes due to strong winds, dry conditions and low humidity.

About 70 fires are now consuming around 630,000 acres, from Alaska — where 19 large blazes were reported — to California, New Mexico, Colorado and Utah, where at least six wildfires continue to burn in each state, according to the National Interagency Fire Center in Boise, Idaho.
We have had quite a few bad years for wildfires lately, but this year could potentially be the worst of them all.
Ed Delgado, the head of the National Interagency Fire Center in Boise, is pointing to the historic drought in the Southwest as the main reason that things are so bad right now…
Ed Delgaldo, the center's national program manager for predictive services, said in a video on the agency's website that significant drought conditions across the Four Corners region — the southwestern corner of Colorado, southeastern corner of Utah, northeastern corner of Arizona, and northwestern corner of New Mexico — have persisted heading into the peak summer months.
It would be hard to overstate how bad this drought is becoming.  I have written about it before, and I am sure that I will be writing much more about it.  The "Dust Bowl" of the 1930s is seared into our national memory because it was such a disaster, and we are potentially facing a similar multi-year catastrophe once again.
The current U.S. drought monitor map shows that the epicenter of the current drought is the four corners region, and at this moment large portions of Utah, Colorado, Arizona and New Mexico are experiencing the highest level of drought on the scale that scientists use to measure these things.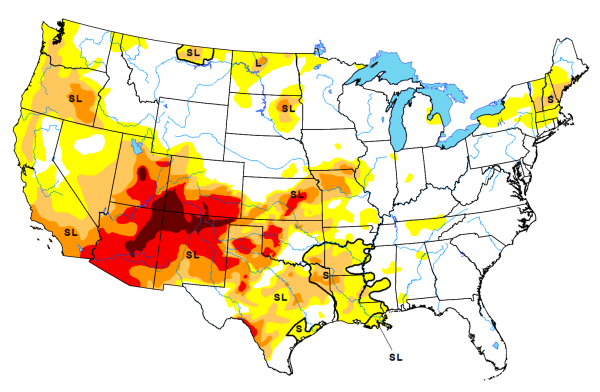 When you combine severe drought with record high temperatures, you create a recipe for large wildfires.
Within the last several days, a number of cities in North America have set all-time high temperature records…
And of course the extremely high temperatures of the past week are just a continuation of a trend that stretches well back into last year…
Our planet is changing, and despite all of our advanced technology, there is nothing that we can really do to significantly alter what is happening.
In recent decades, the western United States has been blessed to receive an unusually high amount of rainfall, but now things appear to be returning to historical norms.  This is going to have enormous implications for those living in the Southwest and for the nation as a whole.
In ancient times, much of the Southwest was an extremely inhospitable desert, and we got a small taste of that back in the 1930s.  Another "Dust Bowl" era now appears to be upon us, and it is likely to be an extremely bitter and painful time.
Michael Snyder is a nationally syndicated writer, media personality and political activist. He is the author of four books including The Beginning Of The End and Living A Life That Really Matters.