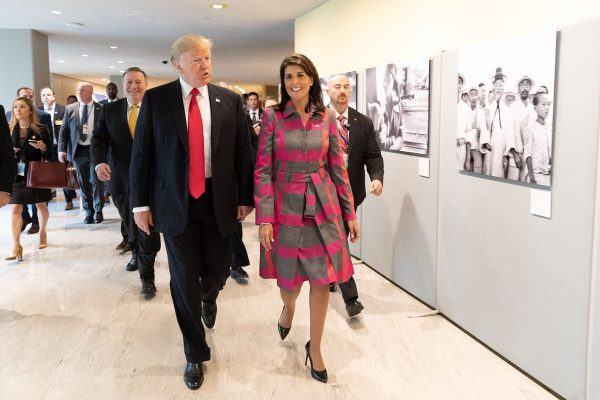 It is a rumor that won't go away.  Mainstream news outlets Newsweek and Vanity Fair have both reported that Donald Trump and his political advisers have been considering replacing Mike Pence with Nikki Haley for the 2020 election.  Of course there is always at least a little speculation about such a move whenever a sitting president runs for re-election, but it is something that is just not done.  No president in recent American history has made such a move, but Donald Trump is no ordinary president.  Outside of his immediate family, most of the other key figures that Trump originally brought with him to the White House are now gone, and it appears that Mike Pence may soon be on the chopping block.
Most Republicans had assumed that Pence was completely safe, but apparently that is not the case.
According to Gabriel Sherman of Vanity Fair, a "2020 strategy meeting" that Trump hosted on Monday included a discussion about whether Mike Pence should be replaced…
On Monday, Trump hosted a 2020 strategy meeting with a group of advisers. Among the topics discussed was whether Mike Pence should remain on the ticket, given the hurricane-force political headwinds Trump will face, as demonstrated by the midterms, a source briefed on the session told me. "They're beginning to think about whether Mike Pence should be running again," the source said, adding that the advisers presented Trump with new polling that shows Pence doesn't expand Trump's coalition. "He doesn't detract from it, but he doesn't add anything either," the source said. Last month, The New York Times reported that Trump had been privately asking advisers if Pence could be trusted, and that outside advisers have been pushing Nikki Haley to replace Pence.
If that report is accurate, it is a bombshell.
But is it accurate?
Vanity Fair is definitely not a friend of the Trump administration, and they could just be trying to stir up trouble.
However, it should also be noted that Newsweek has also reported that the Trump team is thinking about replacing Pence, and the reason why such a move would be made would be to help Trump with women voters…
Pence, the former Indiana governor and staunch ally of evangelical voters and leaders, was originally viewed in 2016 as a running mate who could help Trump win the Midwest, the South and the religious right.

But Haley, who is reportedly close with White House adviser and Trump daughter Ivanka Trump, as well as Trump's son-in-law and adviser Jared Kushner, could increase the president's profile among women voters.
Trump does far better with male voters than he does with female voters, and women could end up being the determining factor in the 2020 election.
But why get rid of Pence?
Normally, a sitting president would never dump a running mate unless there was an overwhelming reason to do so.  Up to this point, Mike Pence has been an exemplary vice-president, and there would seem to be no justification for unceremoniously dumping him.
Unfortunately for Pence, Trump has a very long memory, and he is reportedly still bitter about what Pence said after the release of the infamous Access Hollywood recording…
The president has reportedly never forgiven Pence for his critical comments following the release of an Access Hollywood tape in which Trump bragged that he could kiss women and grab them by the genitals without their consent because of his celebrity status, The New York Times reported on Friday.
Still, the idea of replacing Mike Pence with Nikki Haley would seem to be unthinkable, and it would undoubtedly upset a whole host of conservatives that greatly admire Pence.
And by making such a move, Donald Trump would be breaking his word.  About a month ago, reporters directly asked Trump if Pence would be on the ticket in 2020.  The following comes from CNSNews.com…
"A lot of people are going to be rushing to Iowa, rushing to New Hampshire. You know that the Democrats are already looking ahead to 2020," the reporter said. "Do you want to lock down your ticket right now, sir? Will the vice president be your running mate in 2020?"
In response, Trump was very straightforward with his answer…
"Well, I haven't asked him, but I hope so," Trump said, to laughter from the press pool.

"Where are you?" the president asked, looking around the East Room. "Mike, will you be my running mate? Stand up, Mike, please, raise your right hand – no, I'm only kidding. Will you?"

Pence stood up and nodded, to which Trump responded, "Thank you, okay, good. The answer is yes."
So there you go.
If Donald Trump is a man of his word, Mike Pence will be on the ticket in 2020.
But if he isn't, and Nikki Haley replaces Pence, a lot of Trump's current supporters are going to lose faith in him.
In normal times, the choice to keep Pence would seem to be exceedingly obvious.  But we do not live in normal times, and with President Trump we have come to expect the unexpected.
About the author: Michael Snyder is a nationally syndicated writer, media personality and political activist. He is publisher of The Most Important News and the author of four books including The Beginning Of The End and Living A Life That Really Matters.