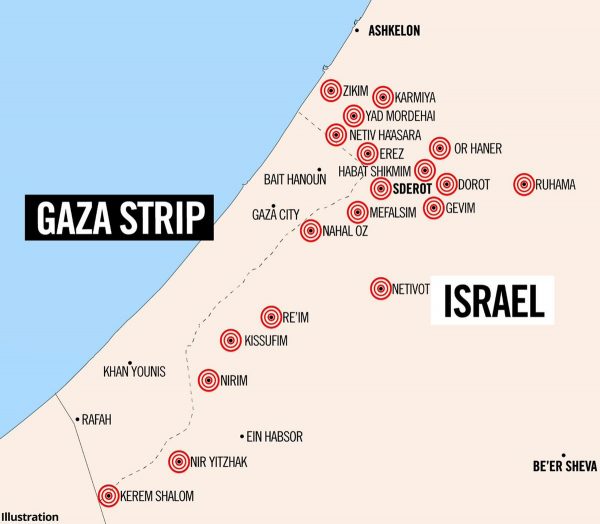 This is the closest that Israel and Hamas have been to war since the last major conflict in 2014. There had been ongoing negotiations regarding a long-term ceasefire between Israel and Hamas, but those plans appear to be on hold after a huge escalation of the violence in the last 24 hours. Israeli Prime Minister Benjamin Netanyahu gathered with his defense minister and other top military officials late last night, and at this hour it is unclear what will happen next. If Hamas stops firing rockets, perhaps ceasefire negotiations can resume. But if they keep firing rockets, it could lead to all-out war and all hell could break loose in the Middle East.
From Wednesday night through Thursday morning, more than 150 "projectiles" were fired into Israel by members of Hamas. The following comes from the Jerusalem Post…
Red Alert sirens continued to sound in the South throughout the night, with the latest salvo fired at 05:45 am Thursday morning.

Hamas issued a statement saying: "We are delivering on our promise. The resistance accepted the responsibility to even the playing field with the enemy and it is succeeding in doing so."

According to the IDF, over 150 projectiles were launched from the Hamas-run enclave as of early Thursday morning; 25 were intercepted by the Iron Dome missile defense system.
There are times when it is not clear if Hamas is responsible for rockets being fired out of Gaza, but last night was not one of those times.
In fact, Hamas is making it quite clear that they intended to send Israel a message…
"The Qassam Brigades are ready and well prepared to confront the aggression and defend their people," Issam Daalees, a Hamas leader, said in a statement, referring to Hamas's armed wing. "The enemy must understand that it cannot unilaterally impose the rules of confrontation and it must bear the consequences of its stupidity."
You can view some raw footage of Israeli children in the city of Sderot running away as a rocket explodes near them right here.
Elsewhere in Sderot, one couple got an unexpected surprise in their living room…
In Sderot, a piece of a rocket penetrated the roof of a house and crashed into the living room.

Albert Hofi, the owner of the house, told an Israeli television reporter that moments before it was hit he had moved his disabled wife, Shula, to the safety of the basement. The rocket shard left a round hole in the ceiling and broke floor tiles, but the rest of the living room was intact.
Could you imagine living under the constant threat of rocket fire?
That would be very difficult for me to get accustomed to.
In response to the rockets from Gaza, the IDF struck back hard. The official IDF Twitter account issued a two part tweet that summarized the targets that were hit by Israeli airstrikes…
Tonight, IDF fighter jets targeted over 20 terror sites in military compounds & in a Hamas training camp. Among the sites targeted were a weapons manufacturing & storage facility, a complex used for the Hamas' naval force, & a military compound used for rocket launching experiments
—-
Additionally, five training camps were targeted as well as a main warehouse and a meeting point used by the senior commanders of the Khan Yunis Brigade. Thus far, over 140 of Hamas' strategic military sites have been targeted
I honestly don't know what Hamas is thinking. There is no possible way that they can win a military conflict against Israel.
Back in May the conflict between Israel and Hamas really flared up, but things had seemed to settle down since that time…
Israel and militants in Gaza have exchanged frequent fire in recent months. In May, more than 100 rockets were launched from Gaza in the worst escalation since 2014, where Israeli troops invaded Gaza, resulting in mass casualties.

Following May's rocket attacks, Israel and Gaza eventually reached an uneasy ceasefire mediated by Egypt, though rocket launches and airstrike retaliation has continued to plague both sides.
As soon as the dust settles, we will probably hear more talk of a long-term ceasefire even though every deal that has ever been made in the past has eventually fallen apart.
And considering the fact that the destruction of Israel is in the Hamas charter, it is not likely that we will ever see any sort of lasting peace in the region.
But the option of peace is there if Hamas is willing to take it. Egypt is extremely interested in helping to broker a long-term deal, and they are supposedly offering Hamas an economic package worth "hundreds of millions of dollars" to get it done…
Neither the United Nations nor Egypt have publicly detailed their proposals for Gaza, beyond saying they should bring extensive economic relief.

Hayya said foreign donors were collecting "hundreds of millions of dollars" for electricity, water, health and job-creation projects in Gaza, but that these "require stability".
To me, the choice seems obvious.
If Hamas continues to provoke Israel, eventually it will mean all-out war and the destruction of all of their cities.
But if Hamas chooses peace, it could mean a much higher standard of living and a prosperous future.
Unfortunately, I do not believe that Hamas is going to make the right choice. They are absolutely obsessed with wiping Israel off of the map, but they have no possible way to ever make that happen.
Michael Snyder is a nationally syndicated writer, media personality and political activist. He is publisher of The Most Important News and the author of four books including The Beginning Of The End and Living A Life That Really Matters.