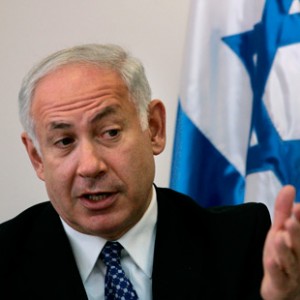 It's no secret that Barack Obama greatly dislikes Israeli Prime Minister Benjamin Netanyahu.  But officially, Obama says that he is not trying to influence the outcome of the Israeli election.  Unfortunately, just like with so many other lies that Obama tells, that simply is not true.  A couple of months ago, it looked like Netanyahu was going to cruise to an easy victory in this election.  But then a flood of money and an army of Obama operatives started heading into Israel.  Now, the latest opinion polls project that Isaac Herzog's Zionist Union will take 26 seats in the Knesset, and Netanyahu's Likud Party is only being projected to take 22 seats.  Netanyahu is blaming this dramatic swing in the polls on an "international conspiracy", but he won't mention Obama by name.  However, anyone with half a brain can see what is happening.  Even CNN admits that "corks will be popping at the White House and State Department if Netanyahu loses".
The leader of the army of Obama operatives that has gone over to Israel is named Jeremy Bird.  He was the national field director for Barack Obama's 2012 presidential campaign.  And even though Netanyahu won't point a finger directly at Barack Obama, he has been willing to single out the organization that Bird is working for…
During the Tel Aviv rally Sunday, Netanyahu chided what he called funding "from abroad" of an activist group which has pushed for Netanyahu's ouster. The group, V15, is working with Jeremy Bird, one of President Barack Obama's former campaign strategists. Netanyahu, who has strong links to U.S. billionaire Sheldon Adelson, has attributed his drop in the polls to a "worldwide" conspiracy to oust him.
And of course there are lots of other Obama operatives working alongside Bird to oust Netanyahu.  In a previous article, I shared a list that had been compiled by WND…
—–
Besides Bird, the 270 Strategies team includes the following former Obama staffers:
Mitch Steward, a 270 Strategies founding partner who helped the Obama campaign build what the U.K. Guardian called "a historic ground operation that will provide the model for political campaigns in America and around the world for years to come."
Mark Beatty, a founding partner who served as deputy battleground states director for the Obama campaign. He had primary responsibility for Obama's election plans for the battleground states.
Marlon Marshall, a founding partner at 270 Strategies who joins the team after holding several key positions in national Democratic politics, most recently as deputy national field director for the 2012 Obama campaign.
Betsy Hoover, a founding partner who served as director of digital organizing on the Obama campaign.
Meg Ansara, who served as national regional director for Obama for America where she was responsible for overseeing the 2012 programs in the Midwest and southern states.
Bridget Halligan, who served as the engagement program manager on the digital team of the 2012 Obama campaign.
Kate Catherall, who served as Florida deputy field director for Obama's re-election campaign.
Alex Lofton, who most recently served as the GOTV director of Cleveland, Ohio, for the 2012 Obama campaign.
Martha Patzer, the firm's vice president who served as deputy email director at Obama for America.
Jesse Boateng, who served as the Florida voter registration director for Obama's re-election campaign.
Ashley Bryant, who served most recently as the Ohio digital director for the 2012 Obama campaign.
Max Clermont, who formerly served as a regional field director in Florida for Obama's re-election campaign.
Max Wood, who served as a deputy data director in Florida for the 2012 Obama campaign.
—–
And it looks like a group that has been funded by the State Department may have been funneling money to these operatives.  In fact, a bipartisan Senate panel is now looking into these allegations…
According to the source, the probe is looking into "funding" by OneVoice Movement – a Washington-based group that has received $350,000 in recent State Department grants, and until last November was headed by a veteran diplomat from the Clinton administrations.

A subsidiary of OneVoice is the Israel-based Victory 15 campaign, itself guided by top operatives of Obama's White House runs, which seeks to "replace the government" of Israel.

"It's confirmed that there is a bipartisan Permanent Subcommittee inquiry into OneVoice's funding of V15," the source said, speaking on condition of anonymity about the American group, which bills itself as working for a two-state solution to the Israeli-Palestinian conflict.
There are a lot of reasons why Obama and his operatives want Netanyahu out.
But one of the core issues is that they believe that Netanyahu is the main barrier standing in the way of a Palestinian state.
If Isaac Herzog becomes the next prime minister, the outlook for negotiations with the Palestinians will change almost overnight.  The probability that Obama will be able to cement his "legacy" with a historic Middle East peace deal will go up dramatically.
On the other hand, if Israeli Prime Minister Benjamin Netanyahu wins, he is already promising that there will not be a Palestinian state for as long as he is holding office…
Faced with a tight race for his political life, Israeli Prime Minister Benjamin Netanyahu stepped up the nationalist rhetoric on the eve of parliamentary elections, vowing a Palestinian state will not be established on his watch if he's re-elected.

In an interview published Monday in the NRG news website, Netahyahu said withdrawing from occupied areas to make way for a Palestinian state would only ensure that territory will be taken over by Islamic extremists. When asked if that means a Palestinian state will not be established if he is elected, Netanyahu said "indeed."
And Netanyahu is pledging to do all that he can to keep Jerusalem undivided forever…
"We will preserve Jerusalem's unity in all its parts. We will continue to build and fortify Jerusalem so that its division won't be possible and it will stay united forever," Netanyahu said. "Likud's victory is the only thing that can ensure the continuation of a national leadership and will prevent the establishment of a left-wing government."
Needless to say, what Netanyahu wants is the exact opposite of what Barack Obama wants.
Now we have reached a moment of truth.  What happens in this election is going to have enormous implications for Israel, the Palestinians, the United States and the entire planet.
It might be the most important Israeli election in at least 40 years, and in the end the final outcome may be tipped one way by Obama and his minions.