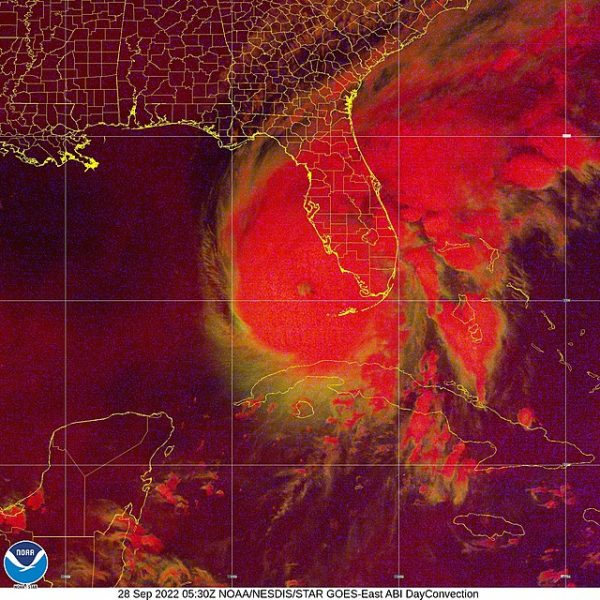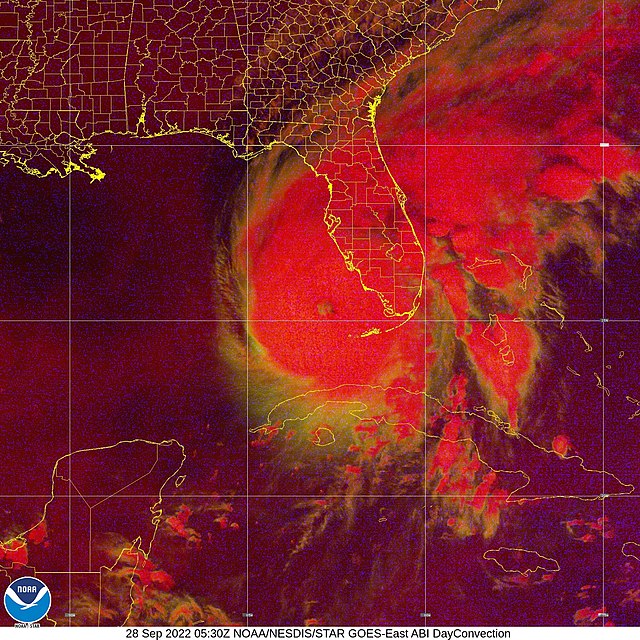 Can you imagine clinging to a wall with all of your might for hours in order to avoid certain death?  There are a lot of people that live along the west coast of Florida that barely survived Hurricane Ian, and in this article you will hear some of their stories.  This wasn't just another storm.  Hurricane Ian had maximum sustained winds of 155 mph, and that put it just 2 mph away from being a Category 5 storm.  But the worst part was the giant wall of water that the storm pushed ashore.  The storm surge caused so much damage that it is already being projected that Ian is the most costly natural disaster in all of U.S. history.  The state of Florida will never be the same after this, and we should all mourn for those that have lost their lives.
Every time a hurricane makes landfall there is a lot of water, but many of those that live in the Fort Myers area were completely and utterly unprepared for the absolutely gigantic wall of water that Hurricane Ian brought with it…
As the sun rose on Florida's Gulf Coast on Thursday, it revealed the devastating trail of destruction left in Hurricane Ian's wake.

The area surrounding Fort Myers, known as the Lee Island Coast, saw the most catastrophic destruction, with storm surges reaching an estimated 12 feet in some areas, sweeping cars away and reaching the rooflines of homes.

The causeway connecting Sanibel Island with the mainland was destroyed in the raging Category 4 hurricane, and more than two million people were left without power after the monster storm barreled through.
During the peak of this storm, you were not likely to survive if you stayed at ground level.
So everyone was trying to get to a higher elevation, and in some cases people were taking desperate measures in order to do that…
Daniel Suarez, 39, and his wife Heather, 37, heeded warnings to flee their second floor apartment but their downstairs neighbors chose to stay behind.

'Around 3pm their place was completely flooded. Their vehicle was floating around in the parking lot,' Daniel told DailyMail.com.

'The water was so strong they couldn't push the front door open so they had to break through the drywall on to the stairwell then climb up and break into our apartment to get to safety.
They must have been really scared.  Can you imagine trying to break through drywall in the middle of a hurricane?
Many homes in Florida only have a single level, and in those cases there is no second level to go to for safety.
When water started pouring into the home of 39-year-old Samuel Martinez, he and his family initially went up to the roof.
But the winds were too powerful to stay on the roof, and so Martinez and his four cousins literally clung to an exterior wall of the home for hours…
Water began trickling into the one-story, Iona home around 8am. Ten minutes later it was up to two feet. It would eventually reach around 10ft high.

Martinez and his four cousins tried to take shelter on the roof but the winds were too powerful. They ended up clinging to an exterior wall for dear life.

'It was up to our necks,' he said. 'We clung on for what seemed like hours praying the water would stop rising.

'The home is completely trashed but we are alive. But I'm worried for my neighbors, one of them is a pregnant woman.'
You have got to have a strong will to live in order to make it through an ordeal like that.
If the water had gone just a foot or two higher, they may not have survived.
Sadly, there were many that didn't make it.  We are being told that the death toll is in "the hundreds", but of course that is just a very early estimate.
Florida has never experienced a storm quite like this, and after surveying the damage Lee County Sheriff Carmine Marcino told CNN that "there's really no words that I can say to tell you what I've seen"…
"I just literally got out of a helicopter where I was able to take a complete tour of the entire county and there's really no words that I can say to tell you what I've seen," Lee County Sheriff Carmine Marcino said on CNN Thursday. "The Fort Myers Beach area, buildings, major, major homes and buildings completely washed away with vehicles in the water, vehicles in the bay, boats are upside down."
The Fort Myers area is not going to be okay after this.
Do you remember watching footage of the historic tsunami that hit Fukushima?
Well, what Fort Myers just went through is something like that.
The water picked up objects that were extremely heavy and carried them vast distances.  In fact, the mayor of Fort Myers actually did an interview with CNN in the downtown area of his destroyed city while standing on a floating cement dock that Hurricane Ian had deposited there…
Fort Myers Mayor Kevin Anderson said Ian was the worst storm he's ever seen.

"I'm standing on a floating cement dock in the river district of downtown. The problem is, this dock is two blocks away from the river in a middle of an intersection," Anderson told CNN on Thursday.

"This thing weighs a ton. That's how powerful the water was last night."
Countless individuals have had their lives completely turned upside down.
93-year-old Tom Hinkle was able to successfully ride out the storm, but he says that he lost his home, his car and everything else that he owned…
'I've lost every damn thing I own,' said 93-year-old retiree Tom Hinkle, as he stared out at the murky-broken floodwater making it impossible to reach his two-bed retirement home a thousand yards or so from the Gulf of Mexico.

'I've lived in my home for 22 years and it's gone. My car is even under water,' he added, with tears in his eyes.

Hinkle made it out alive thanks to Good Samaritan Ray Remillard, 62, who gathered four elderly neighbors from the Sunshine Mobile Village, several miles from Fort Myers Beach, and took them to his company's apartment further inland.
How do you possibly "start over" when you are 93 years old?
And how will the west coast of Florida "start over" now that hundreds of billions of dollars in damage has been done?
What has just transpired should deeply sadden all of us.
It is just one week after the end of summer, and we have already witnessed the most costly natural disaster in the entire history of our country.
Hurricane Ian was truly a "monster storm", and it is just a matter of time before we are hit by even greater disasters.
Our world has become a very wild and unpredictable place, and global events are really starting to accelerate.
So let us mourn for all that was just lost, but let us also brace ourselves for what is ahead.
Because what we have been through so far is just the beginning.
Fort Myers Beach Times Square LEVELED following #HurricaneIan #Ian #HurricanIan pic.twitter.com/V3gHTs5Mx8

— Smurph (@swmurfl) September 29, 2022
Here's what's left of Times Square in Fort Myers Beach pic.twitter.com/dw9OXzbtAz

— Vikeologist™ (@Vikeologist) September 29, 2022
Ft Myers Beach is effectively gone, almost no emergency crews yet. These poor people need so much help… pic.twitter.com/5uLo26zFMZ

— Max Olson (@MesoMax919) September 29, 2022
Fort Myers Beach pier and nearby restaurants and structures have been destroyed. pic.twitter.com/LZuB2Q090M

— Moshe Schwartz (@YWNReporter) September 29, 2022
More video from Fort Myers Beach showing large boats washed ashore from #HurricaneIan #HurricanIan #Ian pic.twitter.com/HxqAfyqkH4

— Smurph (@swmurfl) September 29, 2022
Hoping he's wrong, but Lee County, Fla. Sheriff Carmine Marceno says it's "confirmed" there are "fatalities in the hundreds" #HurricaneIan pic.twitter.com/WtJCfWPwb4

— Tom Elliott (@tomselliott) September 29, 2022
Storm surge got into our WINK studios in Fort Myers, flooded the entire first floor. Lost power and was unable to continue broadcasting on tv/radio. No timetable on return to air. #Ian was the strongest hurricane in Southwest Florida history. Widespread destruction heading home. pic.twitter.com/w6is0EXcpD

— Matt Devitt (@MattDevittWINK) September 29, 2022
Unbelievable amounts of water. This is NOT near the coast. This is CENTRAL FLORIDA! @weatherchannel #Ian @CityofKissimmee #flooding #HurricaneIan #Ianflorida #IanRescue For more updates go to https://t.co/AcRNA256uc and the Weather Channel app. You can also follow me on twitter pic.twitter.com/bae9SAy2nI

— Heather Tesch (@HeatherTesch) September 29, 2022
***It is finally here! Michael's new book entitled "7 Year Apocalypse" is now available in paperback and for the Kindle on Amazon.***
About the Author: My name is Michael and my brand new book entitled "7 Year Apocalypse" is now available on Amazon.com.  In addition to my new book I have written five other books that are available on Amazon.com including  "Lost Prophecies Of The Future Of America", "The Beginning Of The End", "Get Prepared Now", and "Living A Life That Really Matters". (#CommissionsEarned)  When you purchase any of these books you help to support the work that I am doing, and one way that you can really help is by sending digital copies as gifts through Amazon to family and friends.  Time is short, and I need help getting these warnings into the hands of as many people as possible.  I have published thousands of articles on The Economic Collapse Blog, End Of The American Dream and The Most Important News, and the articles that I publish on those sites are republished on dozens of other prominent websites all over the globe.  I always freely and happily allow others to republish my articles on their own websites, but I also ask that they include this "About the Author" section with each article.  The material contained in this article is for general information purposes only, and readers should consult licensed professionals before making any legal, business, financial or health decisions.  I encourage you to follow me on social media on Facebook and Twitter, and any way that you can share these articles with others is a great help.  These are such troubled times, and people need hope.  John 3:16 tells us about the hope that God has given us through Jesus Christ: "For God so loved the world, that he gave his only begotten Son, that whosoever believeth in him should not perish, but have everlasting life."  If you have not already done so, I strongly urge you to ask Jesus to be your Lord and Savior today.