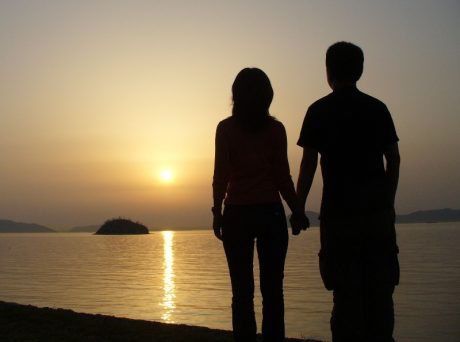 What would you do if you found out that your husband or wife was gay? This is something that is increasingly happening to couples all over the country, and many end up divorcing so that the gay spouse can freely pursue a gay lifestyle. In recent days, the case of Jill and Jeff Smokler has made headlines all over the country. Jill has authored several successful parenting books and is also the editor-in-chief of a parenting website called Scary Mommy. But now she finds herself at the center or a raging controversy. After 17 years of marriage and after having three children together, Jill and Jeff have decided to divorce because of Jeff's sexuality.
For much of their marriage Jeff thought that he was bisexual, but later he came to the conclusion that he was exclusively gay, and that has made their marriage "untenable"…
A woman has shared her heartbreak after her husband of 17 years told her he is gay.

Jill and Jeff Smokler, both 39, have three children, aged nine, 11 and 13, recently made the agonizing decision to separate after 23 years together.

The couple, from Baltimore, Maryland, plan to divorce after Jeff's suppressed sexuality made their marriage untenable and left him suffering from depression.
Jeff says that he came to the realization that he was exclusively gay four or five years ago, and he claims that he has been suppressing his sexuality since that time. The following comes from a blog post that Jeff wrote for his wife's website entitled "When Love Isn't Enough: Divorcing My Soulmate"…
It wasn't until after Jill and I were married that I started to understand my (what I perceived at the time to be) bisexuality. Once I knew, the first and only person I told was my wife. And so began a long, unexpected journey that Jill and I decided we would take together.

The details of that journey are personal, and they are not mine alone to tell. That journey belongs to us, and it has shaped who we are today as people, as parents, as friends and as lovers.

But one thing I'll say about my own journey is this: What should have been an easy choice — a no brainer — was the hardest decision I've ever made. Once I came to terms with the fact that I was gay, I figured I had two options: I could die — either from my intentional neglect of my health and well-being, or perhaps from something even more tragic —leaving my children fatherless, or I could come out and hope that I remained surrounded by the love of my friends, family, wife and children. Like I said, seems like a pretty easy decision.
But even though Jeff claims that he has known that he is gay for four or five years, the couple reportedly just announced this fact to their own children. The following comes from a post that Jill made on Facebook…
Yesterday, Jeff and I told our children that we are divorcing, after more than 17 years of marriage and 23 years of togetherness. We also told them that the impetus for the divorce is the fact that Jeff is gay.

Without getting into too much personal detail, this is a reality which we have faced together for many years. And for a very long time, the deep love we had for one another sustained us through the more difficult moments that our increasingly diverging sexuality created.
I am not quite sure what "increasingly diverging sexuality" means, but obviously this put a tremendous amount of strain on their marriage. The following comes from the Daily Mail…
She said it was a 'difficult' decision to end their marriage and that the last few months have been 'brutal'. But she is confident that they will be able to foster a healthy platonic relationship.

'It wasn't easy. Nothing about this experience has been easy. But we are best friends, he is literally my favorite person in the world to be around, so even before kids, I didn't want to split up.

'When he clearly had turned a corner and realized this wasn't a phase or a tiny sliver of who he is, I knew it was time to move on,' Jill told Daily Mail Online.
As a larger and larger percentage of the population decides that they are gay, this sort of thing is going to become increasingly common in the years ahead.
And sometimes the scenario is reversed. What I mean is that sometimes it is the wife that is the one that decides that she wants to pursue a gay lifestyle. In fact, a prominent "Christian" blogger made this precise decision not too long ago…
Weeks after author Jen Hatmaker parted ways with orthodox Christianity and said same-sex marriage could be "holy," another figure in the Christian blogosphere has gone a step further – divorcing her husband and beginning a relationship with lesbian soccer player Abby Wambach.

According to People.com, Glennon Doyle Melton – who blogs at Momastery – divorced her husband of 14 years three months ago and has now "found love" with the well-known USA women's soccer and World Cup star.

Melton went public with the relationship in a lengthy post on her Facebook page, where she extols her new partner for her caring attitude and her love for Melton's children and former husband. She wrote that she is also ready to display a "different type of leadership" than she has in the past.
We live at a time when definitions of sexuality are far more fluid than they were for previous generations.
In the past, society had a much clearer understanding of what right and wrong were, but today most people just do whatever seems right in their own eyes.
This is the path that America has chosen, and we shall see where it ultimately takes us…