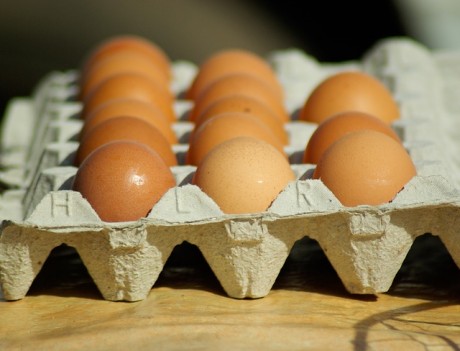 Did you know that 25 percent of all egg production in the United States has already been taken offline due to the bird flu crisis?  You aren't hearing much about this in the mainstream media, but at this point bird flu has claimed the lives of 45 million chickens and turkeys in America.  When I wrote about this a month ago, the number of dead birds was sitting at about 20 million.  In just 30 days, the death toll has risen by an astounding 20 million.  This is a major crisis and it is already causing egg shortages around the country, and yet very few people seem alarmed about this?  Why is that?
And it isn't just one strain of the bird flu virus that we are talking about.  Right now, there are two strains which are spreading like wildfire.
So far, the H5N2 strain has hit the states of Iowa, Kansas, Kentucky, Minnesota, Arkansas, Missouri, Montana, Nebraska, North Dakota, Idaho, Oregon, South Dakota, Washington and Wisconsin.  It has also been identified in the Canadian provinces of Ontario and British Columbia.
The H5N8 strain has not been doing quite as much damage yet, but it has been killing birds in California, Idaho, Indiana, Oregon and Washington.
In addition, Canadian officials have discovered that the H5N1 strain is spreading in British Columbia.
This is the worst bird flu outbreak in the history of North America, and it continues to spiral out of control.  Things have already gotten so bad that some manufacturers are considering switching to "eggless eggs"…
America is facing a major egg crisis due to bird flu, experts have warned.

They say 25 percent of the country's egg production is already offline due to the virus, with more producers expecting to be hit.

To replace eggs, manufacturers are increasingly turning a hi-tech San Francisco firm that makes an 'eggless egg' using a secret blend of plants.
With egg production down 25 percent at this point, and the worst probably still to come, some fast food chains are already cutting back.  For instance, Whataburger has announced that it is going to be limiting the number of hours that it serves breakfast…
Whataburger says it is limiting its breakfast-serving hours, citing egg shortages due to the Midwest bird flu crisis.

The fast-food chain will serve breakfast 5 a.m. to 9 a.m. weekdays, and 5 a.m. to 11 a.m. on weekends. It previously was available 12 hours a day. Whataburger says in a statement that the changes will allow it to supply all of its locations.

The U.S. Department of Agriculture says confirmed outbreaks in the Midwest have cost chicken and turkey producers more than 44 million birds. Egg prices have soared.

Major chains such as Taco Bell, Dunkin' Donuts and IHOP say they're monitoring the situation but haven't yet been affected.
I hope that people start waking up and taking this more seriously, because this is a really big deal.
But of course of even greater concern is what would happen if the bird flu started spreading among the human population.
At this point, the CDC says that there are no human cases, but they are urging caution…
"While these recently identified HPAI H5 viruses are not known to have caused disease in humans, their appearance in North American birds may increase the likelihood of human infection in the United States," the CDC said.
In fact, the CDC has issued a special alert to medical professionals instructing them to watch for any signs that this virus has crossed over…
"Clinicians should consider the possibility of highly pathogenic avian influenza H5 virus infection in persons showing signs or symptoms of respiratory illness who have relevant exposure history," the CDC said in a health alert issued to doctors.

"This includes persons who have had contact with potentially infected birds (e.g., handling, slaughtering, defeathering, butchering, culling, preparation for consumption); direct contact with surfaces contaminated with feces or parts (carcasses, internal organs, etc.) of potentially-infected birds; and persons who have had prolonged exposure to potentially-infected birds in a confined space."
I know that we have had some false alarms with swine flu and ebola in the past few years.
But without a doubt, a major pandemic is one of the greatest potential threats that we face.  Throughout history, there have been massive pandemics that have killed millions upon millions of people, and scientists assure us that it is only a matter of time before the next one strikes.
Just the other day, Bill Gates spoke about his belief that a future pandemic could come along at any time and kill tens of millions of us…
One of the world's richest men, who spoke in 2010 about how vaccines (which he heavily pushes throughout the world) are helping to cull the world's population, is now predicting that as many as 33 million people could soon die from a modern-day pandemic similar to the 1918-1919 Spanish flu.

Microsoft founder Bill Gates hasn't said how such an event will culminate, but he's sure it will, and he's actually spent a pretty penny working on predictive models to show what sort of event will kill the most people in the near future. It won't be a big volcanic explosion, a gigantic earthquake, an asteroid, or even impending world war, according to Gates — at least not in his lifetime. Instead, it will be an outbreak of some horrific disease like Ebola.
Of course for many in the scientific community, a major pandemic like that would be a perfect solution to the "overpopulation problem" that they believe the world is facing.  For much more on this, please see my previous article entitled "46 Population Control Quotes That Show How Badly The Elite Want To Wipe Us All Out".
Most Americans seem to believe that there could never possibly be major food shortages in this country.  But in my new book, my co-author and I discuss how incredibly fragile our food chain really is.  We live at a time when the entire planet is becoming increasingly unstable, and we need to realize that it is not wise to be dependent on the "system" because the "system" is failing.
In the months ahead, we are likely to see significant shortages of eggs, chicken and turkey.  And certainly prices for all of those items will never be lower than they are right now.
So now is the time to stock up and to add to your food storage supplies.  Because once the general public starts freaking out about all of this, it will be far too late to do anything about it then.