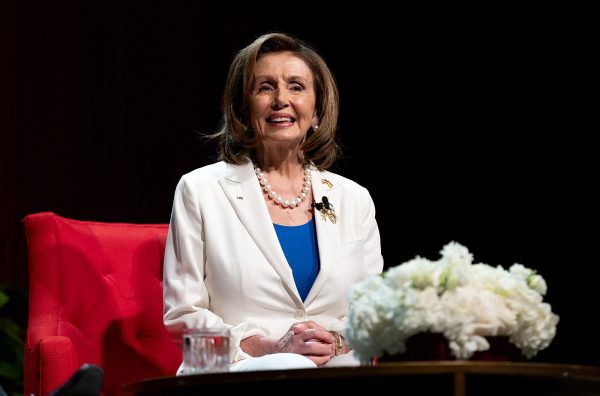 She is actually going to do it.  Nancy Pelosi is going to Taiwan, and she is going to take a bunch of other Congress critters with her.  The Chinese are absolutely furious, and they are promising to respond very strongly when it happens.  I really hope that the Chinese show some restraint, because one of the options being discussed is the implementation of a no-fly zone over Taiwan.  That would be an act of war, and the Biden administration would inevitably feel compelled to escalate matters even more.  If that happens, we will be off and running and nothing will ever be the same again.
Perhaps it is appropriate that Pelosi could be the straw that breaks the camel's back.  She has been in Congress since 1987 and she has become a national symbol of everything that is wrong with permanent Washington.  Someday when historians talk about the decline and fall of the United States, she will be one of the most prominent figures that they discuss.  Our federal government has been making exceedingly foolish decisions for decades, and she has been right in the center of the action the whole time.
So if we are going to pick a fight with China, somehow it seems fitting that Pelosi will be involved.
Up until Thursday, we hadn't received confirmation that Pelosi was actually going to go, but now other members of Congress have revealed that they have been invited to go along on the trip…
Speaker Nancy Pelosi, D-Calif., has invited a small group of lawmakers on her official trip to Taiwan, including the top Democrat and Republican on the House Foreign Affairs Committee, Rep. Michael McCaul, R-Texas, told NBC News on Wednesday.

McCaul, the ranking member on the foreign affairs panel, said both he and Chairman Gregory Meeks, D-N.Y., have been invited by the speaker on an upcoming trip to the self-ruling island that China sees as under its control.
If the Chinese were seething with anger over the prospect of Pelosi going to Taiwan, how will they feel if a dozen or so members of Congress show up with her?
This trip is supposed to happen next month, and members of Congress from both sides of the aisle are encouraging it…
Lawmakers from both parties have rallied behind Pelosi, however, urging her to make the trip and emphasize U.S. support for the democratic island.

"If she wants to go, I certainly think she should go," Sen. Roy Blunt, R-Mo., said Tuesday. "And I think she should be more motivated to go now that she's been discouraged, and colleagues should join her."
Of course there is actually nothing wrong with members of Congress taking a visit to Taiwan.
But this comes at a time when U.S. relations with China are already at an all-time low and the Chinese have been making preparations for a potential invasion.
So now is not the moment to escalate tensions.
Unfortunately, our leaders in Washington don't seem to understand this.  In fact, we just learned that an aircraft carrier strike group is being sent into the South China Sea…
The Pentagon has sent an aircraft carrier to the South China Sea ahead of a possible visit to Taiwan by House Speaker Nancy Pelosi.

The USS Ronald Reagan and a strike group are currently there after they left a port in Singapore on Tuesday. A Navy spokesperson confirmed the news, but said it was a planned trip.

"I can confirm USS Ronald Reagan and her strike group are now underway, operating in the South China Sea following a successful port visit to Singapore," Lt. Mark Langford said.
Normally the Chinese are very calm and diplomatic, but in recent months their tone has changed dramatically.
During a scheduled call on Thursday morning, Xi Jinping actually warned Joe Biden that "those who play with fire will get burned"…
China's President Xi Jinping warned Joe Biden 'those who play with fire will get burned' during a two-hour call Thursday morning amid rising tensions over Taiwan, according to Chinese state media.

The fifth call between the world leaders since President Biden took office comes amid simmering tensions and a potential impending visit to Taiwan from House Speaker Nancy Pelosi.
You have to have an understanding of Chinese culture to appreciate how alarming that statement is.
Chinese leaders are very cautious with their words, and so for the president of China to say something like that is a really big deal.
It is being reported that Xi Jinping and Joe Biden could soon meet in person in an attempt to reduce tensions…
President Joe Biden and China's Xi Jinping are exploring meeting in person, a senior administration official said after the leaders spent more than two hours Thursday talking through the future of their complicated relationship, with tension over Taiwan once again emerging as a flashpoint.
Hopefully that will help.
Ah, who am I kidding?
Of course Biden will make things worse.
Everything that Biden touches gets worse.
Ever since Biden entered the White House, I have been warning about Biden and his foreign policy team.
Biden has always been a hothead, and now he is a hothead that is in an advanced state of mental decline.
And he is surrounded by the worst foreign policy team in U.S. history by a very wide margin.
They have already gotten us into a proxy war with Russia, and soon they could have us in a very real shooting war with China.
Most Americans don't realize this, but our military leaders already know that a conventional war against China would not go well.
According to Popular Mechanics, a series of war game scenarios that was conducted in late 2020 showed that the U.S. military would fail miserably in such a conflict…
The U.S. military reportedly "failed miserably" in a series of wargame scenarios designed to test the Pentagon's might. The flunked exercises, which took place last October, are a red flag that the way the military has operated for years isn't going to fly against today's enemies.

Specifically, a simulated adversary that has studied the American way of war for decades managed to run rings around U.S. forces, defeating them decisively. "They knew exactly what we're going to do before we did it," Gen. John Hyten, Vice Chairman of the Joint Chiefs of Staff, revealed at an industry event.
And it turns out that similar war games have been coming up with similar results for many years.  In fact, over time the war games have been showing the U.S. military "losing faster" against the Chinese…
"More than a decade ago, our war games indicated that the Chinese were doing a good job of investing in military capabilities that would make our preferred model of expeditionary warfare, where we push forces forward and operate out of relatively safe bases and sanctuaries, increasingly difficult," Air Force Lt. Gen. S. Clinton Hinote, deputy chief of staff for strategy, integration and requirements, told Yahoo News in an exclusive interview. By 2018, the People's Liberation Army had fielded many of those forces in large numbers, to include massive arsenals of precision-guided surface-to-air and surface-to-surface missiles, a space-based constellation of navigation and targeting satellites and the largest navy in the world.

"At that point the trend in our war games was not just that we were losing, but we were losing faster," Hinote said. "After the 2018 war game I distinctly remember one of our gurus of war gaming standing in front of the Air Force secretary and chief of staff, and telling them that we should never play this war game scenario [of a Chinese attack on Taiwan] again, because we know what is going to happen."
I suppose that Joe Biden could threaten to nuke China.
But do we really want to risk nuclear war over Taiwan?
The Chinese have been steadily upgrading their strategic nuclear arsenal, and they have been feverishly constructing new nuclear missile silos…
China has made "impressive progress" in developing new nuclear weapons, but will only use them for self-defense, and never use them first, Chinese Defense Minister Wei Fenghe told delegates at the Shangri-La Dialogue on Sunday.

In response to a question about reports last year on construction of more than 100 new nuclear missile silos in China's east, he said China "has always pursued an appropriate path to developing nuclear capabilities for protection of our country."

He added nuclear weapons displayed in a 2019 military parade in Beijing — which included upgraded launchers for China's DF-41 intercontinental ballistic missiles – were operational and deployed.
I think that the Chinese understand that if they don't use nukes Biden won't either.
And we simply do not have the conventional forces to keep the Chinese from taking Taiwan.
So that leaves the Taiwanese in a very precarious position, and China continues to probe their defenses.
In fact, it is being reported that the Taiwanese military just fired warning shots at a Chinese drone…
At a moment of boiling tensions surrounding Taiwan, its military says it chased away a Chinese drone by firing warning shots as a UAV buzzed a heavily fortified island that has long been under Taiwanese control.

The Taiwanese Defense Ministry believes what was at first deemed an "unidentified drone" was possibly probing its Taiwan's defenses as it "glanced by" Dongyin island, which lies near the Chinese coast but has been in Taiwan's hands since 1949.

"The Dongyin command fired flares at the drone to warn it away, the ministry said, without identifying it further," writes Reuters. "A senior official familiar with the security planning in the region told Reuters that it was a Chinese drone, likely one of the country's new CSC-005 drones."
Once China pulls the trigger on an invasion of Taiwan, the U.S. and China will instantly be in a state of war.
And once that happens, nothing will ever be the same again.
I hope that a way out of this mess can be found.
I hope that Biden's foreign policy team can get their act together and find a way to smooth things over with China.
But I wouldn't count on that happening.
We are stumbling toward a war with China, and the guys that are running things are so incompetent that I wouldn't trust them to run a Dairy Queen.
Now Nancy Pelosi is getting involved, and she is threatening to push us over the edge.
We desperately need some sort of a miracle, because the clown show in Washington has us on the verge of a global nightmare.
***It is finally here! Michael's new book entitled "7 Year Apocalypse" is now available in paperback and for the Kindle on Amazon.***
About the Author: My name is Michael and my brand new book entitled "7 Year Apocalypse" is now available on Amazon.com.  In addition to my new book I have written five other books that are available on Amazon.com including  "Lost Prophecies Of The Future Of America", "The Beginning Of The End", "Get Prepared Now", and "Living A Life That Really Matters". (#CommissionsEarned)  When you purchase any of these books you help to support the work that I am doing, and one way that you can really help is by sending digital copies as gifts through Amazon to family and friends.  Time is short, and I need help getting these warnings into the hands of as many people as possible.  I have published thousands of articles on The Economic Collapse Blog, End Of The American Dream and The Most Important News, and the articles that I publish on those sites are republished on dozens of other prominent websites all over the globe.  I always freely and happily allow others to republish my articles on their own websites, but I also ask that they include this "About the Author" section with each article.  The material contained in this article is for general information purposes only, and readers should consult licensed professionals before making any legal, business, financial or health decisions.  I encourage you to follow me on social media on Facebook and Twitter, and any way that you can share these articles with others is a great help.  These are such troubled times, and people need hope.  John 3:16 tells us about the hope that God has given us through Jesus Christ: "For God so loved the world, that he gave his only begotten Son, that whosoever believeth in him should not perish, but have everlasting life."  If you have not already done so, I strongly urge you to ask Jesus to be your Lord and Savior today.