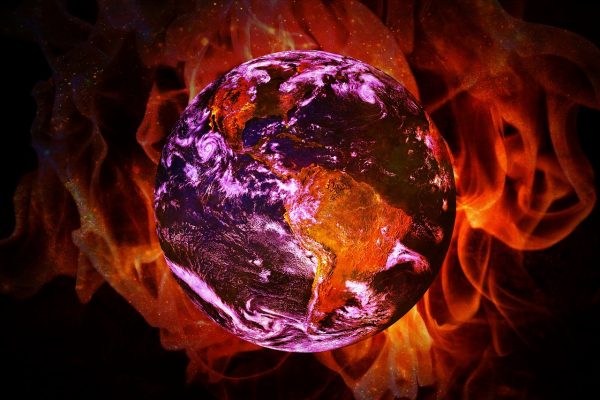 This is what can happen when someone says the quiet part out loud.  A new study that has just been released is creating quite a bit of controversy, because it calls into question some of the most important scientific narratives that are being pushed all over the world today.  No matter what the numbers say, scientists are always supposed to attribute any changes to our planet to the "horrors" of man-made global warming.  The global elite have worked very hard to get hundreds of millions of people around the globe to buy into this story, and so much of their political agenda hinges on it.  So under no circumstance is any scientist ever supposed to suggest that what is going on under our feet could be the real root cause of our environmental problems.
Unfortunately for the global elite, that is precisely what a team of German and British researchers just did.
According to those researchers, "a conspicuously large amount of heat from Earth's interior" is largely responsible for the rapid melting of Thwaites Glacier in West Antarctica…
Ice losses from Thwaites Glacier in West Antarctica are currently responsible for roughly four percent of the global sea-level rise. This figure could increase, since virtually no other ice stream in the Antarctic is changing as dramatically as the massive Thwaites Glacier. Until recently, experts attributed these changes to climate change and the fact that the glacier rests on the seafloor in many places, and as such comes into contact with warm water masses. But there is also a third, and until now, one of the most difficult to constrain, influencing factors. In a new study, German and British researchers have shown that there is a conspicuously large amount of heat from Earth's interior beneath the ice, which has likely affected the sliding behaviour of the ice masses for millions of years. This substantial geothermal heat flow, in turn, is due to the fact that the glacier lies in a tectonic trench, where the Earth's crust is significantly thinner than it is e.g. in neighbouring East Antarctica. The new study was published today in the Nature online journal Communications Earth & Environment.
The researchers have tried to comfort the blow by assuring all of us that geothermal heat has been affecting the glacier for "millions of years", but of course there is no way for them to know that.
But what we do know is that geothermal heat is playing a major role in melting the glacier right now.
And we also know that the rate at which the glacier has been melting is accelerating.  In fact, at this point it is losing approximately "80 billion tons of ice per year"…
According to the BBC, the Thwaites glacier contributes roughly four percent to annual sea-level rise and is now believed to be losing 80 billion tons of ice per year.

Since 1980, it has lost at least 600 billion tons of ice, according to a 2017 analysis done by the New York Times, using data from NASA JPL.
The Thwaites Glacier covers 119,300 square miles, and it is commonly known as "the Doomsday Glacier" because of what would happen if it completely melted.
If all of the ice in the glacier were suddenly to melt all at once, global sea levels would rise by more than 2 feet…
A scenario like that could put the Doomsday Glacier's name to the test; if Thwaites Glacier were to entirely collapse into the ocean, global sea levels would rise by about 25 inches (65 centimeters), devastating coastline communities around the world, Live Science previously reported. What's more, without the glacier plugging the edge of the West Antarctic Ice Sheet like a cork in a bottle of wine, ice loss could accelerate dramatically in the entire region, leading to unprecedented levels of sea level rise.
If our glaciers were primarily being melted by man-made global warming as the global elite would have us believe, there are theoretically things that we could do to mitigate the crisis.
But if our glaciers are primarily being melted by forces inside the planet, and if those forces are becoming increasingly stronger, that means that there is nothing that we can to do to stop what is happening.
And if ocean temperatures are rising because our oceans are being cooked from underneath, that means that there is nothing that we will be able to do to stop that either.
On top of everything else, many are convinced that changes inside our planet are responsible for the strange outbursts of seismic activity that we have been witnessing in recent days.
Just over a week ago, we witnessed one of the worst earthquakes that Haiti has ever experienced…
Haiti's Civil Protection Agency said Sunday that the death toll from this month's magnitude 7.2 earthquake has grown to 2,207, with 344 people still missing.

The previous figure had been 2,189 on Wednesday. The agency said via Twitter that 12,268 people were injured and nearly 53,000 houses were destroyed by the Aug. 14 quake.
A few weeks before that, Alaska was hit by "the largest U.S. earthquake in 50 years"…
At 10:15pm Alaska time on July 28, a magnitude 8.2 earthquake struck offshore of the Alaska Peninsula, the largest U.S. earthquake in 50 years. The Chignik Earthquake depth was approximately 28.5 miles, an intermediate-depth earthquake.
Yellowstone has also been unusually active.
During the month of July, it was rattled by more than 1,000 earthquakes…
More than 1,008 earthquakes shook the Yellowstone region in July, U.S. Geological Survey Volcanoes said Monday. That number could still increase as experts count smaller earthquakes they may have missed.

The region hit that number largely in part to seven earthquake swarms, including a massive swarm that rattled the region starting July 15.

The swarm, which was centered beneath Yellowstone Lake, had more than 764 quakes. The largest was a magnitude 3.6 on July 16.
Scientists would have us believe that all of this seismic activity is perfectly normal.
They would also have us believe that the oceans are getting warmer because there is "too much carbon dioxide" in the air.
And they certainly don't want us to think that our glaciers are melting because they are being cooked by the interior of our planet.
But that is what "the science" shows.
Of course I am sure that this new study will soon be buried and forgotten.
We will continue to be hit with endless propaganda and they will continue to try to shove what we are supposed to believe down our throats.
But the changes to our planet are not going to stop.
Extremely strange things appear to be happening in the interior of the giant space rock that we all live on, and we are being told to ignore them.
They may be able to distract most of the population for a while, but it won't be too long before the cataclysmic Earth changes that are now happening become completely and utterly undeniable.
***It is finally here! Michael's new book entitled "7 Year Apocalypse" is now available in paperback and for the Kindle on Amazon.***
About the Author: My name is Michael Snyder and my brand new book entitled "7 Year Apocalypse" is now available on Amazon.com.  In addition to my new book I have written five others that are available on Amazon.com including  "Lost Prophecies Of The Future Of America", "The Beginning Of The End", "Get Prepared Now", and "Living A Life That Really Matters". (#CommissionsEarned)  By purchasing the books you help to support the work that my wife and I are doing, and by giving it to others you help to multiply the impact that we are having on people all over the globe.  I have published thousands of articles on The Economic Collapse Blog, End Of The American Dream and The Most Important News, and the articles that I publish on those sites are republished on dozens of other prominent websites all over the globe.  I always freely and happily allow others to republish my articles on their own websites, but I also ask that they include this "About the Author" section with each article.  The material contained in this article is for general information purposes only, and readers should consult licensed professionals before making any legal, business, financial or health decisions.  I encourage you to follow me on social media on Facebook and Twitter, and any way that you can share these articles with others is a great help.  During these very challenging times, people will need hope more than ever before, and it is our goal to share the gospel of Jesus Christ with as many people as we possibly can.