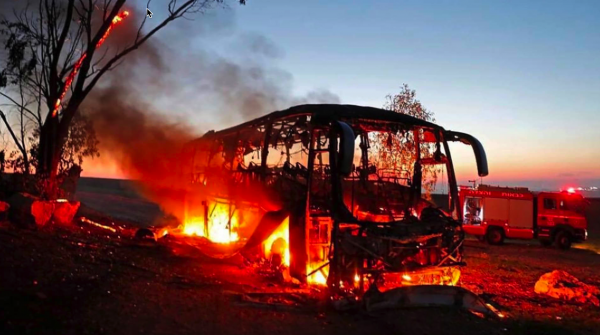 Missiles continue to rain down on Israel at this hour, and even the New York Times is admitting that the region is on the "brink of war".  On Monday, more than 300 rockets and mortar shells were fired from Gaza into Israel, and the Israeli military struck back extremely hard in response.  Many observers had been hoping that the barrage coming out of Gaza would slow down on Tuesday, but so far that has not happened.  The Times of Israel is reporting that missile alarms were shrieking all over southern Israel as dawn broke on Tuesday, and at least 70 rockets and mortar shells have been fired at Jewish cities since midnight.  If the barrage does not stop, there will be war.  As you will see below, large numbers of IDF troops and tanks have been spotted heading to the Gaza border.
Fortunately, many of the rockets that have been fired at Israel have been intercepted by the Iron Dome missile defense system, but quite a few were able to get through.
One rocket that penetrated the missile defenses destroyed an Israeli bus…
With air-raid sirens wailing from the Mediterranean to the Dead Sea, and after a Palestinian anti-tank missile blew up an Israeli bus, seriously wounding a 19-year-old soldier, Israel retaliated with airstrikes and tank fire that grew steadily more destructive as the night wore on.

Israel hit scores of military posts and weapons caches across Gaza, but also leveled a Hamas television station, radio station and office building, and the group's military intelligence headquarters. It was the heaviest fighting between Israel and Gaza since their war in 2014.
Many in the Islamic world are attempting to claim that Israel's response was too harsh.
The destruction of the television station was particularly infuriating for Hamas leadership.  The massive fireball that erupted when it was bombed made headlines all over the world…
Hours after an Israeli bus was struck by Hamas mortar fire from Gaza, resulting in injuries, which was accompanied by a sustained exchange of fire involving 100 rockets and Iron Dome defense response fire, Israeli jets have bombed the studios of Hamas's television station in the Gaza Strip.

According to Reuters the huge airstrike was preceded by "warning" phone calls non-exploding missile "taps" from the Israeli military for locals to evacuate the the building housing Al-Aqsa Television — the official broadcast station operated by Hamas. News of casualties was not immediately forthcoming, but the strike produced a massive fireball captured through local video and eyewitness reports.
A state of war essentially already exists between Israel and Hamas, but it looks like there is a very real possibility that Israel could shortly conduct a full scale ground invasion of Gaza.
According to the Times of Israel, "large numbers of tanks and other military vehicles" are being transported to the border on heavy trucks…
On Monday evening, large numbers of tanks and other military vehicles were seen being moved down to the Gaza border on the backs of large trucks. Earlier in the day, before the barrages began, the army also ordered extra infantry battalions to the region.
Hamas could prevent this invasion by ending the barrage, but it doesn't look like that is going to happen.
Instead, Hamas leadership says that what has happened so far "is just the beginning"…
"The resistance factions' joint command center is holding a serious conversation about expanding its range of fire. Ashkelon is just the beginning. Approximately one million Zionists will be within the range of our missiles if the Zionist enemy's decision is to continue its aggression," said Abu Obeida, a spokesperson for Hamas's military wing.
If Israel invades Gaza, it will be an extremely bloody conflict.
And it could also spark a much wider regional crisis.
Most people don't realize this, but Israel and Hezbollah are also on the brink of war.  In fact, Israel just gave the Lebanese government a "final warning" regarding Hezbollah factories…
Meanwhile, Israel reportedly sent a "final warning" to the Lebanese government that it will destroy Hezbollah factories that it says will be used to upgrade its missiles unless action is taken to shut them down. The Israeli government claims Iran recently supplied Hezbollah with precision-guidance munitions that will enable the terrorist group's missiles to strike within 10 meters (33 feet) of their intended target.

The missiles are being upgraded in small factories, similar to those being used by Hamas and Islamic Jihad in Gaza, that are scattered throughout Lebanon, but are difficult to target with air strikes or missiles because of their proximity to civilians.
If Israel bombs those factories, Hezbollah will literally unleash hell.
According to one recent report, Hezbollah now has at least 120,000 rockets and missiles.  That is more "than all European NATO members combined"…
"Changes in the strategic environment in the 12 years since the last Israeli-Hezbollah conflict will translate into unparalleled death and destruction," the report said, noting that Hezbollah's recent fighting experience in Syria, its support from Iran and its massive weapons arsenal pose a "quantum leap" in the terror group's ability to inflict devastation on Israel.

"Today, Hezbollah possesses more firepower than 95 percent of the world's conventional militaries, and more rockets and missiles than all European NATO members combined," the report stated.

Various estimates put Hezbollah's overall rocket and missile stockpiles at between 120,000 to 140,000—up from roughly 10,000 in the last conflict in 2006.
If things go badly, Israel could very easily find itself fighting Hamas in the south and Hezbollah in the north simultaneously.
And needless to say, if that happens we are just a hop, skip and jump away from World War 3.
Because of the times that we live in, it is imperative that we watch Israel very closely.  It is one of the smallest nations on the entire planet, but once again it is at the center of attention.
If a major conflict erupts, the entire world will be shocked by the bloodshed, and it could set in motion a series of events that will have very serious implications for all of us.
About the author: Michael Snyder is a nationally syndicated writer, media personality and political activist. He is publisher of The Most Important News and the author of four books including The Beginning Of The End and Living A Life That Really Matters.
The Last Days Warrior Summit is the premier online event of 2018 for Christians, Conservatives and Patriots.  It is a premium-members only international event that will empower and equip you with the knowledge and tools that you need as global events begin to escalate dramatically.  The speaker list includes Michael Snyder, Mike Adams, Dave Daubenmire, Ray Gano, Dr. Daniel Daves, Gary Kah, Justus Knight, Doug Krieger, Lyn Leahz, Laura Maxwell and many more. Full summit access will begin on October 25th, and if you would like to register for this unprecedented event you can do so right here.