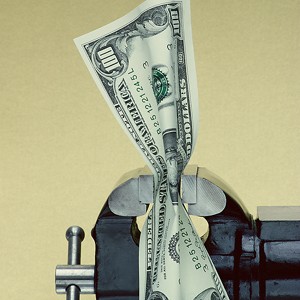 Over the past twelve months, the U.S. economy has continued to come apart like a 20 dollar suit.  During that time it seems like more bad economic news has been coming out nearly every single day.  Instead of getting better, the problems facing the U.S. economy only seem to be multiplying.  The U.S. government and the U.S. financial system continue to absolutely drown in debt.  Factories, jobs and massive amounts of wealth continue to fly out of the United States every month at an astounding pace.  Meanwhile, the number of Americans enrolled in anti-poverty programs continues to shatter records and the U.S. housing industry continues to set records for futility.  The truth is that less Americans are living the American Dream today than were living it twelve months ago.  The U.S. economy is in a serious state of decline, and it is time for all of us to wake up and admit the truth.
But most Americans are so addicted to entertainment that they aren't even noticing that the greatest economic machine in the history of the world is literally falling apart all around them.  Unfortunately, most Americans seem to be much more interested in Dancing With The Stars, their favorite NFL teams or what Lady Gaga happens to be doing than in what is happening with the economy. 
We are not guaranteed to be a wealthy, prosperous nation forever.  Decades of really, really bad decisions are now catching up with us, and if we do not turn things around soon we are headed for an unprecedented economic disaster.
The following are 16 new records that the American economy has set during the past 12 months….
#1 U.S. banks repossessed a record total of 102,134 homes in September.  That was the very first time that home repossessions in the United States have ever surpassed the 100,000 mark during one month.
#2 The price of gold hit another record high on Thursday as the U.S. dollar continues to get even weaker.
#3 Household spending for the middle fifth of all U.S. income earners was down 3.5% in 2009.  That was the steepest one year decline since records began being kept back in 1984.
#4 The number of Americans enrolled in the food stamp program passed the 41 million mark for the first time ever during the month of June.
#5 The number of Americans enrolled in the food stamp program has set a new all-time record for 20 consecutive months.
#6 The Census Bureau says that 43.6 million Americans are now living in poverty and according to them that is the highest number of poor Americans that they have ever recorded in 51 years of record-keeping.
#7 According to the Associated Press, experts believe that in 2009 the U.S. poverty rate experienced the largest single year increase since the U.S. government began calculating poverty figures back in 1959.
#8 It is projected that the major financial firms on Wall Street will pay out an all-time record of $144 billion in compensation for 2010.
#9 In July, sales of new homes in the United States declined to the lowest level ever recorded.
#10 As of last March, U.S. banks had an inventory of 1.1 million foreclosed homes, which was a new all-time record and which was up 20 percent from one year earlier.
#11 The number of Americans working part-time jobs "for economic reasons" is now the highest it has been in at least five decades.
#12 Earlier in 2010, the average time needed to find a job had risen to a record 35.2 weeks.
#13 As millions of Americans struggled just to survive in this economy, the number of marriages fell to a record low in 2009.
#14 A record 50 million Americans are now on Medicaid, the U.S. government health care program designed principally to help the poor.
#15 Americans now owe more than $849 billion on student loans, which is a new all-time record.
#16 The U.S. government has accumulated a national debt that is rapidly approaching 14 trillion dollars.  The U.S. national debt sets a new all-time record every single month with no end in sight.