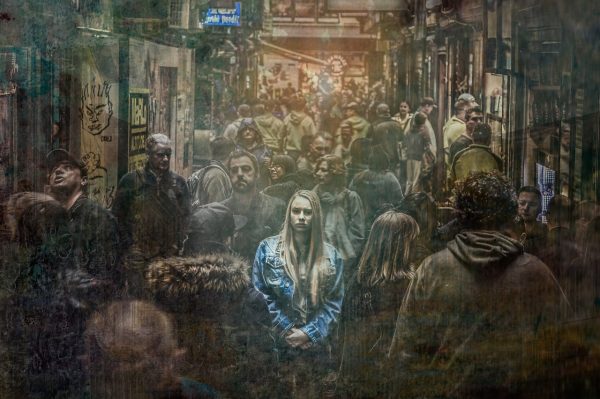 What in the world has happened to our country?  Most of us have very fond memories from when we were younger, and it is true that often our memories of "the good old days" can leave out the bad parts.  None of us are perfect individually, and America has certainly never been without major problems as a nation.  But have we ever witnessed the level of social decay that we are seeing around the country today?  We are like a divorced, bloated, drug-addicted middle age man that has seen his life completely fall apart, and it would be nice to believe that we have hit rock bottom, but the truth is that we just keep on sinking even lower.  The following are 12 examples that show that America is far more messed up than when you were a kid…
#1 When I was young, fast food was something that people would get as a treat every once in a while.  Today, more than a third of the country has made it a lifestyle…
Americans' love affair with fast food continues, with one in every three adults chowing down on the fare on any given day. That's the finding from a new report from the U.S. Centers for Disease Control and Prevention.

When asked by researchers, 37 percent of adults said they'd eaten fast food at least once over the past 24 hours. There was one surprise: Bucking the notion that poorer Americans favor fast food the most, the report found that intake actually rose with income.
No wonder obesity rates are at an all-time high and so many of us are developing cancer, heart disease and diabetes…
#2 Overdosing on drugs is now the leading cause of death for Americans under 50, and we now grappling with the worst opioid crisis in our entire history…
Drug overdoses are the leading cause of death for Americans under the age of 50, who are now more likely to die from a drug overdose than from car accidents or firearms. The United States has the dubious distinction of having the highest percentage of drug-related deaths in the world.

However, while opioid abuse is a nationwide problem, Visual Capitalist's Nick Routley notes that there are specific areas that are being hit harder by this epidemic. Using the location data above, from NORC at the University of Chicago, we can see clusters of counties that have an extremely high rate of overdose deaths. Between 2012 and 2016, West Virginia, Kentucky, and Ohio saw a combined 18,000 deaths related to opioid abuse.
#3 We often remember the 1970s and the 1980s as the time when cocaine use was out of control in America, but the truth is that cocaine deaths in the U.S. just hit a brand new all-time record high…
Cocaine deaths have hit a record high as the drug has quietly become increasingly popular while the attention of the media and health officials has been on the ongoing opioid epidemic.

In the last 12 months, 14,205 Americans died of cocaine overdoses, marking a 22 percent increase over the previous year, according to new data from the Centers for Disease Control and Prevention (CDC).
#4 And of course meth use continues to spiral wildly out of control.  Just recently, a mother was arrested for leaving her two young children alone in a hot car with a bag of meth sitting on the front seat.  How out of it do you have to be to do something like this?…
A Pasco County woman was arrested after she reportedly left two small children in a hot car with a bag of methamphetamine on the front seat while she was shopping in a Hudson dollar store.

Deputies responded to 12125 US Highway 19 in Hudson to check the welfare of two young children in a hot car all alone. The children, a 1-year-old girl and a 7-year-old boy, were both seated in the back seat of the car. Deputies found a small clear bag containing a crystal-like substance sitting on the driver's seat. A field presumptive test showed the substance tested positive for methamphetamine.
#5 Speaking of discount retailers, something very unusual recently happened at a Wal-Mart store.  After spotting an 8-year-old girl that he liked, an 81-year-old man offered to "buy her" from her mother for $200,000…
A man tried to buy an 8-year-old girl from her mother at a Walmart in Port Orange for $200,000, police said.

Hellmuth Kolb, 81, is charged with false imprisonment and battery. Police said Kolb tried to grab and kiss the girl and after he offered to buy her.
#6 In this day and age, we are inventing new ways to abuse our children.  Just recently, it came out that a daycare center in Missouri had hosted a "fight club" during which the toddlers were urged to beat the living daylights out of one another…
A horrified Missouri mother is suing her sons' former daycare center after two teachers hosted a 'fight club' and encouraged the toddlers to beat each other up.

Video has since emerged of the disturbing December 2016 incident, which shows children pounding each other to the ground while others break down in tears.

Nicole Merseal's 10-year-old son filmed the horrific one-day 'fight club', which took place at the Adventure Learning Center in St Louis, on his iPad.
#7 And of course more allegations of sexual abuse seem to come out on a constant basis these days.  In Massachusetts, a youth football coach has been charged with raping numerous young boys and recording the attacks on video.  In the old days this would have been a major scandal, but these days this kind of thing happens so frequently that major U.S. news outlets barely reported on it.  The following comes from a British news source…
A married father and former youth football coach from Massachusetts has been arrested for allegedly raping young boys and recording the sexual assaults on video.

Derek Sheehan, 48, of Norwell, was arrested last week and later arraigned on three counts of aggravated rape of a child, three counts of indecent assault and battery on a child under 14 years of age, three counts of pose/exhibit in sexual act, three counts of photograph sexual or intimate parts of child and four counts of possessing child pornography.
#8 Another thing that happens so frequently that it barely makes a blip on the news are mass brawls.  Just recently, a mass brawl involving "up to 200 school students" happened in Philadelphia, but once again it was almost entirely ignored by the media…
Over a dozen juveniles were arrested and cited after police say a large brawl involving up to 200 school students erupted outside of a McDonald's in the Hunting Park section of Philadelphia.

Police say they were called for a report of a large fight on Broad Street and Hunting Park Avenue around 3:40 p.m. Police say when they arrived it "immediately deteriorated into a riotous condition" with roughly 150 to 200 students fighting and instigating.
#9 But even though there is so much pure evil going on all around us, if you really want to make a big media splash just do or say something that is really "politically incorrect".  In our current environment, just about everything offends "the thought police".  For example, Kleenex was recently forced to give their "Mansize" tissues a new name because the old name was considered to be "sexist" by some people…
Kleenex is rebranding its "Mansize" tissues amid cries of sexism from consumers. The new name? Simply, "Kleenex Extra Large."

That's according to a statement from Kleenex's Texas-based parent company, Kimberly-Clark.
#10 When I was young, I don't remember hearing about any mass shootings.  Eventually they started to become more common, and now they are happening so rapidly that it is difficult to keep up with them all.  For example, a mass shooting at a Halloween event in southern California that happened about a week ago barely got noticed by the mainstream media…
Seven people were shot late Sunday evening at nightclub in Southern California, officials said.

The Riverside Police Department received a call around 12:04 a.m. and responded to reports of a shooting inside and outside of Sevilla Nightclub.

Online flyers show the Sevilla Nightclub had advertised a Halloween event called, "The Purge," seemingly in reference to the name of the horror film.
If something like this had happened 40 years ago, it would have been a top news story for weeks.
#11 If you were in an accident and you had to have your foot amputated, what would you do with that foot?  Well, one guy decided that he would grind it up and use it in tacos that he would feed to his friends…
You see, Shiny was in a terrible accident that forced him to think quick on his feet. A car hit his motorcycle which sent him flying into a forest, causing his foot to shatter to a point where he would never walk again. Doctors immediately saw his foot and stated they needed to amputate it. Instead of crying about it, he decided to ask doctors a question: "Can I keep it?"

On Sunday, July 10, 2016, three weeks after the accident, Shiny (who prefers to remain anonymous), invited 10 of his most "open-minded" friends to brunch. They ate puff pastries, chocolate cake, fruit tarts, and gin drank lemonade punches and mimosas. What was unusual about this brunch? The main course was fajita tacos made from Shiney's severed human limb!
Apparently this is not illegal, but it should be.  If someone fed me their severed foot without my knowledge I would be absolutely furious.
#12 Of course any list like this would be incomplete without an example of gross government incompetence…
The agency's inspector general traced the malicious software to a single unnamed USGS employee, who reportedly used a government-issued computer to visit some 9,000 adult video sites, according to a report published Oct. 17.

Many of the prohibited pages were linked to Russian websites containing malware, which was ultimately downloaded to the employee's computer and used to infiltrate USGS networks, auditors found. The investigation found the employee saved much of the pornographic material on an unauthorized USB drive and personal Android cellphone, both of which were connected to their computer against agency protocols.
To me, the most incredible part of this story is that the guy was able to stay employed long enough to visit "9,000 adult video sites".  Didn't this guy have a superviser, and why did it take so long to discover that he was endlessly watching adult videos while at work?
As you can see, America is a giant mess and we desperately need to get things turned around.  When people say that they want to "make America great again", what they are really admitting is that America has fallen from greatness and needs to be restored.
We are deeply, deeply troubled as a society, and creating more prosperity is not going to solve what ails us.  Ultimately what we are facing is a heart issue, and until we deal with our hearts nothing is really going to get any better.
About the author: Michael Snyder is a nationally syndicated writer, media personality and political activist. He is publisher of The Most Important News and the author of four books including The Beginning Of The End and Living A Life That Really Matters.
The Last Days Warrior Summit is the premier online event of 2018 for Christians, Conservatives and Patriots.  It is a premium-members only international event that will empower and equip you with the knowledge and tools that you need as global events begin to escalate dramatically.  The speaker list includes Michael Snyder, Mike Adams, Dave Daubenmire, Ray Gano, Dr. Daniel Daves, Gary Kah, Justus Knight, Doug Krieger, Lyn Leahz, Laura Maxwell and many more. Full summit access will begin on October 25th, and if you would like to register for this unprecedented event you can do so right here.