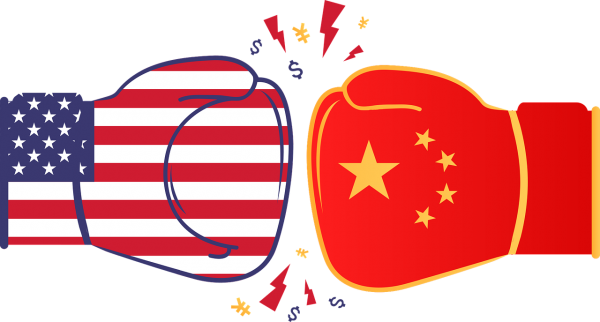 This is an article that I have been wanting to write for a while, because China is going to be such a central player in the global drama that is going to play out over the next few years.  Since Joe Biden entered the White House, the deterioration of Chinese relations with the United States has accelerated.  Meanwhile, Chinese relations with Russia have tightened, and that should deeply alarm all of us.  Because now that war has started, many are deeply concerned that the U.S. could eventually find itself in a direct conflict with a Russian-Chinese alliance.
Jake Sullivan and other foreign policy officials in the Biden administration desperately want China to denounce the Russian invasion of Ukraine and to participate in economic sanctions against Russia.
But neither of those things is going to happen, and this is making Biden's foreign security minions very angry.
Of course the Chinese have their own agenda.  They are watching how western powers are responding to Russia very closely, because the Chinese believe that it will give them clues about how the western powers will behave when they pull the trigger on an invasion of Taiwan.
And an invasion of Taiwan is most certainly coming sooner or later.  In fact, the Chinese likely understand that they have now been given a tremendous window of opportunity for a couple of reasons.
Number one, events in Afghanistan and Ukraine have exposed the weakness of American leadership.  If the Chinese are going to launch an invasion, they will almost certainly want to do it before Joe Biden is voted out in 2024.
Secondly, the attention of the western world is on Ukraine right now.  So if China invades, the ire of the western world will be split between both Russia and China.
And since the U.S. would be forced to maintain a strong military presence in Europe to protect NATO allies, it would make it even less likely that the U.S. would be able to intervene effectively in Taiwan.
Unlike the situation in Ukraine before the war, a diplomatic solution with China simply will not be possible.
The Chinese believe that Taiwan is Chinese territory, and they are absolutely determined to bring it back under their control one way or the other.
The only question is timing, and the timing has never been better than it is now.
The following are 10 signs that U.S. relations with China are deteriorating and that an invasion of Taiwan is drawing near…
#1 Jake Sullivan is warning that China "will not go unpunished" if it helps Russia get around U.S. economic sanctions…
China will not go unpunished if it helps Russia evade economic sanctions enacted in response to its invasion of Ukraine, national security adviser Jake Sullivan said Sunday on CNN.

The White House official made it clear that such actions would "absolutely" have consequences for Beijing and explained that the U.S. is closely monitoring any and all support China is currently providing Russia.
#2 Hu Xijin is a very important figure in China, and he is very close to officials at the very top of the Chinese government.  In response to Jake Sullivan's threats, he stated that Sullivan is going to be "disappointed"…
Hu Xijin, former editor-in-chief of the state-backed Chinese Global Times newspaper, said on Twitter: "If Sullivan thinks he can persuade China to participate in sanctions against Russia, he will be disappointed."
#3 U.S. officials are accusing Russia of asking China for military equipment for the war in Ukraine…
Russia has turned to China for military equipment and aid in the weeks since it began its invasion of Ukraine, U.S. officials familiar with the matter told The Washington Post.

The officials, who spoke on the condition of anonymity because of the sensitivity of the subject, did not describe what kind of weaponry had been requested, or whether they know how China responded.
#4 The Chinese responded to this new U.S. accusation very bluntly…
According to Reuters, when asked about claims that Russia is requesting military help from China, the spokesperson for China's embassy in Washington responded "I've never heard of that."
#5 The Chinese have steadfastly refused to call Russia's military action in Ukraine an "invasion".
#6 The Chinese have blamed the U.S. and NATO for pushing relations between Russia and Ukraine to a "breaking point".
#7 As China continues to make preparations for a potential invasion of Taiwan, the Chinese are warning that any nation that supports Taiwan militarily will face the "worst consequences"…
Any country supporting Taiwan militarily would face the "worst consequences," China's government warned Saturday, adding that "no one and no force" would be able to stop the Communist Party if it took action against the island country, according to a report.

China's relationship with Taiwan has come into focus against the backdrop of Russia's invasion of Ukraine, with the island bolstering its own defenses since the war started in case of aggression from the mainland.
#8 In recent months, China has flown fighter jets into Taiwan's air defense zone time after time…
China has taken a more aggressive stance against the Democratic island nation lately, sending a record number of fighter jets into Taiwan's air defense zone late last year.

And last month, as Russian tanks rolled into Ukraine, nine Chinese aircraft entered Taiwan's air defense zone, prompting a broadcast warning from the island nation.
#9 Taiwanese authorities are very much aware that the invasion of Ukraine makes an invasion of Taiwan much more likely, and some of them believe that hostilities are already beginning.  Just recently, one official actually accused the Chinese of engaging in "cyberwarfare" against his nation…
National Security Bureau Director-General Chen Ming-tong (陳明通) said that China, taking advantage of the conflict in Ukraine, has heightened its political and economic pressure on Taiwan.

"This includes military threats, with China continuing its united front tactics and cognitive warfare to spread disinformation and penetrate our society. China is also engaging in cyberwarfare, stepping up hacker attacks and other tactics to intimidate us," Chen said.
#10 The president of Taiwan visited army reservists over the weekend in an attempt to send a strong message to the Chinese…
Taiwan President Tsai Ing-wen visited army reservists training under a new scheme to bolster war readiness on Saturday, a programme that has gotten added impetus from Russia's invasion of Ukraine, given China's bellicosity against the island.
#11 Experts all over the western world agree that China is moving closer to Russia because the Chinese are convinced that an eventual showdown with the United States is inevitable…
"China's policy is based on Xi Jinping's view of China's interests, and he sees the United States as implacably hostile," Bonnie Glaser, a China scholar at the German Marshall Fund, told me. "He sees Russia as his only ally against the United States and the other democracies…. I don't think China can in any way be neutral."

"At a strategic and diplomatic level, they've clearly leaned toward Russia," agreed Evan Feigenbaum, a former State Department official now at the Carnegie Endowment for International Peace. "It's a deliberate choice."
Let us hope that a Chinese invasion of Taiwan can be put off for as long as possible, because once that happens the U.S. and China will essentially be in a state of war from that point forward.
And considering the fact that both sides have nuclear weapons, that is not something that we should want.
Not too long ago, an article that was posted on Yahoo News envisioned what a Chinese invasion of Taiwan might look like…
Airstrikes would quickly aim to kill Taiwan's top political and military leaders, while also immobilizing local defenses. The Chinese military has described some drills as "decapitation" exercises, and satellite imagery shows its training grounds include full-scale replicas of targets such as the Presidential Office Building.

An invasion would follow, with PLA warships and submarines traversing some 130 kilometers (80 miles) across the Taiwan Strait. Outlying islands such as Kinmen and Pratas could be quickly subsumed before a fight for the Penghu archipelago, which sits just 50 kilometers from Taiwan and is home to bases for all three branches of its military. A PLA win here would provide it with a valuable staging point for a broader attack.
It would be a horrible, horrible conflict, and of course the Russians would fully support the Chinese invasion.
So what would the Biden administration do in such a scenario?
Some believe that the Biden administration would just sit back and let China take Taiwan, but I believe that the Biden administration would feel compelled to intervene.
And that would mean the kind of shooting war with China that I have long warned about.
If the Biden administration would have been willing to work out a diplomatic solution with Russia regarding Ukraine, the Russian invasion never would have happened.
And if the Russians had never invaded Ukraine, a Chinese invasion of Taiwan would be far less likely.
But now the dominoes are starting to fall, and if China invades Taiwan that will actually make a North Korean invasion of South Korea far more likely.
We are at such a critical turning point, and we are trusting Joe Biden and his minions to guide us through this crisis.
Needless to say, we are holding a losing hand, and time is running out.
***It is finally here! Michael's new book entitled "7 Year Apocalypse" is now available in paperback and for the Kindle on Amazon.***
About the Author: My name is Michael Snyder and my brand new book entitled "7 Year Apocalypse" is now available on Amazon.com.  In addition to my new book I have written five other books that are available on Amazon.com including  "Lost Prophecies Of The Future Of America", "The Beginning Of The End", "Get Prepared Now", and "Living A Life That Really Matters". (#CommissionsEarned)  When you purchase any of these books you help to support the work that I am doing, and one way that you can really help is by sending digital copies as gifts through Amazon to family and friends.  Time is short, and I need help getting these warnings into the hands of as many people as possible.  I have published thousands of articles on The Economic Collapse Blog, End Of The American Dream and The Most Important News, and the articles that I publish on those sites are republished on dozens of other prominent websites all over the globe.  I always freely and happily allow others to republish my articles on their own websites, but I also ask that they include this "About the Author" section with each article.  The material contained in this article is for general information purposes only, and readers should consult licensed professionals before making any legal, business, financial or health decisions.  I encourage you to follow me on social media on Facebook and Twitter, and any way that you can share these articles with others is a great help.  These are such troubled times, and people need hope.  John 3:16 tells us about the hope that God has given us through Jesus Christ: "For God so loved the world, that he gave his only begotten Son, that whosoever believeth in him should not perish, but have everlasting life."  If you have not already done so, I strongly urge you to ask Jesus to be your Lord and Savior today.